After El Paso, Americans Have a Simple Moral and Spiritual Duty: Pay Attention | Opinion
A message that summons the conscience is not what one would expect to see through a commute's train window. But summonses can appear in the unlikeliest places. For years, passengers on Amtrak and Long Island Rail Road, passing strip malls and old industrial buildings in Queens, New York, near the tunnel to and from Manhattan, saw this writing on the wall of the New York Presbyterian Church: "Is it nothing to you, all you who pass by?"
These words, from the Hebrew Bible's Book of Lamentations, are words that our nation needs to hear following the anti-Hispanic, anti-immigrant, white supremacist domestic terrorism in El Paso, Texas.
They are also words that Jews will chant publicly Saturday night in observance of Tisha b'Av. This day mourns the attacks on ancient Jerusalem and the destruction of its Jewish temples by the Babylonian and Roman Empires.
This year, numerous American Jewish groups are organizing Tisha b'Av vigils and protests on behalf of immigrants and refugees. The organization T'ruah has posted online a list of 52 local events nationwide. Some are co-sponsored with Christian and Muslim organizations.
These rallies scream out: "Is it nothing to you, all you who pass by?" They actualize one of Tisha b'Av's most potent principles: the moral and spiritual imperative to pay attention—and to act on what you see.
At first glance, this imperative may seem easy. The problems are how often we humans do not fulfill it and how strong the inclination is not to, when so much is at stake.
Our work begins with paying attention to 22 murdered people and dozens injured, and to the El Paso shooter's targeting Hispanics and a predominantly Hispanic-American city.
Our work includes paying attention to how President Donald Trump inspires such targeting. Among other instances: Trump has repeatedly called migrants' arrival at the U.S.-Mexico border an "invasion," a word that the El Paso shooter used in his manifesto. Trump has written that congresswomen of color should leave America and "go back," provoking a crowd to chant, "Send her back." Trump has laughed off, and thus given license to, a rallygoer's shouting about migrants, "Shoot them!"
Our work means paying attention to what is now a chain of white supremacist terrorist attacks in the Trump era, from shootings at synagogues in Pittsburgh and Poway, California, to the shooting of African-American shoppers at a Kentucky market, to arson at a mosque in Escondido, California, to the shooting of women at a Tallahassee, Florida, yoga studio (ethno-religious bigotry and gender-based bigotry being two faces of the same monster). We cannot deem these attacks one-offs.
Furthermore, paying attention includes not only opening one's own eyes, but each of us' helping each other to do the same. Christian Picciolini, a former neo-Nazi and founder of the Free Radicals Project, which helps extremists quit, described to The Atlantic bringing a white Christian extremist to meet a Muslim for the first time. The two bonded over shared Abrahamic roots, e.g., Jesus' presence in the Koran, and their shared love of Chuck Norris. "We were crying at the end, and hugging," Picciolini said.
Democratic presidential candidates should keep such stories in mind. The eventual nominee must alert voters, especially swing voters, to Trump's danger. While that mission is not always the same as reforming extremists, they share a method: complementing policies and data with human stories and a vision of what America is supposed to be—"an emotional journey where...it's not me telling them that they've changed," in Picciolini's words.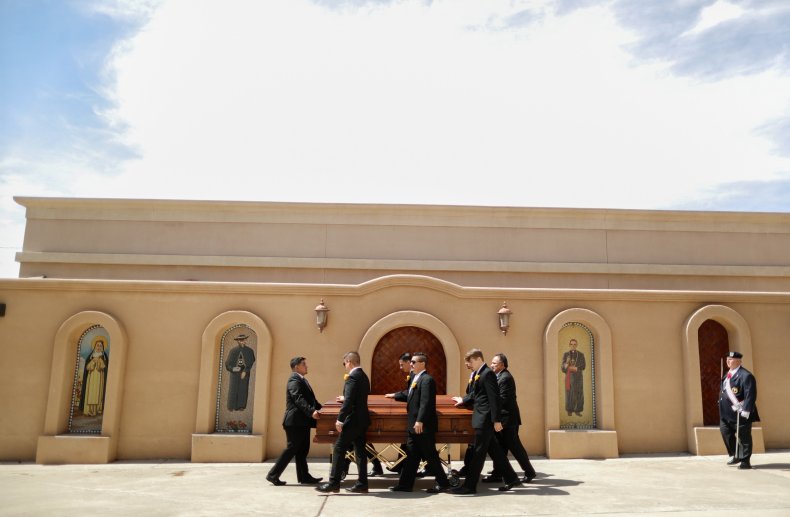 Paying attention also includes the duty not to march in partisan lockstep, as just another among "all you who pass by." The many Republicans who have not called out Trump for his de facto incitement are refusing to use their leverage to repair the country.
And paying attention includes an obligation to act, in policies as well as language. A public debate about how to spot and stop white supremacist terrorists, and what we can learn from fighting international terrorism, is underway. Calls for gun control are rising. Our leaders must answer these calls, and not the calls of the NRA.
The Shabbat following Tisha b'Av is called the Shabbat of Comfort. It centers on a public chanting from Isaiah 40, including the verse, "The glory of the Lord shall be revealed and all flesh shall see it together." Dr. Martin Luther King Jr. quoted this same verse in his "I Have a Dream" speech.
Whether the current eruption of white supremacist terrorism will be relatively shorter or more protracted—a brief dark time, or like the post-9/11 war on terror or the Troubles of Northern Ireland—will depend on whether we choose merely to "pass by," or to pay attention and to work to make Isaiah's prophecy and King's dream a sturdy reality.
Noah Lawrence is a legal scholar and has worked for the U.N. and Senator Richard Blumenthal. He is studying to be a rabbi at New York City's Hebrew Union College—Jewish Institute of Religion.