After End of Trump-Putin Summit, President of Finland Heads To Nearest Bar For A Drink
After a tough day at the office, an after-work drink is often the best way to let off some steam- even if you're the president of Finland.
A far cry from the 1,000-strong entourage of the U.S. President Donald Trump and the vast motorcade of Russian President Vladimir Putin, Finnish head of state Sauli Niinistö was spotted enjoying a cool one, with only a handful of cabinet colleagues in tow.
Niinistö was seen sitting at a terrace table of a bar with his colleagues just across from the presidential palace in Helsinki, only hours after he had held separate talks with the leader of the free world and his Russian counterpart.
Niinisto's communications director Katri Makkonen told the newspaper Helsingin Sanomat: "It was an informal moment between the president and his cabinet after a long day in a gentle summer evening."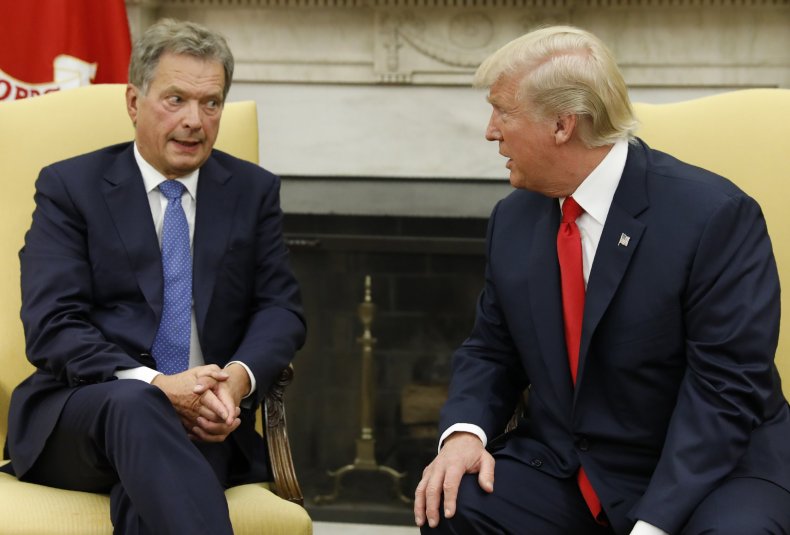 The next morning, Niinistö underwent routine surgery at Jorvi Hospital in Espoo, with his office saying his full recovery would take a week.
Niinistö is known for his informal appearances among the populace, and is often spotted playing ice hockey in Helsinki. However, he has lamented how his position does making walking his dog Lennu difficult, a task he wishes could enjoy without his bodyguards, Helsingin Sanomat reported.
After the summit, Niinistö posted a message on Facebook thanking all those in the city who had helped with the summit.
"I pay tribute to all those thousands who played their different roles in making this a success on a tight timetable. A lot of people roasted in suits and uniforms, many of them helping to distribute information in a hectic environment, accommodating and transporting guests and so on."
He also thanked the protesters who had demonstrated against the summit, describing them as "a lot of help to me. I didn't need to jab my finger at the guests, it was enough to refer to the demonstrations and say that they were making good points.
He said that in his talks, "arms control and disarmament as well as strategic stability were the topics that raised the most hopes.
"In particular one U.S. Senators' words stuck in my mind (who said) 'You're the last leader to speak to Trump before he meets Putin. It's on you,'" he wrote, according to Finnish news website yle.fi.
Trump met with the Finnish president ahead of the summit, telling him: "We really appreciate Finland, very highly respect for your country."
The pair had met during the NATO summit in Brussels last week, where Niinistö had said the alliance was strong, despite the U.S. President's "blunt" comments about it.
Finland is an American ally but is not a member of NATO due to its policy of military non-alignment. It has strong ties with the alliance, however, and contributes to NATO-led operations.