After Ending 'Forever War' in Afghanistan, Biden Sends Troops to Somalia
Months after putting an end to what he called a "forever war" in Afghanistan, President Joe Biden is reversing his predecessor's decision to also pull back forces from Somalia, signaling an intensification of U.S. military presence and engagement in the East African nation.
Speaking to reporters on Monday, a senior Biden administration official confirmed reports emerging in publications such as The New York Times indicating that the White House had ordered the deployment of fewer than 500 soldiers to Somalia to pursue operations against the Al-Qaeda-linked Islamist militant group Al-Shabab.
"President Biden has approved a request from the Department of Defense to reposition U.S. forces in East Africa in order to reestablish a small, persistent U.S. military presence in Somalia," the official said.
The official said that Biden "made this decision to increase the safety and effectiveness of our special operators who have spent the past year-plus since the last administration's decision, moving in and out of Somalia episodically, to try to help with counterterrorism there."
The remark referenced what the official described as an "abrupt and sudden transition to a rotational presence" to fight Al-Shabab conducted at the direction of then-President Donald Trump's in 2020, withdrawing nearly all of the roughly 750 troops stationed in Somalia. The troops earmarked to deploy in Somalia were already stationed elsewhere in Africa and would not constitute "the full contingent of operators present Somalia before the withdrawal, numbering "less than 500," according to the official.
Asked how the new approach fit in with Biden's pledges to rein in U.S. involvement in open-ended conflicts such as the two-decade war in Afghanistan, the official said this marked "a step that rationalizes what was essentially an irrational arrangement that we inherited."
"It was irrational because it created an unnecessary and elevated risk to U.S. forces as they moved in and out of the country on a rotational basis," the official said. "And it gave us less payoff for incurring that risk because it disrupted their efficacy and consistency of their work with partners."
"We have now found a way to rationalize that in which we've lowered the risk, in the view of our experts, to our personnel and increase their efficacy," the official added.
The official acknowledged, however, that "counterterrorism does not make for quick fixes," while noting "that is true of many national security problems, which is certainly true of terrorism threats, especially terrorism threats that have the potency of Al Shabaab."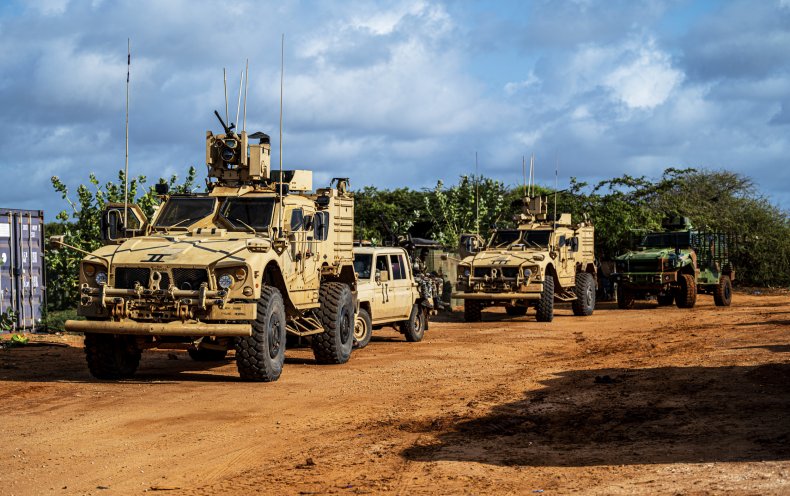 U.S. forces first became involved in Somalia 30 years ago as part of the United Task Force, which sought to secure humanitarian aid in the midst of a conflict between rival warlords that rose up after the overthrow of longtime leader Siad Barre in 1991. The abortive campaign is widely remembered in the U.S. in connection with the infamous "Black Hawk Down" incident during the 1993 Battle of Mogadishu, which gained widespread coverage through the release of a book in 1999 and a movie in 2001, both with the same name.
The U.S. involvement in the country grew significantly as part of the post-9/11 "War on Terror," and the rise of Al-Shabab, which ten years ago pledged allegiance to Al-Qaeda. Air and land operations were expanded under former President Barack Obama and initially by Trump as well, who gave his operational commanders broader authorities to pursue strikes against the group.
In the final weeks of his presidency, however, Trump ordered the withdrawal of all U.S. troops from Somalia. The move followed drawdowns in both Iraq and Afghanistan, where earlier that year the Trump administration struck a historic peace deal with the Taliban, setting the stage for a total U.S. pullout by May 2021.
Despite their vast political differences, in their campaign language both Biden and Trump voiced pledges to end "forever wars." After coming to office, Biden delayed the impending U.S. pullout from Afghanistan, but ultimately followed through on August 31 as the Taliban quickly advanced on the capital Kabul, reestablishing the Islamic Emirate shortly after a chaotic U.S. exit.
While U.S. engagement in Somalia has been on a vastly lower scale than that in Afghanistan, Al-Shabab's ongoing campaign of violence and territorial gains in recent months have raised concerns among U.S. policymakers. The group staged a series of deadly attacks in the leadup to Sunday's presidential election, which saw former leader (from 2021 to 2017) Hassan Sheikh Mohamud defeat incumbent Mohamed Abdullahi Mohamed Faraajo to regain the top office.
Mohamud, who presides over a country beset not only by militancy but also political infighting, devastating famine and an increasingly difficult economic situation, has vowed to pursue a path toward restoring order in Somalia.
Newsweek has contacted the Somali Presidency and Foreign Ministry for comment.
In Monday's call, the senior Biden administration official said that the new U.S. military strategy "will be done in consultation with the Somali government and indeed with the government that is emerging from an overall successful and important election process that occurred over the weekend."
This is a developing news story. More information will be added as it becomes available.