After Endorsing Maya Wiley, AOC Ranks Scott Stringer Second in NYC Primaries
Representative Alexandria Ocasio-Cortez may have endorsed Maya Wiley for the New York City mayoral race, but the congresswoman revealed she ranked Scott Stringer as her number two choice in the Democratic primaries.
"If you want to vote the way I'm voting, rank Maya Wiley number one," Ocasio-Cortez said in an interview with Hot 97 on Tuesday.
But she added that she also voted for other mayoral candidates using the city's new ranked-choice voting, which allows voters to rank candidates by preference rather than just selecting their top choice.
"Here's the deal. This race, I think, has been really all over the place for a lot of people, to say the least. And so I do think it's been hard for folks to rank," Ocasio-Cortez said. "I personally have ranked Scott Stringer number two and I think he's also a really strong candidate from a policy perspective."
Stringer, the city's comptroller and longest-serving elected official in the race, is among eight Democratic candidates in the mayoral race.
His campaign has promised to help New York City's economy recover from the coronavirus pandemic while also addressing inequality in the city. But Stringer's campaign was upended after he was accused of sexually harassing two women decades ago. He has denied the allegations.
Wiley is a civil rights attorney who spent more than two years as Mayor Bill de Blasio's counsel and has earned critical endorsements from key progressives like Ocasio-Cortez, as well as Representatives Jamaal Bowman and Nydia Velazquez.
Ocasio-Cortez publicly backed Wiley earlier this month, saying, "If we don't come together as a movement, we will get a New York City built by and for billionaires, and we need a city for and by working people."
Following the endorsement, Wiley saw a massive jump in support, rising to the second top candidate in the polls a week before early voting, behind Brooklyn Borough President Eric Adams.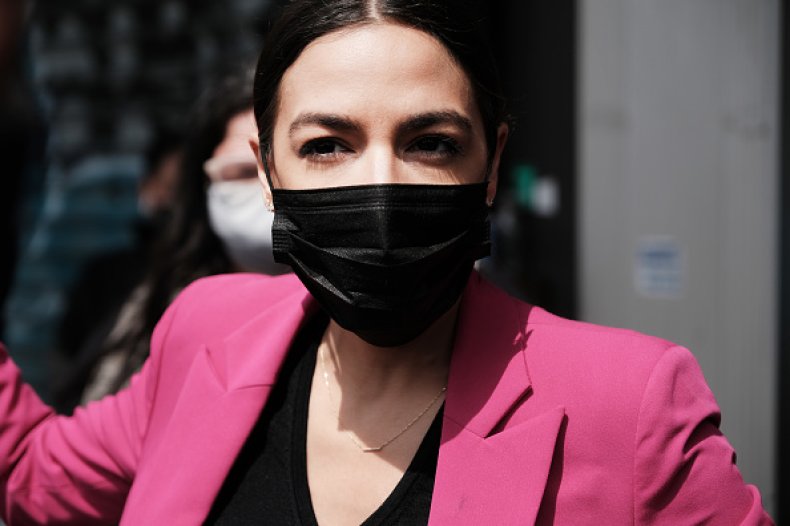 On Tuesday, Ocasio-Cortez said aside from policy, one of the key reasons she is supporting Wiley for mayor is due to the fact that the candidate is not backed by "dark money."
"She has a strong progressive policy but also, I think that it's really important to have a mayor that's going to be really receptive to people actually calling and advocating for themselves," the congresswoman said. "Maya Wiley is not supported by the big, wealthy real estate developers that profit off of sky-high rents. She's not being backed by super PACs with these huge corporate interests."
Wiley's campaign has promoted a number of progressive policy proposals, including cutting $1 billion from the police budget and giving subsidies to low-income New Yorkers to help pay for rent.
When asked about how her team selected candidates to endorse in the primaries, Ocasio-Cortez said everyone was heavily vetted to ensure that their policies aligned with the ones she supported.
"It is a lot of pressure and I take it super seriously because that's all about trust, right. I will never, ever take anyone's trust for granted. It's such a sacred thing. So we put a lot of effort and a lot of thought into it," she said.
"The candidates that you see recommended are the ones that scored 100 percent across the board on 27 different policy commitments to make sure that we keep rent under control, to make sure that we actually work on public safety in a way that actually helps people," Ocasio-Cortez added.
Although Adams has been the front-runner in the race, Kathryn Garcia, the commissioner of New York's Sanitation Department, and Andrew Yang, who ran for the Democratic nomination in the 2020 presidential primaries, have also emerged as key contenders. Garcia received The New York Times' endorsement.
Adams has continued to try to frame an alliance between Garcia and Yang as racially motivated, likening their support for one another to voter suppression. He also criticized the duo for making the announcement of their mutual backing on Juneteenth.
Dianne Morales, a former nonprofit executive, had initially led as the most progressive candidate in the race but Morales failed to receive Ocasio-Cortez's support after her campaign became engulfed by allegations from staffers who claimed they were treated unfairly based on their race and their efforts to unionize.
On Tuesday, New Yorkers will use ranked-choice voting for the first time in the primaries, allowing them to rank their top five preferred candidates. If a candidate gets 50 percent plus one after all first-choice votes are counted, that candidate wins.
If no one gets 50 percent plus one, then the candidate with the lowest number of first-place votes is eliminated and those voters' second choices get redistributed as votes for other candidates. The reallocation of votes continues until one candidate reaches 50 percent plus one.
Newsweek reached out to Stringer for comment but did not hear back before publication.