After Donald Trump's Border Security Speech, Trump Jr. Uses Zoo as Example of Walls Working
Shortly after President Donald Trump delivered a speech about border security from the Oval Office on Tuesday, his son Donald Trump Jr. tried to reinforce the necessity for an 1,000-mile wall by comparing it to the walls in a zoo.
Trump Jr. posted an Instagram Story around 11 p.m. on Tuesday that included white writing on a simple black background. The president's son, who was 1.5 million followers on the social media platform, wrote, "You know why you can enjoy a day at the zoo? Because walls work."
His comparison drew outrage from social media users, including Dan Ashe, the president and CEO of the Association of Zoos and Aquariums.
"Animals living in [Association of Zoos and Aquariums] accredited facilities receive exceptionally good care, but simply wrong to equate [the] treatment of people and animals, especially those fleeing oppression and seeking asylum," Ashe tweeted
Author of the book Born Trump,Emily Jane Fox tweeted that the first son had compared immigrants to caged animals. It was retweeted by MSNBC host Nicole Wallace with the comment "OMG."
Trump Jr.'s Instagram post came hours after his father addressed the nation from the Oval Office about the "growing humanitarian and security crisis" at the U.S. southern border. During the speech, Trump said border patrol agents encountered thousands of people trying to illegally enter the country daily and claimed that America is "out of space" to hold them.
"America proudly welcomes millions of lawful immigrants who enrich our society and contribute to our nation but all Americans are hurt by uncontrolled illegal migration," the president said.
To drive home his point, Trump cited statistics on how an influx of undocumented immigrants hurts the economy, and on crimes committed by undocumented immigrants, including drug violations and killings. He claimed, without evidence, that thousands of Americans were "brutally killed" by people who were in the U.S. without legal status and said more lives would be lost if the government didn't take action.
Among the actions Trump wanted Congress to take was to allocate $5.7 billion to create a steel barrier along the southern border. He claimed that the border wall would pay for itself because the cost of illegal drugs exceeds $500 billion a year. Trump reiterated a long-standing claim and said the wall would be indirectly paid for through the new trade deal that was made with Mexico and Canada.
"This barrier is absolutely critical to border security. It's also what our professionals at the border want and need," Trump said. "This is just common sense."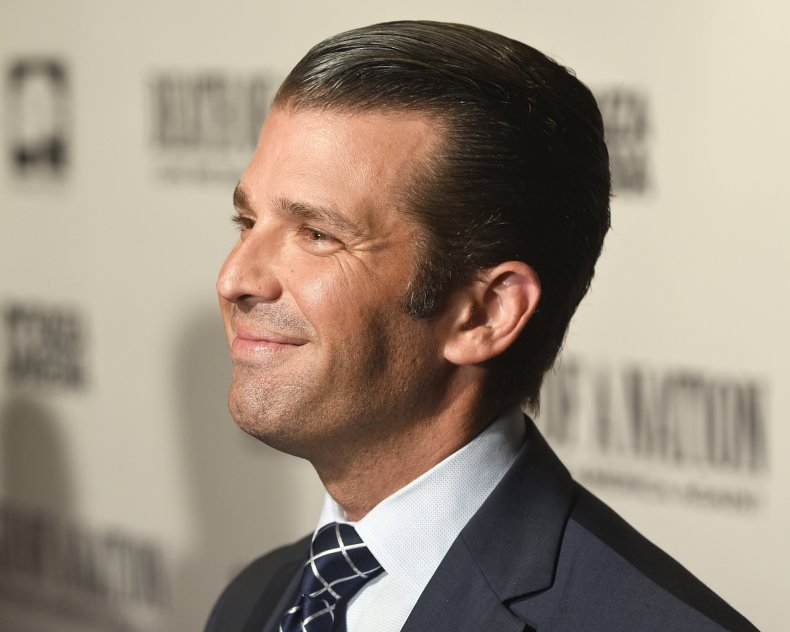 House Minority Leader Nancy Pelosi previously called a border wall an "immorality." Although Trump didn't mention her by name, he wondered, if it's immoral, why wealthy politicians built barriers around their own homes. Trump said fences and walls around homes weren't built out of hatred for people on the outside, but out of love for people on the inside.
"The only thing that is immoral is that the politicians to do nothing and continue to allow more innocent people to be so horribly victimized," Trump said.
Trump said that the border security plan he proposed to Congress came after he consulted with law enforcement professionals and border agents at the Department of Homeland Security. He also claimed that Senate Minority Leader Chuck Schumer only pulled his support for a barrier along the border whenTrump he won the presidential election in 2016.
The president's speech came amid a government shutdown, the result of a stalemate over border wall negotiations. The president, as he said in his speech, has requested $5.7 billion for a border wall, which Democrats refused to include in a spending bill, although they have allocated $1.3 billion for border security that does not include a wall.
While Pelosi has said Trump had the power to end the shutdown, the president put the responsibility on Democrats during his speech on Tuesday.
"The federal government remains shut down for one reason and one reason only because Democrats will not fund border security," Trump said. "The only solution is for Democrats to pass a spending bill that defends our borders and reopens the government."
Trump claimed the shutdown could be solved in a 45-minute meeting and said he invited members of Congress to the White House on Wednesday to resolve outstanding spending issues.
In response to Trump's speech, Schumer and Pelosi delivered an address of their own to share their opinions on the shutdown and immigration. Pelosi said Trump rejected the Democrats' proposal out of an "obsession" with forcing taxpayers to waste billions of dollars on a border wall.