'After Fire' and Women Veterans' Complicated Road to Healing Trauma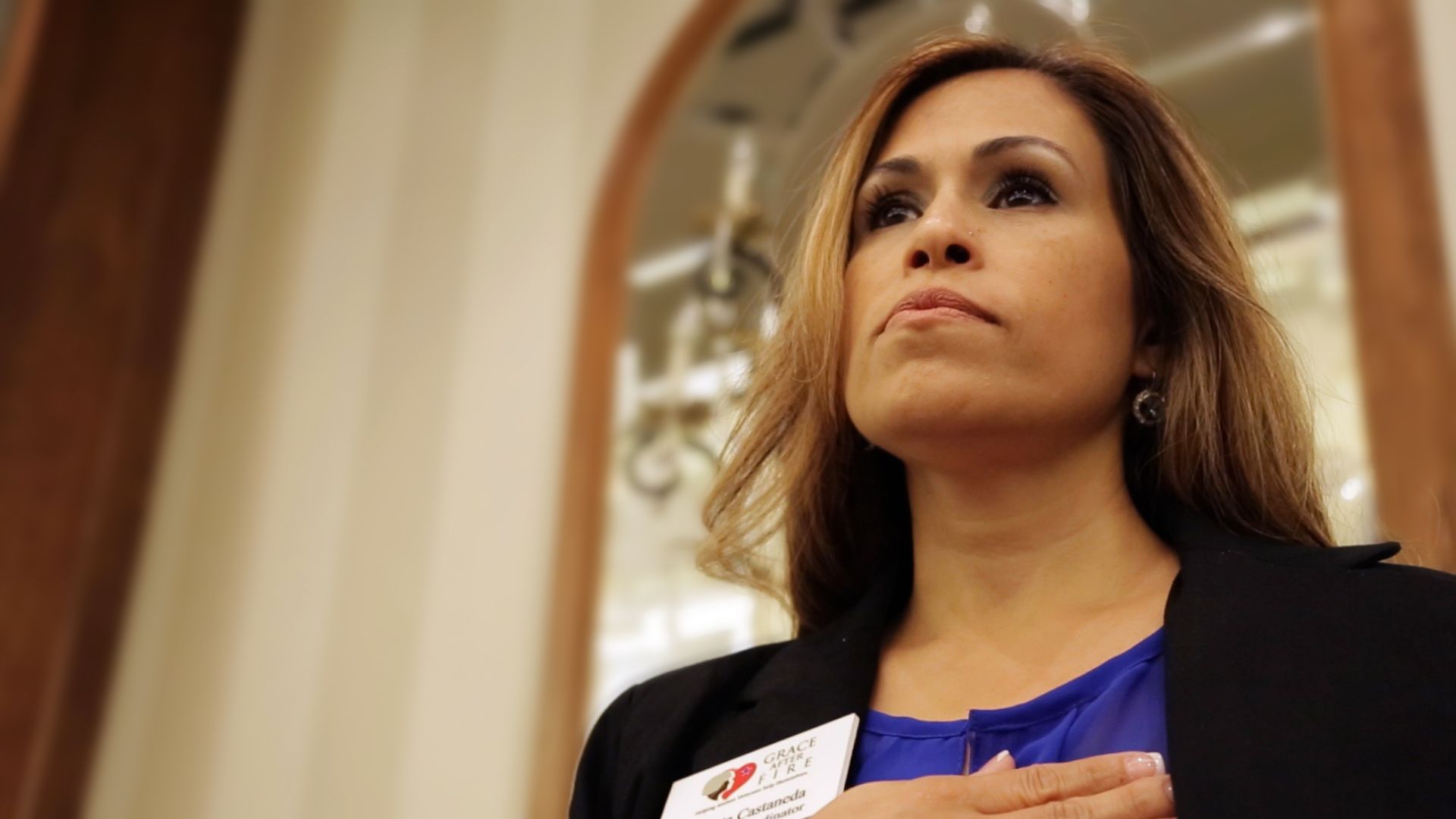 Updated | Like everyone who deals with trauma, women veterans who return to the U.S. after serving in the military have their own ways of healing.
For some, it's small bottles of refrigerated wine, talking with friends and family or keeping their experiences locked inside. For others, like Valerie Sullivan, the focus of the new documentary After Fire, it's spending six hard months training for a bodybuilding competition. After Fire, directed by Brittany Huckabee, follows women veterans based in San Antonio, many of whom survived military sexual trauma. The women in the film are actively involved in helping veterans, whether it's fellow MST survivors or lobbying with older male veterans on Capitol Hill.
Women are the fastest-growing group of military veterans, and one in every five new military recruits is a woman. Yet 4.3 percent of active-duty women say they experienced unwanted sexual contact in 2014. That number is likely higher due to fears about reporting incidents and the retaliation that so often follows; a December 2014 report found that the estimated number of rape and violent sexual assaults experienced by women in the military was higher than previously thought.
Huckabee, who wrote and produced the Netflix documentary Hot Girls Wanted and has spent a decade making films about women's experiences, says, "What choices do we make now that we're gaining more control over our lives? I was looking for a story where women were taking on more agency in a real way." After surviving her own traumatic episode, she says, After Fire also allowed her to look at the experience from a distance and learn how veterans overcome their own trauma.
"They felt like they were in control. Ultimately, some of them had their power taken away from them," Huckabee adds. "Some of the women in the military, you get yourself in a situation where you aren't in control, whether it's because you were sexually assaulted or because an RPG hits your vehicle. That's what trauma is about—it's about losing power."
While there have been other films and documentaries about the U.S. military at war, post-traumatic stress disorder and the return home, including Return, Restrepo, Of Men and War and Crisis Hotline: Veterans Press 1, few have focused on military sexual trauma. An estimated 200,000 women are set to leave the military in the next few years, but they often face a system that is not set up to support them. The approval rate for military sexual trauma claims, which are separate from other PTSD claims, is low. The VA says that every VA Medical Center in the country has a Women Veterans Program manager and every VA facility has a designated military sexual trauma coordinator.
"The culture of the military is about sucking it up. It's not about you, it's about the mission. It's about life and death. They have to be ready for a life or death situation, and they have to put their unit, their team, ahead of themselves," says Huckabee. "When you do come forward and say that something bad has happened to you, then people say you're not being a team player, you're not going along with the ground rules here."
Laly Cholak, who works at a veterans center; Roberta Castaneda, a facilitator at women veterans organization Grace After Fire; and Sullivan all come up against barriers at the VA and in their healing from PTSD. Upon seeing a bridge, a veteran riding in Sullivan's car says, "This used to be my problem, bridges. I just feel like we're gonna get blown up." Castaneda's attempts at filing her military sexual trauma claim crumble after she misses an appointment.
"A lot of times when you get out of the military and that mission is over, you have a lot you have to deal with. You need to talk about it. That's the takeaway from the film: taking that first step to tell your story and own your story and to get that acknowledgement," says Huckabee. "There's an amazingly powerful thing that happens and it's so simple, but that's so hard for veterans to do because they've spent their entire careers focusing on other people and not themselves."
Linda Schwartz, assistant secretary for policy and planning at the VA, is a woman veteran who served in the Vietnam War. She says, "I know what women are going through, both in the past and now, as far as military sexual trauma," and she describes the film as "real." She appreciated that the film "wasn't all fluff and flowers. It was the reality of it."
Schwartz adds, "The struggle of getting where we are today was really because of other women veterans. It started with the Vietnam War generation, because we never envisioned everything being open. Back then, we were restricted by law; only 2 percent of the military could be women."
Schwartz used the VA for health care in the 1980s and says that despite current VA shortcomings, progress has been made. At that time, there were no gynecological services for women, she says, and far fewer women veterans were using the VA health system than now. After Fire, she says, shows that change.
"This is a strong story of women making great strides to help themselves and to help others," says Schwartz. "That's what it's all about."
After Fire premiered at DOC NYC on November 11 and is seeking distribution.
If you are affected by the topics in this article, there is help. Call 1-855-VA-WOMEN to reach the Women Veterans Call Center. You can also visit Veterans Crisis Line to chat, or call 1-800-273-8255 and press 1.
This article has been updated to reflect that not all the women veterans featured in After Fire are victims of military sexual assault. Laly Cholak is involved in helping veterans but is not a sexual assault victim.
'After Fire' and Women Veterans' Complicated Road to Healing Trauma | Culture