Hundreds of thousands of Rohingya refugees who fled Myanmar to escape ethnic cleansing are now at risk of having their makeshift shelters destroyed by extreme weather conditions, according to human rights workers.
More than 900,000 Rohingya, a stateless Muslim minority that previously lived in Myanmar's Rakhine state, now live in Cox's Bazar, a tourist and fishing town in southern Bangladesh that juts into the Bay of Bengal. Many of them have arrived over the past year with no possessions but are relatively safe from immediate violence. Still, they live in extreme poverty and have almost no employment opportunities, making them almost entirely reliant on international aid. Most of the houses constructed for the Rohingya have been built on wooden stilts to survive the flood season, but humanitarian aid workers say that the monsoon season will take its toll on the sprawling refugee camp.
"The Kutupalong-Balukhali Expansion Camp near the town of Cox's Bazar, sometimes referred to as the 'mega camp,' is now the world's largest refugee camp. It was built quickly and haphazardly on a hilly jungle," a report published by Human Rights Watch on Monday details.
"The imminent threat for Rohingya refugees is the likelihood that the Cox's Bazar area will be hit by a cyclone or comparable high winds and storm-surge flooding," the report continues. "Throughout the Human Rights Watch May 2018 visit, refugees were busily shoring up their huts, construction crews were working to build safer locations to accommodate people, and first responders were conducting drills to mitigate disaster. Notwithstanding these efforts, the camps and their residents remain highly vulnerable to catastrophic weather events."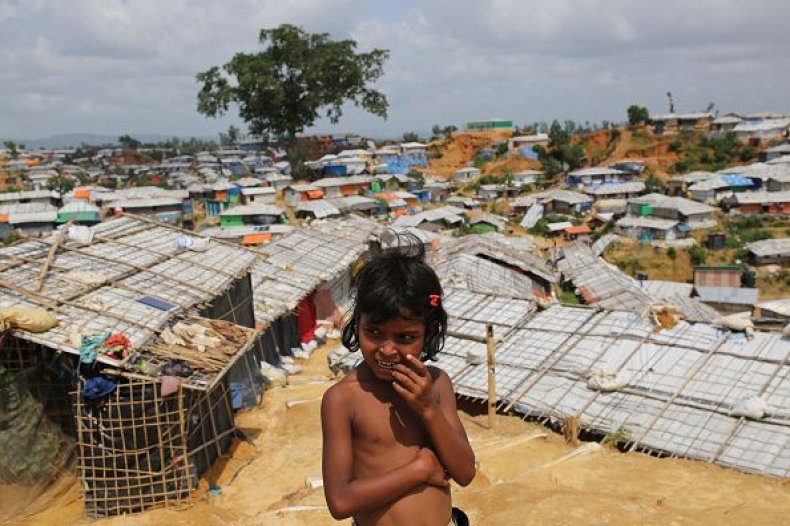 Over 200,000 refugees are at risk of landslides and severe flooding in forthcoming months, but only around 10 percent of those at risk have been relocated to safer areas, according to aid workers.
"Relocation elsewhere in Bangladesh to a location with fewer environmental risks and adequate standards of services is crucial for the health and well-being of the Rohingya refugees. However, this needs to be done with consultation and consent of the refugees to keep their displaced village communities intact and maintain contact with the broader Rohingya refugee community," the report reads.
The Rohingya community has already experienced significant displacement. Myanmar's security forces claim they began their campaign against the Rohingya, a campaign of violence that international officials have called ethnic cleansing, in response to an attack launched against a police depot in August 2017 by a group of Rohingya insurgents. Some U.N. officials have said the violence constitutes genocide.
Regardless of the name, the violence disproportionally targeted Rohingya civilians. Myanmar's military has been condemned for raping, murdering and torturing Rohingya, as well as burning their villages and driving them out of the country.
Few observers have been allowed to enter the Rakhine state since the violence began, but satellite imagery and the stories of fleeing refugees have demonstrated that the military has been seizing land once owned by the Rohingya.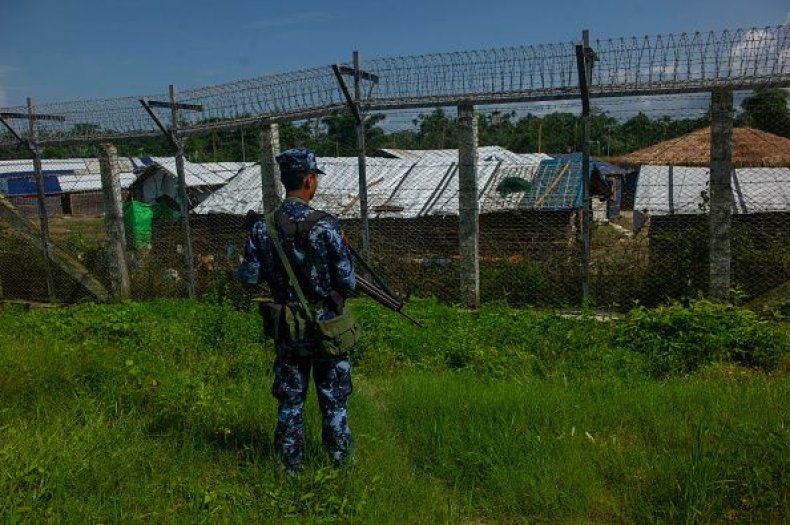 The country's leader Aung San Suu Kyi, a human rights icon who won the 1991 Nobel Peace Prize for leading a pro-democracy movement while under house arrest for two decades, has been widely criticized for failing to speak out against the violence or reign-in the country's military. Many have advocated that she be stripped of the accolade for failing to do more to protect the Rohingya.
Today, Myanmar's government says it is willing to allow many Rohingya to return. The government claims that it is preparing housing for Rohingya—whose homes were burned down—but reports suggest that the situation is not so clear-cut. The government says that dozens of Rohingya have moved back to Myanmar, but that estimate is suspected to be high.
"There was an MOU [memorandum of understanding] signed between Myanmar and Bangladesh, but it hasn't been made public. It lays the framework for return and repatriation. The MOU does say that any repatriation should be safe, dignified, and voluntary, but it doesn't lay out what that means. There is concern among the Rohingya that they weren't consulted and there could be forced repatriation," Francisco Bencosme, a representative of the rights group Amnesty International who recently visited Cox's Bazar, told Newsweek.
"The real test is how the Myanmar government treats the Rohingya who are in refugee camps in Northern Rakhine. From every report that we've seen, their freedom of movement is still being denied, there are cases of harassment, lack of humanitarian assistance," Bencosme added.
Meanwhile, the living situation for many Rohingya in Bangladesh remains precarious. Officials from the International Organization for Migration noted in early August that refugees in Cox's Bazar are at risk of being trafficked and sexually exploited because so many of them lack employment opportunities. Some are being trafficked and forced to live like slaves, officials said.
"The situation on the Bangladesh side, given its monsoon season, is really precarious. Children make up half of the population and they've lost a whole school year. There is concern about the right to work," Bencosme told Newsweek. "We've seen 28,000 people affected by landslides, people with shelters falling on top of them. There are crises within crises within Cox's Bazar."
Phil Robertson, deputy head for Southeast Asia at Human Rights Watch, also added that "[Prime Minister] Sheik Hasina and the Bangladesh government need to recognize the international goodwill they earned by accepting the Rohingya refugees is not unlimited." He told Newsweek that if Hasina "moves forward with her problematic, rights-abusing plan to force Rohingya to move to the risky and remote island of Bhasan Char, global criticism will shift from Myanmar to Bangladesh faster than she can imagine."
In a country where ethnic divisions remain salient, 2017 was not the first time the Rohingya had faced violence. Buddhist nationalist forces in Myanmar have routinely persecuted the Rohingya, viewing them as intruders and immigrants. Many in Rakhine state refer to the Rohingya as "Bengali," implying that the Muslim minority is actually from Bangladesh despite the fact that most had only ever lived in Myanmar. Over the years, they have been denied citizenship, identification papers and voting rights.
"The root cause is a system of discrimination and apartheid that still exists in Myanmar," Bencosme added. "Laws are written in a way to systematically discriminate against the Rohingya."
Robertson urged Bangladesh to protect the Rohingya from both natural disasters and man-made threats while enabling education for children. "Having over 700,000 Rohingya living in makeshift shelters without an evacuation plan in case of a typhoon is just asking for a catastrophe," he said.