Following Florida School Shooting, Gun Owners Destroy Rifles and Turn Firearms Over to Police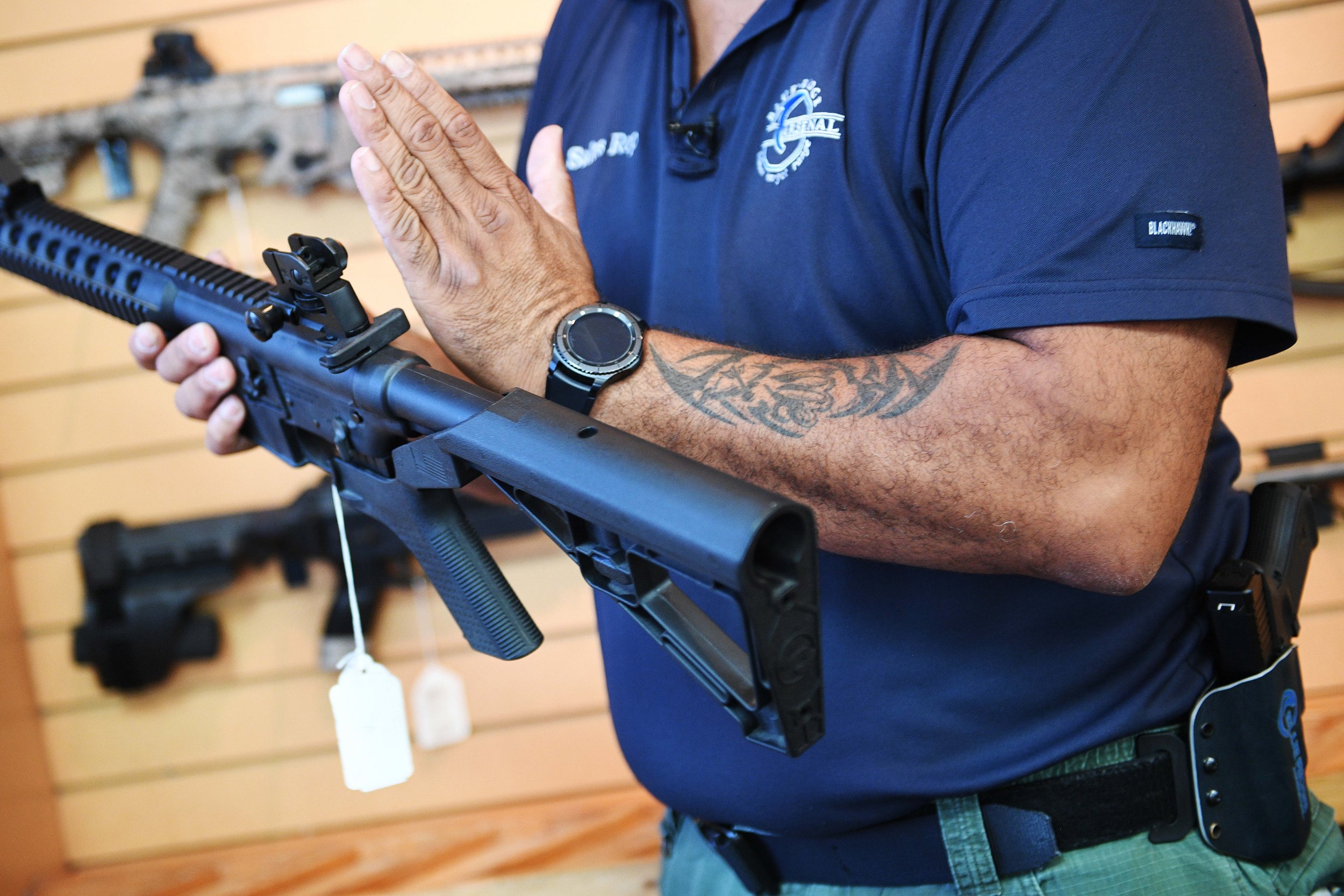 In the wake of the school shooting in Parkland, Florida, that left 17 students and teachers dead, gun owners across the U.S. have decided to destroy their weapons, while others have given their guns to police.
One video shared on social media shows a man in New York sawing his AR-15 rifle in half, in support of gun control.
"Now, I'm a firm believer of the Second Amendment," Scott Pappalardo said in a video posted to Facebook, which has since been shared more than 340,000 times. "I even have it tattooed on my arm." Although the AR-15 owner said he only shoots targets with the rifle for "fun," he could no longer justify owning the weapon after the massacre at the Marjory Stoneman Douglas High School.
"When Sandy Hook happened, I said to my wife, I would gladly give this gun up if it would save the life of one child," Pappalardo said in the video.
"That's five years ago now, and since then over 400 people have been shot in over 200 school shootings, so I guess my words were just empty words in the spur of the moment," Pappalardo said. "And now here we are, 17 more lives lost, so when do we change? When do we make laws that say maybe a weapon like this isn't acceptable in today's society," he asked before using a chainsaw to cut his AR-15 in half.
Pappalardo said he wanted to destroy the weapon instead of selling it, for fear that the gun could end up in the wrong hands.
"I know a lot of people are going to say I'm stupid for doing that, but this was a personal choice. I can't live knowing that my gun's out there and it could one day possibly commit a horrific act like the other day in Florida," he said.
Related: Fifty percent of Americans want nationwide ban on assault weapons after Florida school shooting, poll shows
In Boise, Idaho, a man who described himself as an "avid shooter" called on fellow gun owners to join him in turning over their weapons to police, saying he didn't want "anything to do with" guns after the mass shooting.
"I just don't need guns in my house," Kevin Rogers told KTVB.com, after turning three guns over to the Boise Police Department on Monday. "I don't want anything to do with them now, and I challenge everybody to do the same thing."
Rogers said police asked him if he wanted to sell the firearms instead, "because they said they're just going to destroy them." But he decided he "didn't want anybody else to have them."
"If we really want to prevent this, if we really want to stop this, we're going to let the police do their jobs. We're going to give them our guns," he said.
The Broward County Sheriff's Office, which responded to the Parkland school shooting, thanked gun owner Ben Dickmann after he posted photos of himself handing over his high-powered AR-57 rifle to police.
"I am a responsible, highly trained gun owner," Dickmann said. "However, I do not need this rifle. No one without a law enforcement badge needs this rifle."
The Broward County Sheriff's Office tweeted: "Thank you Ben for sharing this" in response to the post.
It seems Pappalardo, Rogers and Dickmann are not alone in that sentiment. A poll conducted after the Parkland school shooting recently found that half of Americans would support a nationwide ban on the sale of assault weapons.
Of 808 adults surveyed in the Washington Post/ABC News survey between February 15 and 18, 50 percent of Americans said they would support a total ban, with 71 percent of Democrats and 29 percent of Republicans backing the idea.
A majority of respondents (62 percent) said they do not feel President Donald Trump is doing enough to prevent mass shootings.
Trump has faced scrutiny from survivors of the school shooting and the general public for failing to take action on enforcing stricter gun control in the country.
In a moving address at a press conference held to honor those who died in the Parkland school shooting and to call for gun control, student Emma Gonzalez called on Trump to take action.
"If the president wants to come up to me and tell me to my face that it was a 'terrible tragedy' and how it should never have happened and maintain telling us how nothing is going to be done about it, I'm going to happily ask him how much money he received from the NRA," she said.