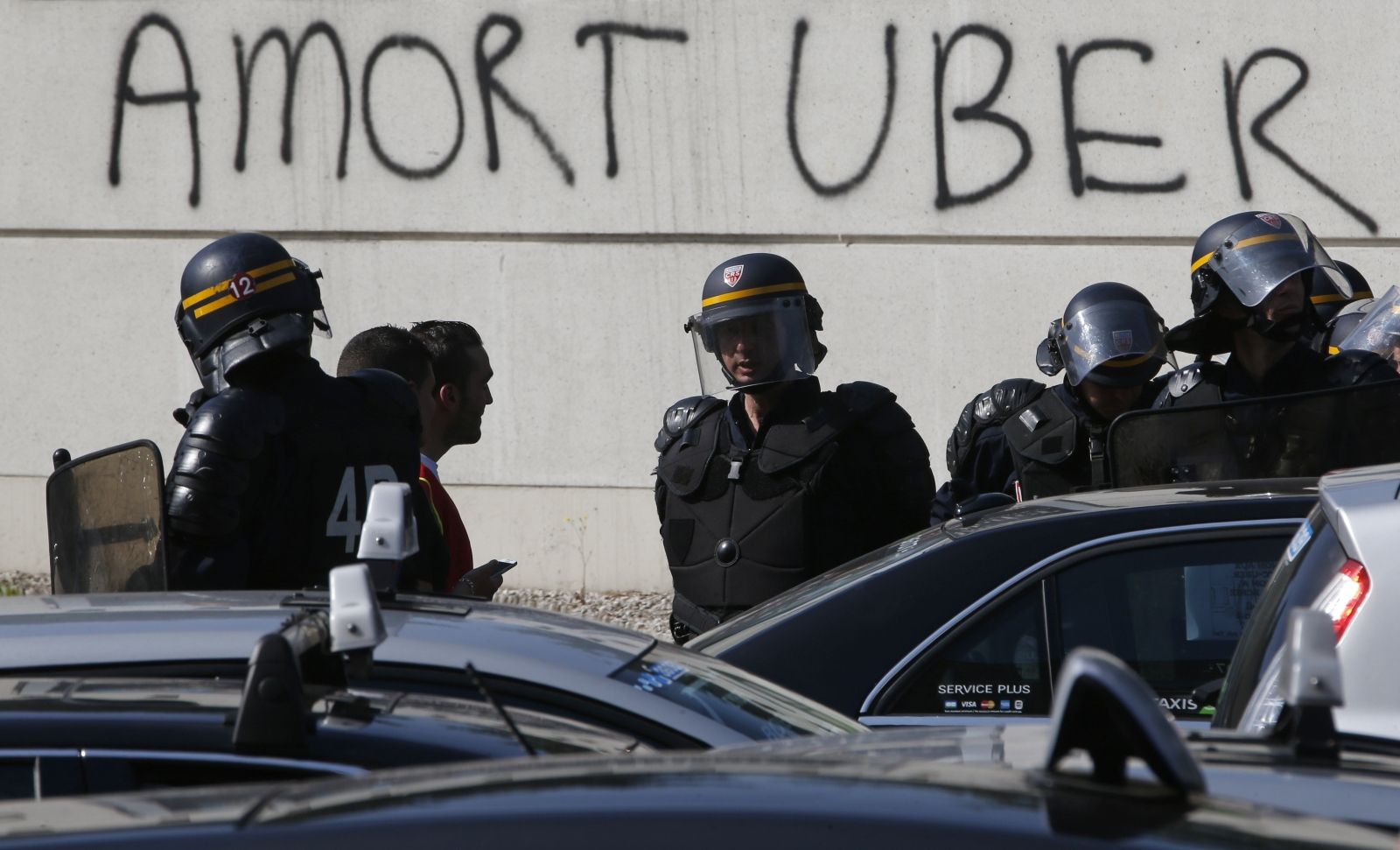 After France's taxi drivers paralysed the country's major cities on Friday with violent protests against unwanted competitors such as ridesharing company Uber, their passengers are biting back in protest as an online protest group of over 100,000 people has gathered in a matter of days to encourage boycotting French taxis.
The initial strike by taxi drivers took place on June 24 when drivers across France flooded the streets of Paris, Marseille, Lyon and other French cities inducing gridlock and blocking roads with flaming tyres in protest against what they considered 'unfair competition' from Uber and its UberPop service. Drivers on the service operate with minimal registration and training at much lower rates than licensed taxis which has riled many taxi drivers, and even prompted several physical attacks on Uber drivers prior to the protest.
Although the French interior minister Bernard Cazeneuve backed the taxi drivers, calling for UberPop to cease its "illegal" services, many who were left stranded at airports, stuck in traffic or exposed to the violence as a result of the strike took to social media to complain.
The public outcry against the strike has now fueled a Facebook page called the 'Strike of Taxi Users' attracting around 109,500 members in less than a week. The page calls on regular citizens to "take any other mode of transport available" besides taxis such as public transport, carpooling with others, riding scooters and, even unicorns "until the behaviour of taxi [drivers] returns to normal".
"The purpose of this page is not to become a outlet to verbal violence against taxis," Francis Aristochet the event organiser writes. "The purpose is only to demonstrate peacefully that a portion of the taxi users are not satisfied with the service that is currently offered and not to tolerate the violence of [the taxi strike] without saying something."
"If the taxis have the right to protest in defence of their rights, so do we," Aristochet writes. The page is full of messages criticising French cabs as one member says the protests have put him off using taxis and promises "not to set foot" in a Parisian cab when he visits the capital soon.
Other users share unfavourable comparisons with French taxis and their equivalents abroad as one member says taxis in Germany are "much more courteous" while another says she has refrained from using taxis for years and in light of recent events is prepared to extend that boycott "indefinitely".
One of the Taxi drivers who attended the strike in Paris dismisses the page as "a marketing campaign initiated by Uber or one of its lobbies".
"They actually use the emotion created by the images of cars torched in Paris during the last strike to surf on a wave of taxi users' discontent, which is amplified and does not reflect the result of these incidents," he says.
"The Uber company is unfair to the taxi industry and it uses its lobbyists and lawyers to provoke the government and taxis," Joaquim adds.
A spokesman for Uber denied the company is linked with the Facebook page. When asked about similar citizen-led initiatives against taxis the spokesman said "this is nothing to do with Uber".