After Gabbard and Buttigieg Trade Personal Attacks, Twitter Debates Winner of Heated Democratic Exchange
After Hawaii congresswoman Tulsi Gabbard and South Bend Mayor Pete Buttigieg traded personal attacks in the closing statements of Wednesday night's Democratic presidential debate, social media users quickly took to Twitter to dispute the winner from the heated and lengthy exchange.
A battle of words broke out between Gabbard and Buttigieg as the ten qualifying Democratic candidates made their final statements during the fifth presidential debate in Atlanta, Georgia. After Buttigieg touted his experience as something "we need, not just to go to Washington but to change it before it is too late," Gabbard criticized the South Bend mayor's alleged lack of experience in foreign policy.
"The most recent example of your inexperience in national security and foreign policy came from your recent, careless statement about how you as president would be willing to to send out troops to Mexico to fight the cartels," she said.
In response, Buttigieg accused her of taking his remarks out of context and called the attack "outlandish, even by the standard of today's politics."
"Are you saying you didn't say that?" Gabbard asked. "I was talking about U.S.-Mexico cooperation," Buttigieg fired back.
"Are you seriously saying that anybody on this stage is proposing invading Mexico?" he continued loudly, to which Gabbard responded: "That's not what I said."
"If your question is about experience, let's also talk about judgment. One of the foreign leaders you mentioned meeting was Bashar al-Assad. I have enough judgement that I would not sit down with a murderous dictator like that," Buttigieg said, drawing applause.
"Your point about judgment is correct," Gabbard replied, "Our commander-in-chief does need to have good judgement and what you've just pointed out is that you would lack the courage to meet with both adversaries and friends to ensure the peace and national security of our nation."
"Like Donald Trump who met with Kim," Buttigieg interrupted.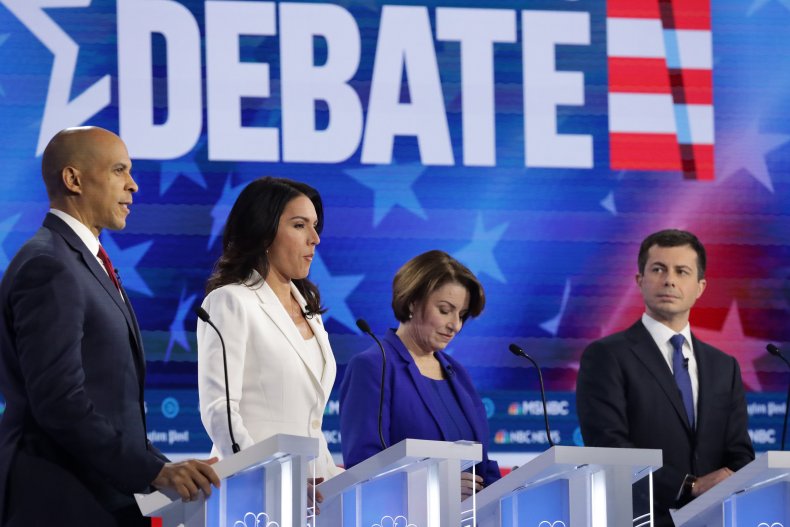 After their heated exchange, thousands of social media users took to Twitter to debate which candidate came out of the battle on top, with most pointing to Buttigieg.
"Buttigieg on Gabbard just now," CNN's Chris Cillizza tweeted, alongside a short clip of a basketball player successfully dunking a ball.
"Buttigieg is bashing Gabbard on meeting with Assad. Just killing it," Conservative Washington Post blogger Jennifer Rubin tweeted.
"#Buttigieg slams #Gabbard for taking him out of context when ahe [sic] came for him on experience. He wins the round without regard to facts. She name called by calling him a coward & he clapped back! #DemDebate5," NBC News legal analyst Maya Wiley tweeted.
"One of Harris's contributions to the primary is giving every other candidate ample warning that they need a plan to neutralize Gabbard, which Buttigieg seems to be doing fine," NBC News political reporter Benjy Sarlin tweeted.
"'Do you seriously think anyone on this stage is seriously offering to invade Mexico?'' -- Buttigieg with the shade against Gabbard #DemDebate," HRC's Charlotte Clymer tweeted.
"Buttigieg just spilled Gabbard's blood all over her white pantsuit," Breakfast Media White House correspondent Andrew Feinberg tweeted.
"Yeah so Tulsi Gabbard's attack on Buttigieg was total horseshit," Daniel Drezner, a Fletcher School professor, tweeted.
"Buttigieg just gave Gabbard the smackdown she deserved and noted that while she might not think he has Washington judgement, he has enough judgement to not meet with a murderous dictator. #DemDebate," journalist Victoria Brownworth tweeted.
"Pete Buttigieg hits Gabbard for taking his comments out on Mexico of context: 'That is outlandish, even by the standards of today's politics... Do you seriously think anybody on this stage is proposing invading Mexico?... I'm talking about building alliances,'" MSNBC's Kyle Griffin tweeted.
Despite the larger support for Buttigieg, some users applauded Gabbard for calling out the mayor.
"F*** yes! Tulsi just called out Pete Buttigieg over talking about sending U.S. troops to Mexico. More of this. #DemDebate," Twitter user @HumanisttReport wrote.
"Tulsi just called Sneaky Pete a coward. Can we have a debate where every candidate just spends 5 minutes getting dressed down by Major Gabbard? #DemDebate," Twitter user @jvgraz tweeted.
"Tulsi just whipped out a Chick-fil-A sandwich and threw it at Pete's face omg," Twitter user @thereidfeed wrote.
The infographic below, provided by Statista, illustrates the number of minutes spoken by debate participants.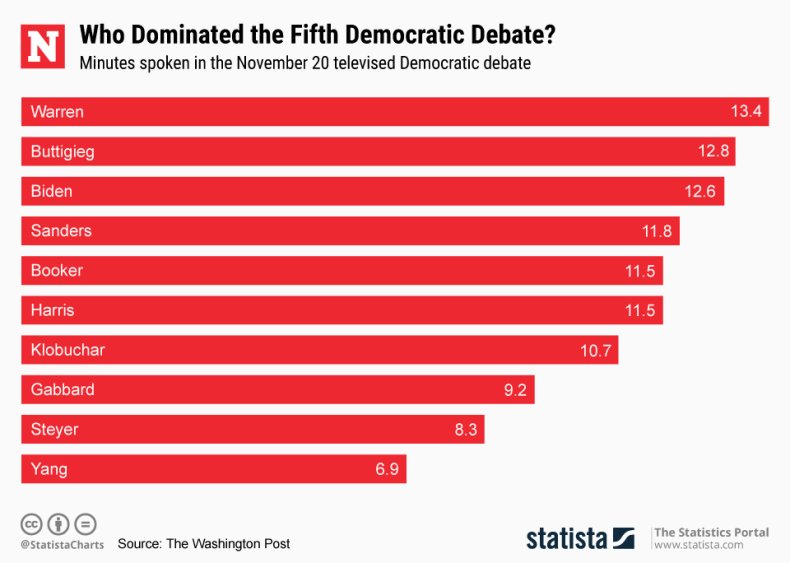 This article was updated to include an infographic.