After Grilling Robert Mueller About Accountability, Accusations of 'Gym Jordan's' Involvement In OSU Sex Scandal Resurface
Ohio Rep. Jim Jordan became a hot topic on Wednesday after he questioned former special counsel Robert Mueller during Mueller's testimony before Congress regarding his report on Russia interference in the 2016 presidential election.
Jordan gained notoriety last year following allegations that Richard Strauss, a team doctor for Ohio State University, had sexually abused athletes while employed from 1978 to 1996. During part of that period, Jordan served as an assistant coach for the university's wrestling team.
Jordan has maintained that he was never informed of any abuse, saying in a statement released by a spokesperson in July 2018 that he "never saw any abuse, never heard about any abuse, and never had any abuse reported to him during his time as a coach at Ohio State."
Jordan's spokesperson, Ian Fury, also said at the time he was never contacted by OSU regarding the school's investigation into Strauss–who is accused of assaulting 150 athletes over 16 varsity sports–but Kathleen Trafford, one of the attorney's working on the case for the university told the Dayton Daily News that the team had contacted Jordan on multiple occasions but the congressman had never responded to interview requests.
Later that month, Jordan sat down with the investigators looking to the assault allegations, with Fury releasing an additional statement which read, "Congressman Jordan has told the investigators the same thing he's told you guys in the media since day one. He has never had any abuse reported to him."
"As illustrated in the report, Investigators 'did not identify any other contemporaneous documentary evidence indicating that members of the OSU coaching staff, including head coaches or assistant coaches, received or were aware of complaints regarding Strauss' sexual misconduct,'" Fury added.
However, Jordan's denials of knowledge about the alleged assaults prompted some to refer to the congressman as Gym Jordan; a way to mock the coach-turned-politican for his denials about the scandal. It was that nickname that became a trending topic on Twitter Wednesday.
"He knew it all. It's frankly unbelievable that he would make such a statement. It's beyond comprehension that he is — it's just unfortunate," former OSU wrestler Mike DiSabato told the Daily News in July 2018, adding that he considers Jordan a friend. "I respect him as a former athlete, as my coach in college and as a person. However, he's now gone on the record twice saying he knew nothing about Dr. Strauss and the deviant training environment to which we were exposed on a daily basis."
Among the allegations levied by DiSabato was that OSU allowed university faculty and staff to shower and use the locker room at the same time as student-athletes. That rule, DiSabto told the Daily News, created a "deviant" environment where men arrived to shower with male wrestlers.
"Happened every day. Deviant acts in front of us, excessively soaping themselves in their groin area, public masturbation. All kinds of deviant behavior. Voyeurism," he said.
DiSabto added that Strauss was a frequent visitor who took up to six showers a day to be near male athletes and that the locker the doctor was given was right next to Jordan's. Another wrestler, who was not named, said he told Jordan about the sexual abuse while he was on the OSU wrestling team.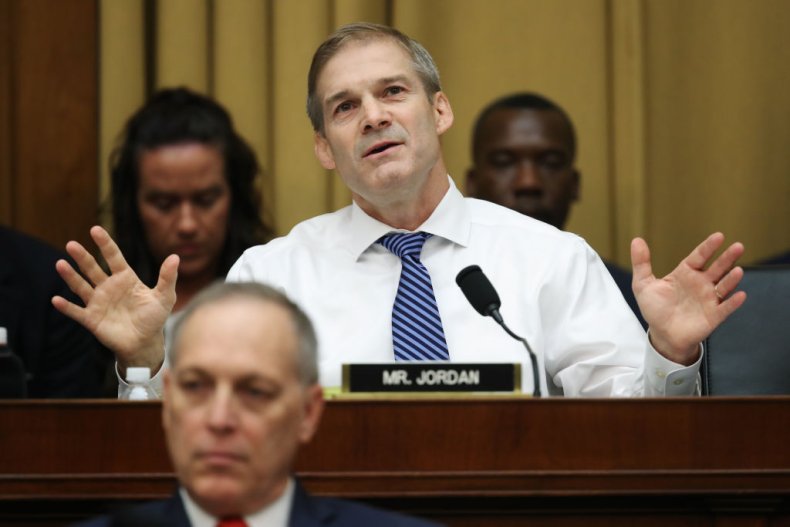 On Wednesday, Jordan asked Mueller why he did not charge FBI informant Joseph Misfud with a crime after Misfud lied to the FBI. Mueller replied that he could not answer the question because he "could not get into internal deliberations about who would or would not be charged," prompting Jordan to say that other people were charged for lying.
Misfud met former Trump campaign aide George Papadopoulos in 2016 and informed him that Russia had dirt on Hillary Clinton.
Jordan continued to question Mueller, asking why Misfud was not charged, if Misfud was interviewed and if he lied to the special counsel's team of investigators and if Misfud was "western intelligence or Russian intelligence." In each instance, Mueller declined to answer, saying, "I can't get into that."
"Lot of things you can't get into," Jordan replied. "What's interesting: you can charge 13 Russians no one's ever heard of, no one's ever seen. No one's ever gonna hear of them; no one's ever gonna see them; you can charge them, you can charge all kinds of people who are around the president with false statements, but the guy who launches everything....the guy who puts this whole story in motion - can't charge him. I think that's amazing."
Mueller said he didn't agree with Jordan's characterizations, prompting Jordan to blast Democrats for continuing with investigations into President Donald Trump when time would be better served in figuring out where the "false accusations" began and why Misfud was lying to the FBI.
Following the exchange, Twitter erupted with individuals praising Jordan for his questioning of Mueller, while others panned the congressman for implying that not charging Misfud was a cover-up attempt when he denies knowledge of sexual abuse at Ohio State.
Update 07/24/19, 5:24 p.m.: This article has been updated to clarify that Rep. Jordan has been interviewed by OSU investigators regarding the sexual assault allegations and a statement released by his office regarding Jordan's testimony and findings by the OSU investigative team.