After Harris Drops Out, Sanders, Gabbard and Other 2020 Candidates Thank Democrat for her Campaign
Former presidential campaign rivals of Senator Kamala Harris have offered words of support after the California Democrat announced she was dropping out of the race Tuesday.
Harris announced she would be suspending her campaign Tuesday afternoon, saying the decision was made with "deep regret" as well as "deep gratitude," while vowing to "keep up the good fight." Many of her former Democratic primary opponents quickly reacted with positive comments about the senator.
Former Vice President Joe Biden was seemingly caught off guard by the news as he was approached by reporters shortly after the announcement was made, but had no trouble immediately reacting with positive comments about the candidacy of Harris.
"My reaction is she is a first-rate intellect, first-rate candidate and a real competitor," Biden told reporters. "I have mixed emotions about it because she's really a solid, solid person and loaded with talent. I'm sure she's not dropping out without wanting to make the changes she cares about."
When one of the reporters asked Biden if he would consider Harris as a potential running mate, he walked away without answering. Biden later added his reaction on Twitter, describing Harris as an "incredible talent with unlimited potential."
A large number of the remaining major Democratic candidates reacted to the news with seemingly universally kind words for the senator on social media.
Senator Bernie Sanders thanked Harris for her "spirited" campaign, while also using the opportunity to speak out against President Donald Trump.
"Thank you @KamalaHarris for running a spirited and issue-oriented campaign," wrote Sanders. "I look forward to working with you to defeat the most dangerous president in history and ending the hatred and divisiveness that he has created."
Senator Elizabeth Warren also slammed Trump and may have taken an indirect swipe at the newest candidate in the race, billionaire Michael Bloomberg. Both Warren and Sanders have accused the former New York City mayor of attempting to "buy" his way to the presidency.
"Thank you @KamalaHarris for your commitment to fighting for the people, for justice, and to holding Donald Trump accountable," wrote Warren. "Kamala is right—our system is deeply broken when billionaires can buy their way in. I'll fight with you to make sure our government works for all of us."
Bloomberg heaped praise on Harris as she left the race, while highlighting her potential value in the Senate as Democrats continue their effort to impeach Trump.
"Senator @KamalaHarris brought important ideas and perspective to the race, and we will especially need her leadership and commitment to justice in the Senate as Congress weighs impeachment," tweeted Bloomberg.
Bloomberg's successor and current New York City Mayor Bill de Blasio described Harris as "fighter" and a "trailblazer" with a "clear voice for justice in the Senate." De Blasio suspended his campaign for the Democratic nomination in September.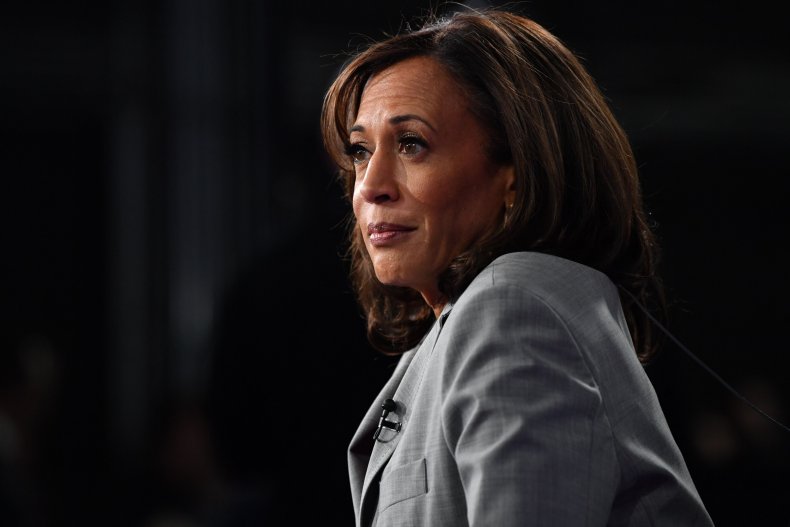 U.S. Representative Tulsi Gabbard (D-Hawaii) said she respected Harris despite their political differences.
"Sending my best wishes to @KamalaHarris, her family & supporters who have campaigned so hard. While we disagree on some issues, we agree on others & I respect her sincere desire to serve the American people. I look forward to working together on the challenges we face as a nation," tweeted Gabbard.
South Bend, Indiana Mayor Pete Buttigieg praised Harris for her "courage" as a senator.
"@KamalaHarris has spent her career advocating for the voiceless and the vulnerable. I am grateful for her leadership and the courage she brings to the Senate and the national debate," wrote Buttigieg. "I know she will continue to fight fearlessly on behalf of the American people—and our democracy."
Minnesota Senator Amy Klobuchar called Harris "a good friend," saying that although the two were running against each other, their friendship strengthened during their political rivalry.
"Kamala is a good friend and incredibly strong public servant. Sometimes campaigns can tear friendships apart but we have grown closer. Her good work will continue," Klobuchar tweeted.
In addition to the positive comments by Democratic candidates, two Republicans challenging Trump in the primaries also used Twitter to offer words of respect for the senator.
Joe Walsh, a former congressman from Illinois, said Harris should be "commended" for her campaign, calling her voice "important and influential."
Former Massachusetts Governor Bill Weld took the opportunity to praise both Harris and Montana Governor Steve Bullock, who ended his presidential candidacy Monday. Weld said both of the former candidates deserve "gratitude and respect" for entering "the arena with an eye to serve."
Newsweek reached out to the Harris campaign for comment, but didn't hear back by publication time.