After HHS Secretary Says 'Nobody Is Trying to Minimize' U.S. Coronavirus Threat, Trump's Tweet Implies the Exact Opposite
Health and Human Services Secretary Alex Azar insisted in a Monday interview that "nobody is trying to minimize" the risks of coronavirus, arguing it was a "very serious public health threat." But minutes later, his boss, President Donald Trump, posted a tweet appearing to suggest the opposite.
"This is a very serious health problem. Nobody is trying to minimize that," Azar said in an interview with Fox News. "It is a very serious public health threat to the people of the United States, and that's why President Trump from day one has been aggressive with a whole of government approach and will continue to do so," he insisted.
Then, just a few minutes later, Trump weighed in with a tweet, suggesting inaccurately that coronavirus (or COVID-19) is less of a threat than the common flu.
"So last year 37,000 Americans died from the common Flu. It averages between 27,000 and 70,000 per year. Nothing is shut down, life & the economy go on," the president posted to Twitter. "At this moment there are 546 confirmed cases of CoronaVirus, with 22 deaths. Think about that!"
While there are tens of thousands of cases of flu deaths in the U.S. annually, Trump's assessment disregards the higher death rate that results from coronavirus. While the seasonal flu has a death rate of about 0.1 percent, the World Health Organization has said that 3.4 percent of those confirmed to have contracted COVID-19 have died.
Health experts have estimated, however, that the overall death rate from coronavirus is around 2 percent. They have noted that many cases in which people have mild symptoms have not been reported or confirmed. Regardless, 2 percent and 3.4 percent are both higher than 0.1 percent.
On February 28, Trump told rally goers in South Carolina that coronavirus was the "new hoax" by the Democrats. He later, in a meeting with administration officials, questioned why the new virus could not be treated with an ordinary flu shot. Then, in an interview with Fox News, he suggested that people with the virus could just go to work, which health experts and officials have explicitly warned against.
As a result, Trump has faced criticism for his administration's response to the outbreak. Even some Republicans have urged the president to listen to science and health experts.
"I listen to the scientists when it comes to the numbers, and I would encourage the president if he's going to report things to make sure the science is behind what he's saying," Republican Senator Lindsey Graham of South Carolina, who is typically a defender of the president, told reporters last Thursday.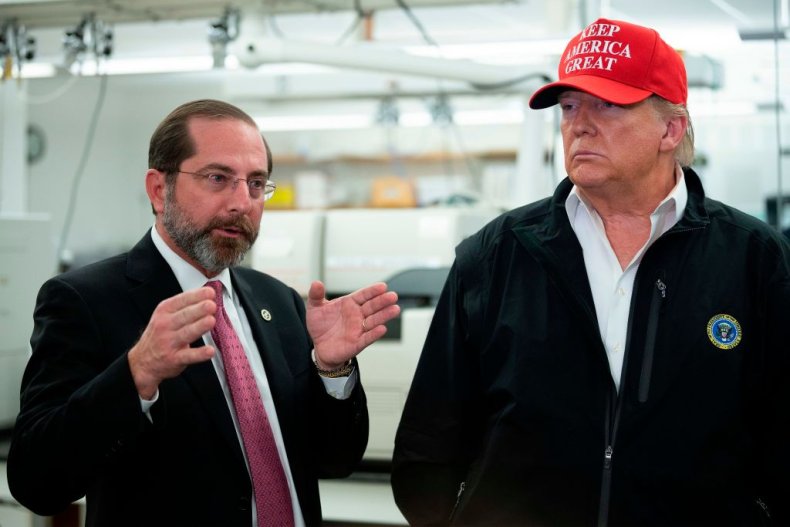 Trump has repeatedly pushed back against criticism of his administration's handling of the coronavirus response.
"The Fake News Media and their partner, the Democrat Party, is doing everything within its semi-considerable power (it used to be greater!) to inflame the CoronaVirus situation, far beyond what the facts would warrant," Trump tweeted earlier in the day on Monday.
More than 100,000 people have been confirmed to have contracted coronavirus around the world, with the bulk of those cases being in China, where the virus was first discovered. Data suggests that the virus is much less severe in those 30 and younger, while the risk of death increases significantly among the elderly. Those with pre-existing health conditions–such as heart disease, diabetes and respiratory problems–also appear to be at greater risk of serious complications if infected.