After Hillary Clinton Coughs During Interview, Tucker Carlson Has Medical Correspondent Diagnose Her
The evening after Hillary Clinton coughed during an appearance on The Howard Stern Show, Tucker Carlson called in a medical expert to diagnose her.
Doctor Marc Siegel, a physician and Fox News medical correspondent, said on Wednesday's Tucker Carlson Tonight that Clinton has "a chronic, recurrent, phlegmy cough." He added that if she were his patient he'd want to know if "she has an underlying tendency toward respiratory infections."
Siegel went on to add that Clinton said in 2016 that she "liked to eat jalapeno peppers, and drink coffee, and drink alcohol," which might lead to a "terrible" amount of acid reflux, which in turn may cause chronic coughing.
"If you're coughing, recurrent coughing, get to be seen, have a pulmonary work-up, make sure you don't have reflux, asthma, pulmonary infections or stress," concluded Siegel.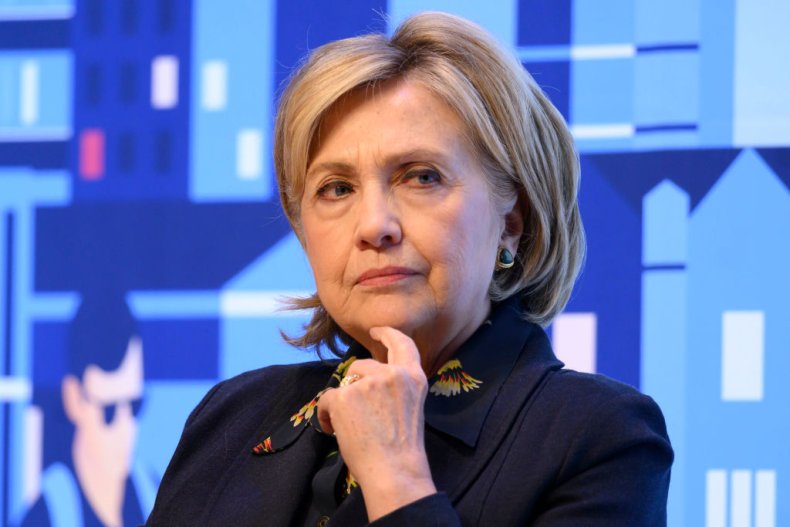 Clinton's health was the subject of much controversy during the 2016 election, from the moment her candidacy was announced.
In August 2016, a Twitter hashtag, #HillaryHealth, sprouted up. Soon rumors appeared that she was unable to walk on her own, and that she'd had a defibrillator implanted. There were medical records posted on Reddit and other social media sites that claimed Clinton had suffered a seizure during this time. Fox News host Sean Hannity furthered this rumor by showing a picture of a Clinton aide onscreen holding what was suggested to be a Diazepam pen. Clinton's campaign later said that those records had been falsified.
Rudy Giuliani was among the first to take the discussion to the media, telling viewers on Fox News in August 2016 to search for "Hillary Clinton illness," and accused the mainstream media of hiding evidence that Clinton was ill.
Later that month, Trump spokesperson Katrina Pierson said on MSNBC that Clinton had dysphasia.
When Clinton came down with a case of pneumonia in September 2016 and stumbled at a 9/11 memorial, the rumors only intensified and began making more frequent appearances in President Trump's speeches.
Trump eventually made Clinton's health one of the talking points of his campaign, focusing on alleged infirmities which made her "unfit" to take office. He once said during a speech that she "took too many naps."
"Honestly, I don't think she's all there," Trump said at one rally.
The speculation about Clinton's health did not die off after the election. In 2018, when Clinton wore a scarf draped over her neck and shoulders to a May event, The Daily Mail published speculation that she'd worn the scarf to hide a back brace.