After House Votes to Impeach, Trump Calls Democrats' 'Depraved Actions' an 'Eternal Mark of Shame' at Michigan Rally
While the House of Representatives debated two articles of impeachment against him Wednesday night, President Donald Trump took the stage for a Merry Christmas rally at Kellogg Arena in Battle Creek, Michigan. The final vote that sends the impeachment case on to a trial in the Senate happened while Trump was speaking.
Trump has been outspoken about the impeachment proceedings against him although he has declined to participate in the hearings, making his opinions known on Twitter and via a six-page-long letter sent to House Speaker Nancy Pelosi on Sunday.
Trump delayed the beginning of the rally for more than 30 minutes while waiting for the House to finish their debate. In his opening speech, vice president Mike Pence said Trump "wanted to wait to see the strong unified Republican vote on the Senate floor tonight."
"Through their depraved actions today, Crazy Nancy's House Democrats have branded themselves with an eternal mark of shame," Trump said.
After receiving word of the impeachment vote, Trump praised the Republicans who remained loyal. "We didn't lose a single Republican," Trump said.
"The Republican Party has never been so affronted but they've never been so united as they are right now," Trump said. "They're gonna do the right thing."
"Three Democrats went over to our side," Trump added. "It's unheard of."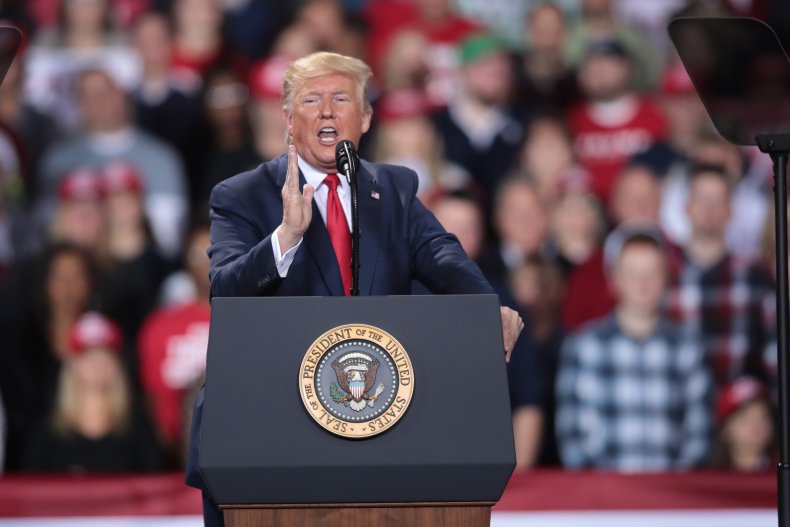 Regardless of what many would consider bad news, Trump seemed to be in good spirits.
"I see it as a very dark era," Trump said. "I don't know about you, but I'm having a good time. It's crazy! I'm not worried."
Towards the beginning of the rally a protester holding a sign that read "DON THE DON... YOU'RE FIRED" was ejected by security officers. On the way out of the arena, the protester gave the middle finger to the crowd and the cameras.
"There's a slob," Trump said of the protester. "There's a real slob. She'll get hell when she gets back home with Mom. There's one disgusting person who made a horrible gesture with the wrong finger. If one of us did that, it would be the biggest story ever."
Trump still found time to fire verbal volleys at the FBI, including former FBI director James Comey.
"Did I do a great job when I fired his ass?" Trump asked. "That was like throwing a rock at a hornet's nest. Did that place explode."
Trump also fired a shot at Michigan Representative Debbie Dingell and her husband, the late Representative John Dingell by implying that Dingell had gone to hell.
Trump said when he offered to memorialize Dingell in the Capitol Rotunda, he received a phone call from his wife.
"She called me up and said, 'It's the nicest thing that's ever happened, thank you so much,'" Trump said. "'John would be so thrilled. He's looking down, he'd be so thrilled.'"
"I said, 'That's okay. Don't worry about it,'" Trump continued. "Maybe he's looking up. I don't know. Maybe. But let's assume he's looking down."
Representative Dingell responded to Trump's comments on Twitter soon afterward.
"Mr. President, let's set politics aside," Dingell wrote. "My husband earned all his accolades after a lifetime of service. I'm preparing for the first holiday season without the man I love. You brought me down in a way you can never imagine and your hurtful words just made my healing much harder."