After Hurricane Harvey, Some Texans Are Walking in Streets Contaminated With Their Own Poop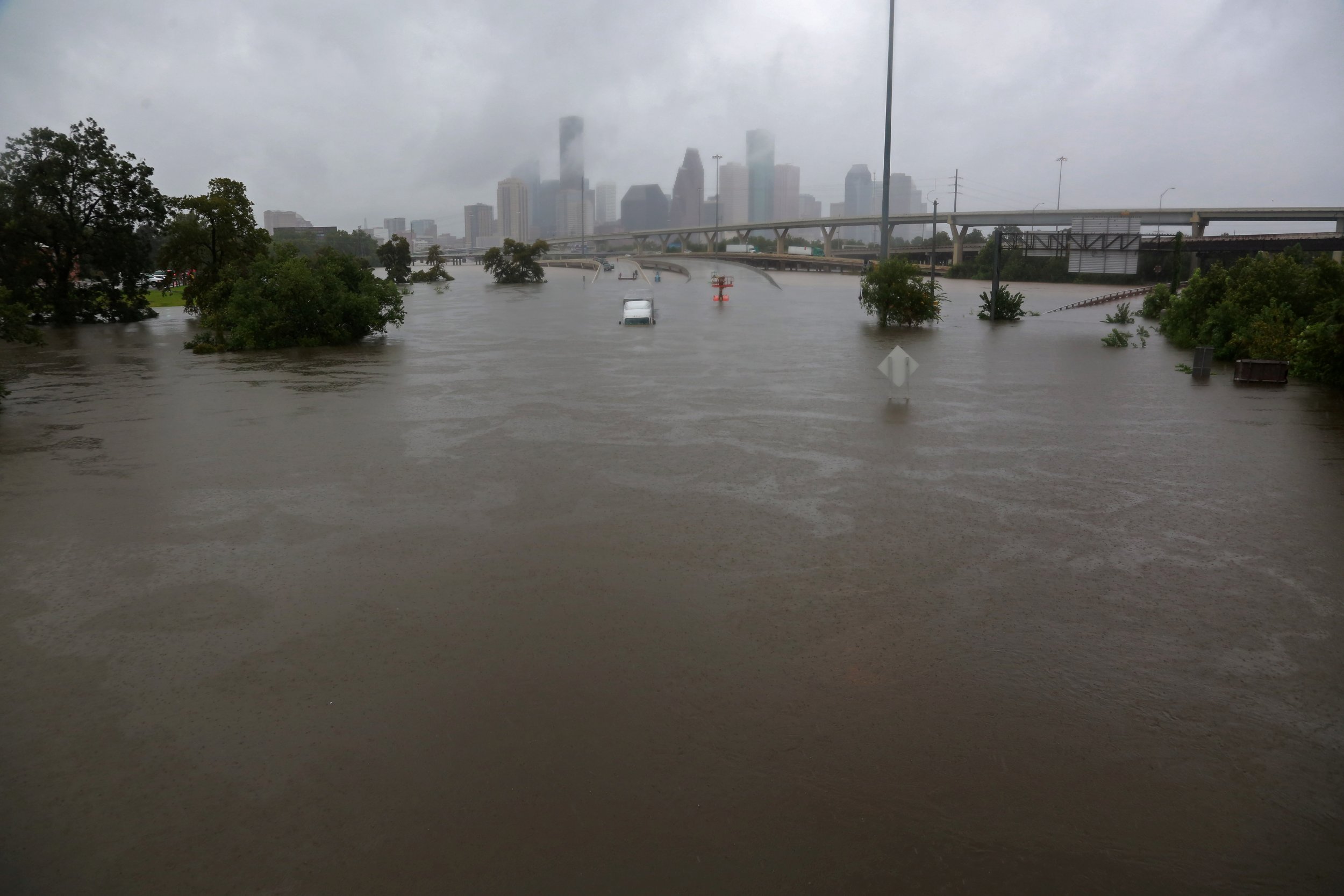 Just when you thought the worst was over for Houston, new reports suggest that some neighborhoods are being exposed to floodwaters contaminated with bacteria such as E.coli due to wastewater overflow. Although the drinking water system remains intact, there may be repercussions from external exposure to these dirty floodwaters.
Following the extreme flooding from Hurricane Harvey, sewage and wastewater treatment systems have overflowed in some Houston areas, causing floodwaters to become contaminated with dangerous bacteria, tests organized by The New York Times have confirmed. It's not clear how far the contaminated water has spread, but residents should still treat all floodwater as though it could be toxic and act accordingly.
"I can tell you that as of today, we have 39 wastewater treatment facilities; all 39 are accessible and operational," Yvonne Forrest, deputy director of Houston Water, told Newsweek. "Thirty seven of my 39 plants are meeting the cleanliness requirements."
Two plants west of Houston were completely inundated by floodwaters; at one point they were covered with as much as 10 feet of water. They are still operating, but at low capacity.
Unfortunately, sewage contamination following a natural disaster is nothing new. According to Dr. Michelle Fanucchi, associate professor in Environmental Health Services at the University of Alabama at Birmingham, it's to be expected in any hurricane or case of major flooding.
"Anytime you have a flood event, there is a chance that the flood waters are going to have raw sewage in them," Fanucchi told Newsweek. "This is not a rare occurrence, and this is not unique to Harvey. When you have a heavy rain even, it can overwhelm the treatment centers and cause raw sewage to leak into the waterways."
The wastewater overflow has not affected the area's drinking water, with daily tests confirming that drinking water is still safe. However, the contaminated floodwater has likely come in contact with residents' homes and belongings.
"Just because of the magnitude of the flooding, if there was an overflowing manhole than yes, untreated wastewater would be released into the environment," says Latrice Babin, deputy director of Harris County Pollution Control Services Department. "People need to understand they need to be careful. There are chemical things in the water that we are not sure of."
Possible contaminants in the flood water include anything that you might find in a sewage system. Fanucchi cited E.coli and hepatitis as more prominent bugs, but other pathogens, such as cholera and typhoid, could also thrive in these waters. The New York Times reported that Houston Hospitals are also seeing more cases of cellulitis, a reddened skin infection that may have resulted from prolonged exposure to contaminated waters.
Upon returning home, residents are urged to get rid of any standing water and use rubber gloves, boots and goggles when cleaning. Safety is the biggest concern; Fanucchi emphasizes that "when in doubt of whether or not you can clean something, throw it out."
It will likely be at least two weeks until the wastewater treatment facilities are fully repaired. However, Babin says it's possible that some of these contaminated waters could clear away on their own.
"I just came back from being in the field today and I didn't really see any of the black and brown waters that had been reported," Babin said. "It could be in the receding of the water that these [contaminants] are moving on."