After Hurricane Maria, IV Bags Are Still In Short Supply. This Man Saw That First-Hand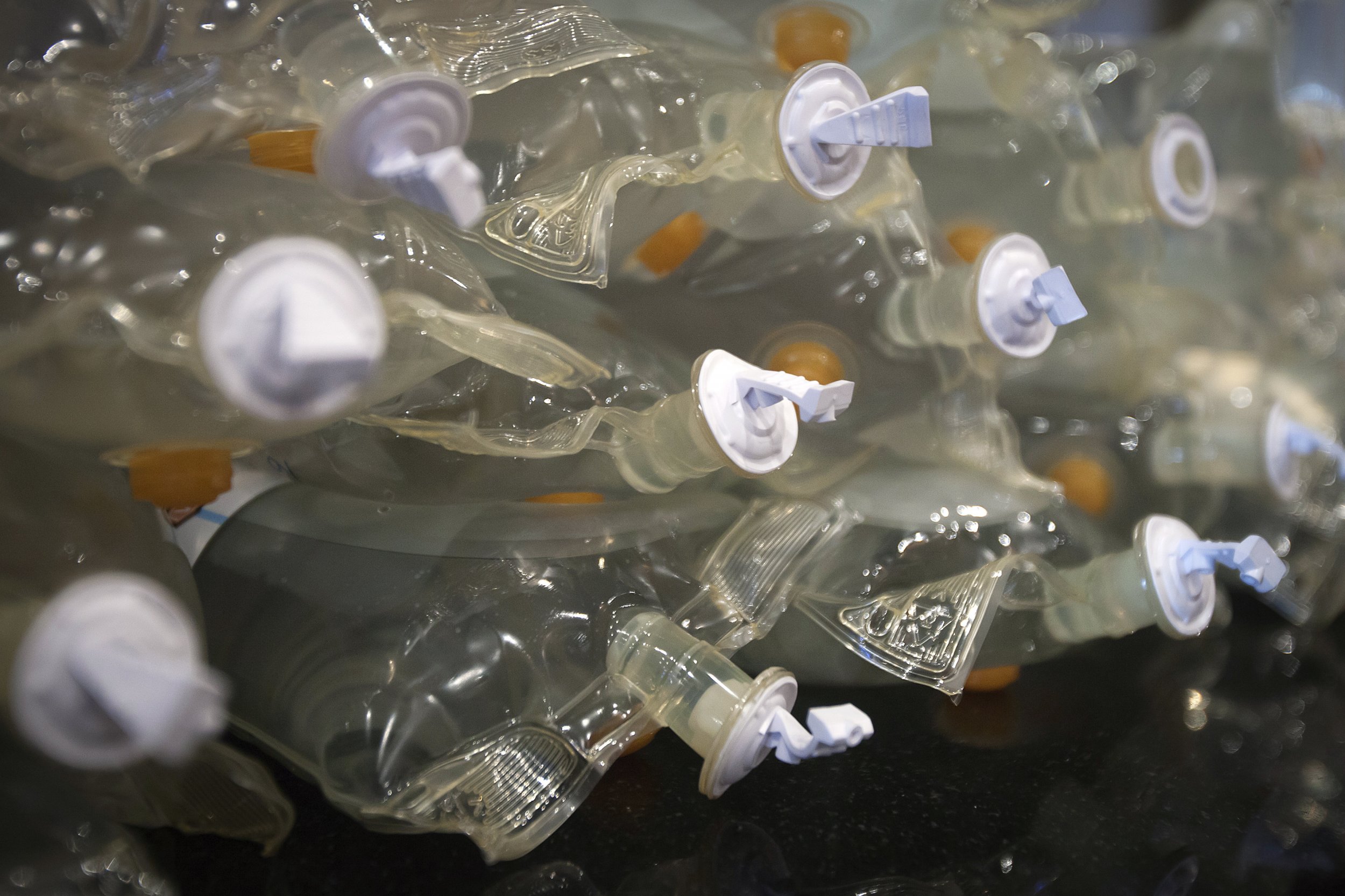 Ben Boyer, by his own admission, usually restricts his tweeting to "dumb stuff" or "juvenile pictures of signs." Occasionally, there's a picture of his three-year-old daughter. But on December 28, the San Diego man's tweets got serious. "My wife's nurse had to stand for 30 mins & administer a drug slowly through a syringe because there are almost no IV bags in the continental U.S. anymore. See, they were all manufactured in a Puerto Rican factory which still isn't fixed," he wrote. "Meanwhile that stupid swollen prick golfs," he added.
The tweet spread like wildfire. By Saturday morning, it had more than 100,000 likes and 62,000 retweets. "I think probably it wouldn't have blown up without that there," Boyer said of his allusion to President Trump in an interview with Newsweek. "I don't regret it. Those are very much the words that I feel. But this stuff goes beyond that."
"This stuff" is the lingering shortage of medical supplies—specifically, bags of saline—that hospitals, the pharmaceutical company Baxter, and the Food and Drug Administration have been trying to address since Hurricane Maria struck the island on September 20, over 100 days ago. (However, an FDA spokesperson noted, though the shortage is ongoing, it would be inaccurate to say there were "almost no IV bags in the continental U.S. anymore.")
Boyer told Newsweek that the incident with the syringe happened on December 26 at Moore's Cancer Center, a part of the University of California, San Diego's health care system. His wife was there to receive a regular course of chemotherapy, which she gets every two weeks to keep her brain cancer stable. So far, her treatment has been working; she was first diagnosed in 2009.
Tuesday's treatment, however, was the first time his wife didn't have an IV bag for her medications, which Boyer said were a steroid and a medication meant to help with the nausea that comes with chemo. Instead, he said, a nurse came in with a syringe, ready to hand-deliver an infusion using his Apple Watch as a timer. "Wait, what's happening here? What exactly is the story?" Boyer asked. The nurse told him that the hospital was out of IV bags. "Oh, because of the Christmas holiday?" Boyer asked. "And he said, 'No, man, because of Puerto Rico.'"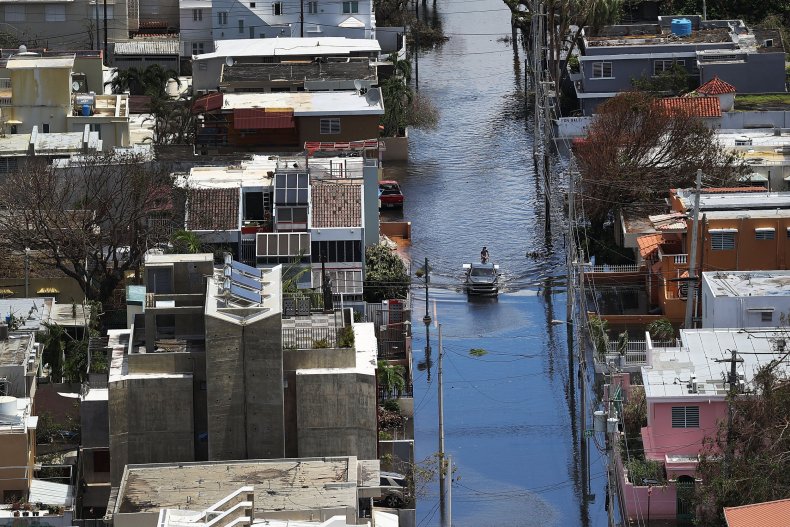 That kind of jury-rigged procedure would seem out of place with the center's physical appearance. After all, it's a glassy, modern building on one of three hospital campuses that UC San Diego has in La Jolla. There's an outdoor healing garden with a fountain. Patients sit in Barcalounger-type chairs for their treatment. Staff will even bring around coffee and cookies, Boyer said—it's all pretty fancy. "The staff is incredible. I can't say enough good things about them." (He did try, calling the staff "very nice and caring.")
A hospital spokesperson said the saline bag shortage has required the hospital to adapt. For example, bags that are different sizes or that were made in places other than Puerto Rico are being used, as are delivery systems like the one Boyer witnessed. These alternative methods have been used for a long time but are now being used more frequently until the shortage resolves. These options don't put patient health or safety at risk, the spokesperson said.
But to Boyer, it shows something that even a place like Moore's can't get IV bags. Boyer, whose family spent time living in San Juan as a child, said he was aware that the hurricane had had an impact on the pharmaceutical industry but didn't know the extent until he saw it himself.
What's happening right now is something allocation, the FDA confirmed in a statement. That means, basically, that hospitals are receiving the IV bags, just in limited quantities.
To be clear, the FDA and the company that produces the IV bags in question have absolutely not been twiddling their thumbs for 100 days. Most recently, the FDA gave Baxter special permission in October and November to import IV bags manufactured in the company's facilities in other countries to help with the shortage. The University of Utah and the American Society of Health-System Pharmacists have also put together some guidelines for hospitals to use as they consider how best to use the supplies they have; one of those guidelines is to administer medications through an IV push, which is what the nurse did for Boyer's wife.
With any luck, it might not be something her nurses need to do for much longer. FDA press officer Lyndsay Meyer told Newsweek that the agency expects the shortage will improve in early 2018, "based on the information we are receiving from the manufacturers." Though the New York Times reported December 23 that parts of Puerto Rico are expected to be without power for five more months, Baxter announced Wednesday via Twitter that all of their manufacturing sites were reconnected to the electrical grid; the company did not respond Friday to a request for comment.
Boyer's wife is scheduled to return for chemotherapy in early January.