After Hyde-Smith Run-off Victory in Mississippi Women Have More Power in Congress Than Ever Before
When Republican Senator Cindy Hyde-Smith of Mississippi won her bid to keep her Senate seat in Tuesday's runoff election, a new record was set for the representation of women in the Senate chamber, bringing the total number to 24.
Hyde-Smith defeated Democratic challenger Mike Epsy, a former congressman and agriculture secretary, in the last Senate race to be decided in 2018.
Read more: Hyde-Smith described hanging comments as "cowgirl referencing western movies"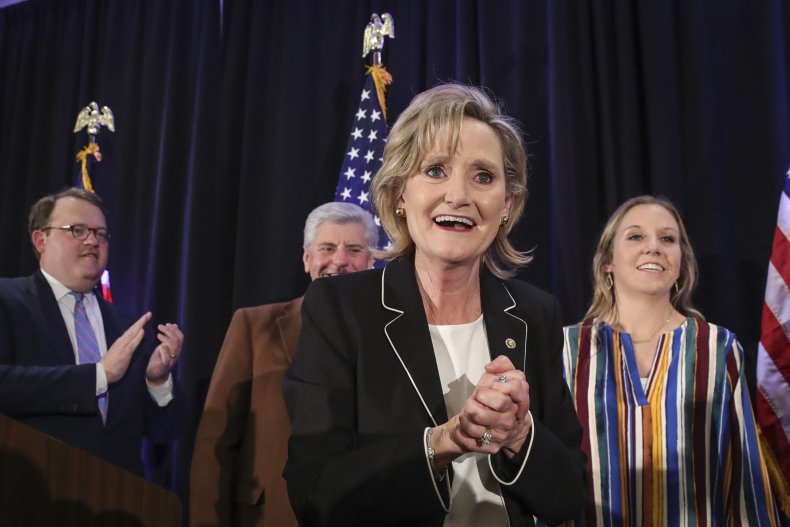 Hyde-Smith's victory also made her the first woman to be elected to Congress from Mississippi, adding her name to a diverse list of Congress-elects who also made history this year.
Among them were Democrats Rashida Tlaib and Ilhan Omar, who became the first Muslim women elected to Congress; Democrats Sharice Davids and Deb Haaland, who became the first Native American women to join Congress; Ayanna Pressley, also a Democrat, who became the first black woman to be elected to Congress from Massachusetts; and Democratic Representative Kyrsten Sinema, who is set to become the country's first openly bisexual senator, in addition to becoming Arizona's first female senator.
Read more: From Alexandria Ocasio-Cortez to Ilhan Omar: 10 Women Who Will Change America
Despite her victory, Hyde-Smith faced a challenging election run, facing widespread backlash over racially tinged comments.
On November 2, referring to a supporter, she said: "If he invited me to a public hanging, I'd be on the front row," which evoked bad memories in a state that lynched the highest number of African-Americans between 1882 and 1968.
Hyde-Smith defended her comments by saying she was joking, and that she had only meant to signal her appreciation to a supporter. And while she said she would "certainly apologize" to anyone whom she offended, she said her comment had been "twisted" and "turned into a weapon to be used against me."
President Donald Trump stepped in to defend Hyde-Smith, saying that she "misspoke" and "certainly didn't mean" for her comments to be taken that way.
Hyde-Smith also faced backlash over comments that seemed to call for voter suppression, telling a small crowd of students in Starkville that there were "a lot of liberal folks in...other schools" that "maybe we don't want to vote.
"Maybe we want to make it just a little more difficult," Hyde-Smith said. "So I think that's a great idea." Melissa Scallan, a spokeswoman for Hyde-Smith, told The Washington Post that the comment was simply "a joke."
"Someone pointed out that college campuses were liberal and that's when she made the joke about not wanting everyone to vote," Scallan said. "That was a joke. The polling places on college campuses is what she said was a great idea. The senator absolutely is not a racist and does not support voter suppression.".