After Impeachment, can America Stand up to its Global Rivals? | Opinion
Beijing and Moscow assiduously followed former president Donald Trump's second impeachment trial for the same reasons they followed the first: the United States is China's and Russia's number one geopolitical rival. What's relevant to America's domestic politics, then, is relevant to its rivals' foreign policy ambitions. To prevent acts of hostility in a time of tumult—virtual and real—the Biden administration will need to reassure allies, shore up American institutions and deter aggression.
China will remain the principal challenger to America's status in the world during the Biden term and for decades beyond, with Russia a close second. As part of its contest for influence in the U.S.-dominated global order and in defense of its autocratic system, China is eager to amplify the American crisis of democracy and portray it as bad for business. America must get its house in order to combat a damaged international reputation and regain its position of global leadership.
It can be done. The Founding Fathers designed the internal political structure of the U.S. to be flexible and adaptable. The country has overcome systemic challenges in the past, yet today's international rivalries dwarf even those of the Cold War. We are facing two anti-status-quo great powers. China is America's leading economic and technological competitor, while Russia is a formidable geopolitical and strategic spoiler.
When Americans fight each other, our rivals celebrate and our allies retreat. The January 6th riot at the Capitol provided ample ammunition for Chinese and Russian state media to deride a divided America—and its leadership—as lacking legitimacy. Trump's acquittal in the Senate may represent another opportunity for Beijing to portray America as a faltering empire. The American system of political impeachment has, after all, failed to hold Trump accountable. Post-insurrection polling shows continued GOP support for Trump, portending lasting polarization and vitriol in domestic political discourse.
The need to contain China is a rare area where voters of both parties appear united. U.S. sanctions supporting the pro-democracy demonstrations in Hong Kong received unanimous bipartisan support from Congress. They will require the president to monitor human rights abuses in Hong Kong, barring those responsible from entering the United States and freezing their assets. Congress passed similar legislation in late 2020 targeting officials involved in the repression of the Uyghur population in Xinjiang, and Biden has promised sanctions in response to human rights abuses in Tibet. The question is, will these sanctions be effective and sufficient? Henry Kissinger cautioned that sanctions against individuals are not always the best tool.
Before Trump's trade war, there was the Obama-era "Pivot to Asia," led in part by Assistant Secretary of State Kurt Campbell, who is now joining the Biden administration's National Security Council. Trump escalated the confrontation with China while trying to bring Japan, India, Australia and others on board, but the Europeans have bolted. The EU will not forget the Trump era and is wary of future American isolationism.
Days before the 2019 election, then-candidate Biden pledged to consult America's allies on Chinese tariff policy. Ignoring him, the EU and Beijing reached an agreement with the backing of German chancellor Angela Merkel to open up foreign investment in China—without consulting America. China also took advantage of Trump's trade war to negotiate and conclude the Regional Comprehensive Economic Partnership—a massive Asia-centric free trade agreement—and to expand its Belt and Road Initiative, pouring capital into developing economies in Africa, the Middle East and Central Asia. Beijing has matched its economic investment with an expansion of its ability to project military power, establishing military bases and naval facilities in Djibouti, Tajikistan, Pakistan and Sri Lanka.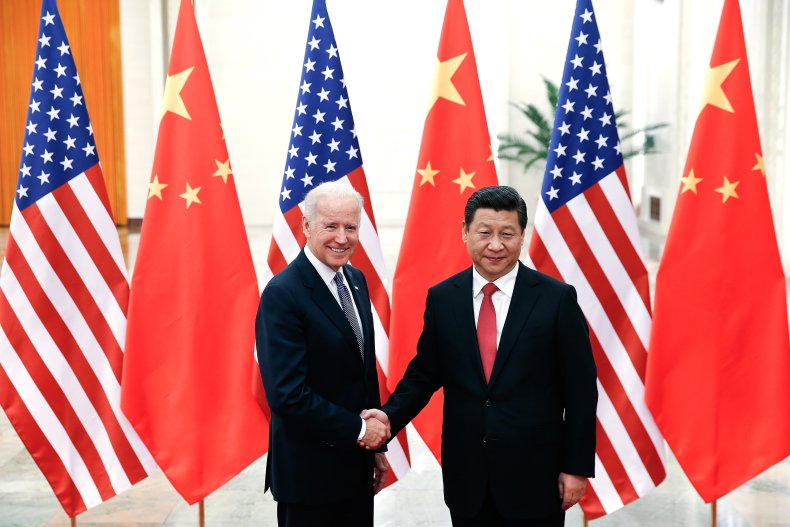 The new administration has shown some resolve. Hsiao Bi-Khim, the Taiwanese envoy to the U.S., was invited to President Biden's inauguration. Taiwan will play a key role in any U.S.-China conflict; former Australian prime minister Kevin Rudd described control over the island as Xi Jinping's paramount goal. The U.S. should prioritize rebuilding ties with key partners in the Asia-Pacific region and securing Taiwan from threats of force. Biden also launched a Pentagon China review task force—led by longtime adviser Ely Ratner—but the key is performance, not paperwork.
Somehow, Biden's executive order to kill the Keystone pipeline also countermanded an earlier Trump executive order that was explicitly intended to keep Chinese materials and equipment out of the U.S. power grid. In view of recent revelations about Russian cyberattacks, Biden must not leave this virtual gate standing open.
America lost opportunities to keep its geopolitical rivals in check under both the Obama and Trump administrations. A Trans-Pacific Partnership better sold to the American people and with concessions to domestic workers might have survived the 2016 election season. The task ahead won't be as simple as declaring America's return to reassure global partners and bring them in behind a transatlantic China strategy.
The world has not been static as America churned. Negotiations with partners in Europe or in the Pacific Rim will be conducted from a weakened position until the U.S. shows internal strength. China has made itself a greater part of the global economy, such that "decoupling" from the PRC would harm Europe's domestic business and our own markets. Our European partners have made it clear that they will not support the U.S. if it moves toward decoupling. Correctly assessing the shifting battlefield, adapting to it and rallying a global coalition to force Chinese accountability is a Herculean task.
Beyond necessary spending, we must get the nation's macroeconomic house in order. America's national debt has exploded to nearly $28 trillion—a trend which must be reined in. But that doesn't mean an end to all federal spending. Infrastructure is beneficial to all Americans and will create new, well-paying jobs. Coronavirus relief is equally necessary. We must also look for areas to grow the economy, raise revenue or cut spending, before the weight of that staggering number hinders our ability to fund key programs and our military's capacity to operate. Left unchecked, debt service by 2030 could exceed $660 billion a year.
America may still be able to do it, but only when united. There are doubts as to whether we can come together with Donald Trump still such an influential player in the GOP, but unity is a crucial first step if we are to show the value and dignity of our republic. A strong, reliable and united America can rally allies against Chinese hegemonic aspirations. We can likewise stand against Russian irredentism and cyber-piracy. An America brought back together could lead a global coalition to contain obstacles to peace and human liberty.
Ariel Cohen, Ph.D., is Senior Fellow (non-resident) at The Atlantic Council and Director, Program on Energy, Growth and Security at International Tax and Investment Center. He is the Founding Principal of International Market Analysis.
The views expressed in this article are the writer's own.