After Infamous Lake of the Ozarks Party, Local Businesses See Uptick in Sales, Demand as Tourists Come in Droves
After photos of a large Memorial Day weekend party at the Lake of the Ozarks in Missouri went viral, local businesses have seen an uptick in sales and demand as tourism spikes in the area, according to The Kansas City Star.
The photos of the infamous gathering at Osage Beach in May showing people shoulder-to-shoulder at a crowded pool and bar were initially shared by celebrity gossip site TMZ with the headline, "Wild Ozark Lake Party. Pass the Corona." The story was picked up by multiple news sources and shared widely on social media, and it was later reported that at least two positive cases were tied to that event.
However, though a national embarrassment at the time, the mayor of Lake Ozark—a city within the Lake of the Ozarks region—credits the publicity for an uptick in tourism.
"Somebody did a picture and we got some really bad press from TMZ and, you know, from all of the networks," Lake Ozark Mayor Gerry Murawski told the Star. "And for some reason after that, the floodgates opened."
He added: "And I guess because of the national media, boy, we're one of the winners in this COVID thing."
Although some tourists visited the region to party in crowded areas, others reportedly visited the lake as a socially distanced getaway opportunity—renting condos and homes for a few nights, ultimately causing a boom in tourism during the summer season.
Russell Burdette, the owner of Your Lake Vacation, which rents out over 100 vacation homes and private condos in the area, confirmed to Newsweek that the governor's reopening plan at the start of May in addition to the Memorial Day publicity resulted in people canceling bigger vacations in favor of a lake getaway.
Burdette said that 2019 was previously the company's best year, but now they're up 33 percent over that figure. Just the month of July was better than their entire year in 2009.
The three lake-area counties—Camden, Miller and Morgan—all reported low coronavirus numbers by late May, with fewer than 55 total cases. However, these figures did not reflect the number of tourists who tested positive for the virus once they returned.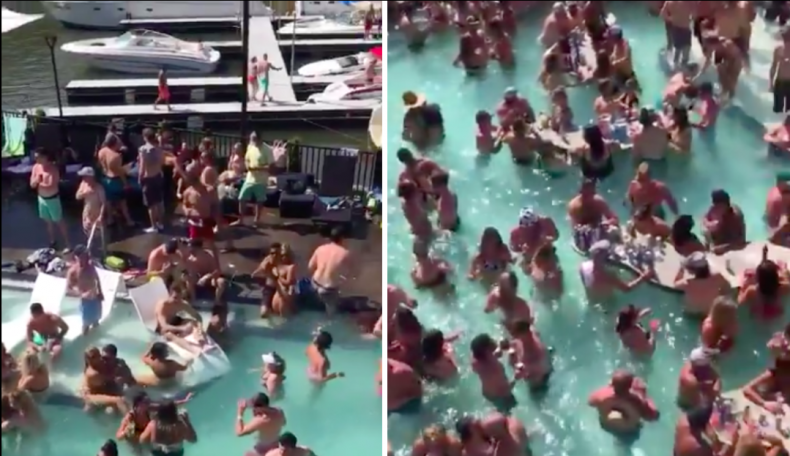 According to COVID-19 numbers published on Tuesday, the three counties currently have a total of 1,623 cases and 12 deaths, with approximately 240 active cases around the tri-county area. There is no mask mandate in place for the lake region.
The Star reported that, while tourism during the summer season falls off shortly after Labor Day, local businesses are noticing that the season is lasting longer, causing more sales and greater demand.
This past weekend, tens of thousands of motorcycle enthusiasts—many of whom were not wearing masks—gathered at the Lake of the Ozarks for an annual five-day Bikefest event, packing into local bars like Marty Byrde's Bar & Grill and Blondies Burger Bar on the Bagnell Dam Strip.
Murawski said that he was not sure how many people would actually show up to the event.
"This year, I don't know what to expect. There's nothing that's the same," he told the Star. "But this is our last event of the year, and I keep thinking, Let's just get through this, and then we can quite frankly go to sleep for a few months."
The lake area completely shut down in March and April due to coronavirus concerns. In May, restaurants began opening back up with limited capacity and, after Memorial Day weekend, tourism reportedly started to boom. The reservation cancellations that resulted from the negative press were quickly replaced by new reservations. People intrigued by the location were lured in for weekend getaways, and it's continued well into this month.
"The threat we were in back in April, we somehow escaped that," Murawski told the Star. "Most businesses down here, this is an all-time record for them.
"And if you consider the first four months of this year were virtually nothing, that's amazing," he added.
But as many local businesses and vacation rental owners in Lake Ozark have seen a large increase in sales and demand, Missouri's total coronavirus numbers continue to rise. As of Wednesday, the state has a total of 115,366 confirmed cases, with 1,059 confirmed in the past 24 hours. Deaths attributed to COVID-19 is currently 1,864.
Newsweek has reached out to the city of Lake Ozark mayor's office for comment but did not hear back in time for publication.