After Iraq and Afghanistan, Marine Corps Reserve Turns to Deterrence
Four weeks into its invasion of Ukraine, Russia continues to struggle against its lesser-equipped adversary. As with the U.S. withdrawal from Afghanistan, even the most dominant military forces can falter when ill-equipped for the situation at hand.
Lieutenant General David Bellon, commander of the U.S. Marine Corps Reserve, told Newsweek that as the United States finds itself in an era of great power competition, bolstering the capabilities of the armed forces should be seen as a priority.
"We are in an era now, often referred to as the great power competition, where deterrence is a significant part of our mission," Bellon told Newsweek. "To do that, you have to be forward deployed, you have to be competing and pushing back where our adversaries are pushing forward."
Over the last 20 years, the United States has relied heavily on reserve forces in Iraq and Afghanistan. Marine Corps reservists played an especially active role in those two wars, with some having completed five combat tours abroad. These troops now stand poised to pass on their knowledge to younger members of the Corps.
The experience of Marine leadership fosters a greater level of trust between senior and junior members of the Corps, Bellon said. Not only has Russia's military leadership faced questions over their decision making, but questions of morale in the ranks have risen amid reports that troops were told they were heading into a training exercise rather than combat prior to the invasion of Ukraine.
As Russia's military is marred by morale and logistical challenges. Bellon said Marine Reserves are leveraging what makes them different from Putin's forces to come out ahead.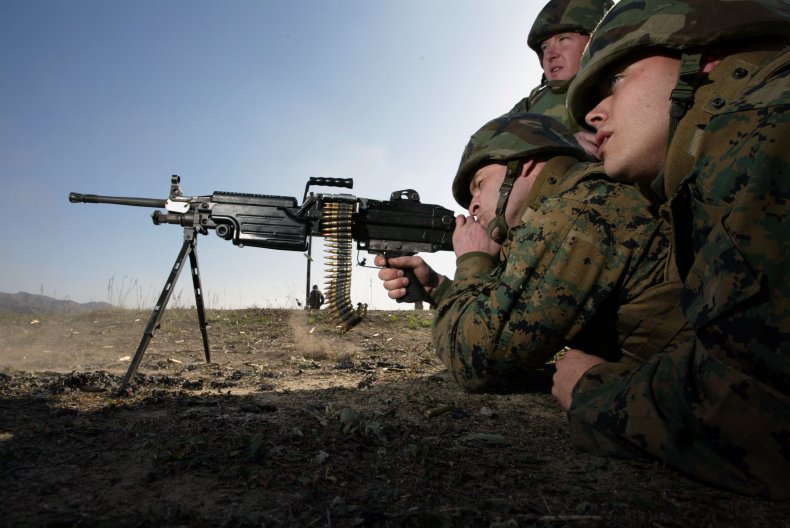 "We're an all-volunteer force, meaning that a young person elects to join the Marine Corps and then selects specifically to become a reservist," he told Newsweek. "We have to constantly appeal to the desires and the life ambitions of our volunteers."
Because Russia forcibly drafts a large segment of its military through conscription, it does not face the same pressures to tailor a soldier's military role around their experiences as the Marine Corps does. However, Bellon said this consideration has pushed the Reserves to operate in a more diverse manner, increasing their capabilities.
When it comes to avoiding global conflict, Bellon said deterrence serves as a key tool, and a well-equipped reserve force can play a vital role in that. As Russia's military is marred by morale and logistical challenges. Bellon said Marine Reserves are leveraging what makes them different from Putin's forces to come out ahead.
For some reserves this may be in the conventional military deterrence sense, Bellon said, as when reservist troops flew armed jets in the Pacific over the past six months to protect the interests of America and its allies. In the unconventional sense, Marine Reserves also aided in the process of introducing Afghan refugees to the United States. A number of these reservists were school teachers who worked to prepare Afghan children for school in the United States.
The varying backgrounds of trained reservists allows the force to address complex problem sets, something Bellon said puts the Corps in position to tap into one of the country's greatest strengths — its drive for innovation.
However, another area where the Marine Reserves are looking to draw on America's strengths in order make their force better suited for the era of great power competition is an additional area in which America possesses particular strength — its diversity.
"The problem sets that we face on the planet today are so complex," Bellon told Newsweek. "They are ever-evolving, so the worst thing you can do is narrow that perspective on how you frame those problems by being over-invested in one demographic."
"I'm a white man, the grandson of immigrants from the Midwest," he added. "So, when I frame wicked problems and have to make difficult decisions, I'm operating on a certain bandwidth."
"So, if we're in the business of going into crises, and accurately framing problems, and then seeing possible solutions, is it not my moral and ethical and professional responsibility to see the problem as broadly as possible?" Bellon asked.
"The answer to that is, of course, yes, " he added. "The only way that is achieved is by inviting this diversity in."