It Survived Hurricane Irma, but Can Florida's Property Insurance Industry Handle a Truly Devastating Storm?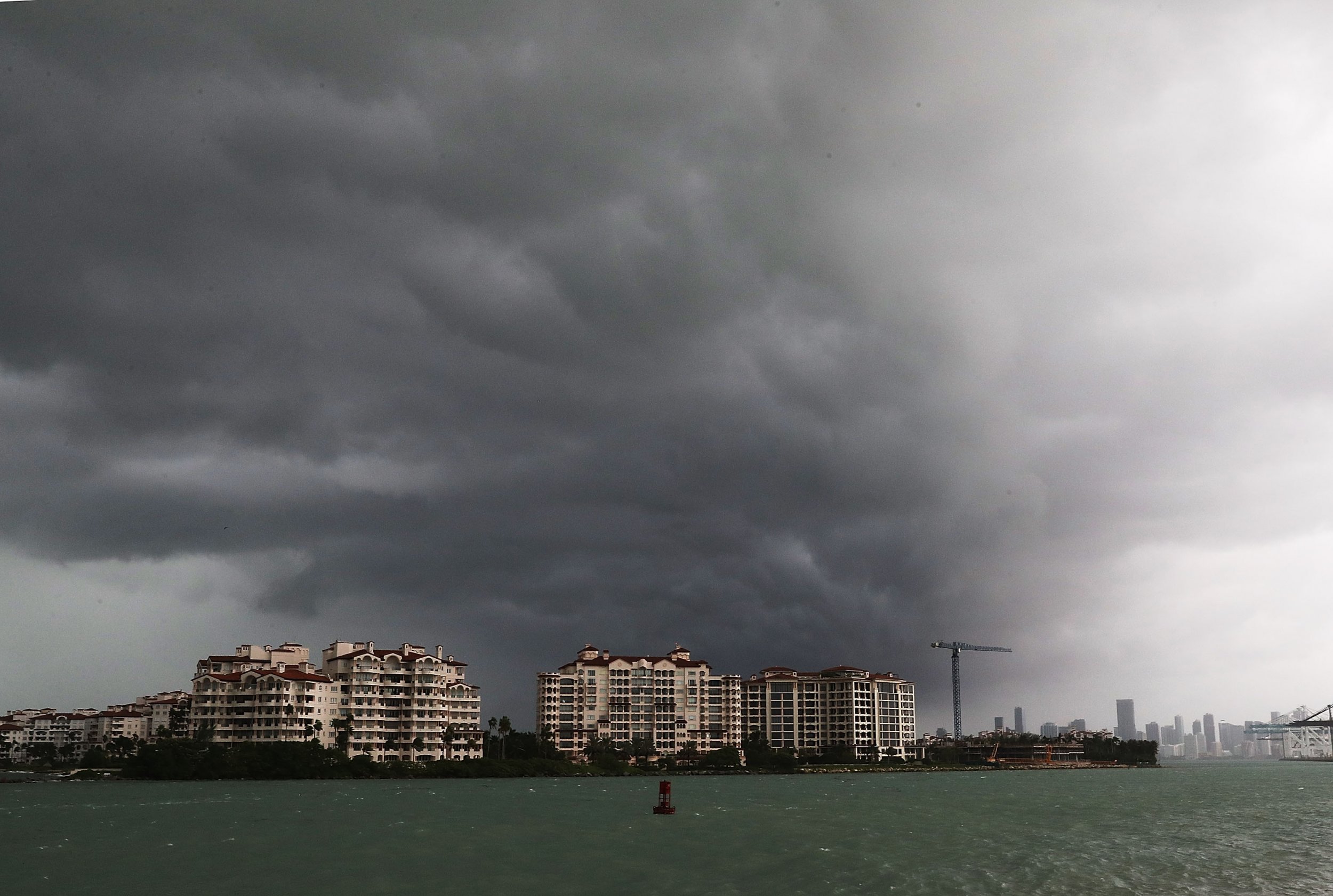 Floridians may be digging out after Hurricane Irma, but the insurance industry is celebrating because estimated damage is much lower than had been expected—though the storm did highlight long-term insurance problems for the state, and the nation, regarding climate change.
When Irma was a Category 5, history-making behemoth, the insurance industry worried that damage could soar over $200 billion, putting it on par with that of 1992's Hurricane Andrew or 2005's Hurricane Katrina—or worse. But with Irma's damage estimated in the $10 billion to $60 billion range, insurance company stocks soared on Monday. Small insurers, which dominate the Florida property and casualty market, saw their stocks climb as much as 25 percent for a time during the first trading day after the storm.
"We think Hurricane Irma could be a top 5 most costly hurricane in the U.S., although the losses could be in-line-to-lower than market expectations," J.P. Morgan analyst Sarah DeWitt wrote in a note to clients Monday.
DeWitt's analysis puts the losses from Hurricanes Irma and Harvey, which pounded the Gulf Coast and left much of Houston underwater, in the $35 billion to $80 billion range. That's an eye-popping figure, but far lower than the $400 billion combined total some had feared.
"Our sense is losses could be at the lower end of the range as the storm weakened faster than expected," DeWitt wrote in her estimate of third-quarter losses.
Other analyses are even lower. The insured losses from Hurricane Irma are likely to total between $10 billion and $30 billion, insurance analyst Randy Binner told CNBC on Monday.
"Those are very big numbers, but that's well off the worst-case scenario the market was discounting last week," Binner, of FBR Capital Markets, told CNBC's Squawk Box.
Last week, all eyes were on a handful of insurance companies that have high numbers of Florida properties in their portfolios, including HCI Group, based in Tampa; Universal Insurance, in Fort Lauderdale; Federated National, in Sunrise; and Blue Capital Reinsurance, in Pembroke, Bermuda. Big national insurance companies only carry about 20 percent of Florida properties on their books, leaving these smaller insurers covering some 80 percent of the market.
Many analysts were worried about Citizens Property Insurance Corporation, a nonprofit company created in 2002 by the Florida legislature to be an insurer of last resort for those who couldn't get coverage elsewhere in the storm-prone state. So many insurers had been driven out of Florida during the wave of hurricanes in the 1990s and early 2000s, and rates had gotten so high, that the state created its own insurer. Think of it as the equivalent of the public option that was discussed but never incorporated into the Affordable Care Act (Obamacare).
But even creating a nonprofit company hasn't made property insurance easily affordable to Florida homeowners. Thank the weather for that, as well as the decision to build all over a peninsula that juts hundreds of miles into the warm waters of the Gulf of Mexico. Even without dramatic storms that cause evacuations and dominate cable TV coverage, Florida has notoriously high property insurance rates, thanks to its near-constant assault by wind and rain and the resulting water damage. Florida property insurance rates are usually the highest in the country, according to the National Association of Insurance Commissioners, running about twice the national average.
Not only was Irma less damaging than first anticipated—it didn't directly hit the densely populated southeast portion of the state, home to Miami—but it blew through quickly, rather than lingering and dumping even more rain on the Sunshine State.
Plus, after several years of below-average hurricane frequency, insurance companies covering the state had built up pretty good reserves before the current hurricane season.
Perhaps most importantly, the "reinsurance" industry—the insurance that insurance companies buy—is in relatively good shape, with ample capital to have met even grimmer predictions of Irma's landfall.
Citizens has raised rates steadily, and it doesn't cover super-expensive properties and rejects others outright—moves that have lowered its risk over the past decade, earning it praise from some fiscal conservatives.
But the problem for Florida in the long run is climate change and the likelihood of stronger hurricanes—maybe not again this year, but over a sustained period of time. Already, rising sea levels have caused more frequent flooding in Miami. Exacerbating the problem is that most of the city is built on porous limestone that has allowed flooding to become commonplace, and fish in puddles a more familiar sight.
Florida homeowners, then, can continue to expect higher and higher rates, and fewer companies willing to take the risk. Even if the insurance industry is in good shape for now, it's always possible that down the road taxpayers will get tapped for bailouts. During the financial crisis, that wasn't supposed to happen with private banks or semipublic entities like the mortgage giant Fannie Mae (not to mention auto companies), but it did. So even with Irma gone, no one in Florida can ever rest entirely easy when it comes to insurance.
As it happens, the National Flood Insurance Program must be reauthorized by Congress this month. The almost 50-year-old program is the backbone for flood insurance and has been beset by financial shortfalls. It currently owes the U.S. Treasury more than $24.5 billion.