August 26 was "the worst day" of Joe Biden's presidency, White House spokeswoman Jen Psaki conceded. The problem for Biden and his party is that it wasn't just a bad day, but a potentially defining one. As the U.S. raced to extract all Americans from Afghanistan by August 31—the deadline set by Biden—a suicide attack at Kabul's Hamid Karzai International Airport killed 10 Marines, two Army soldiers, a Navy medic and more than 180 people overall. The devastating attack, which resulted in the deadliest day for the U.S. military in a decade, also seems likely to permanently scar the Biden presidency, branding it as dangerously incompetent.
In his speech to the nation hours after the attack, Biden described the dead as heroes who gave their lives "in the service of liberty, the service of security and the service of others. In the service of America, like their fellow brothers and sisters in arms who died defending our vision and our values, with the struggle against terrorism, on this day, are part of a great noble company of American heroes." Biden also threatened retribution, saying, "To those who carried out this attack, as well as anyone who wishes America harm, know this—we will not forgive. We will not forget. We will hunt you down and make you pay. I will de- fend our interests and our people with every measure at my command."
Following through on that vow successfully may be the only way to undo, even partially, the damage to his presidency. A retaliatory drone strike in Afghanistan's Nangarhar Province the night after the attack, which the Pentagon said killed two Islamic State militants, followed by another strike two days later targeting a vehicle said to be carrying more ISIS suicide bombers to the Kabul airpost, may be just the beginning.
There is no precise analog to the debacle in Kabul, though it brings other fiascos to mind. The collapse of Saigon in 1975 on Gerald Ford's watch. The crash of Desert One outside Tehran in 1980 and the failed mission to rescue 53 hostages from the U.S. Embassy, which destroyed Jimmy Carter's presidency. George W. Bush's "mission accomplished" performance aboard the deck of the USS Abraham Lincoln in 2003, although the war in Iraq would drag on for years. The Benghazi attacks in Libya that killed the U.S. ambassador and three other Americans in 2012, haunting Hillary Clinton, then-Secretary of State, to this day. There are echoes of all of these events in Biden's disastrous endgame in Afghanistan.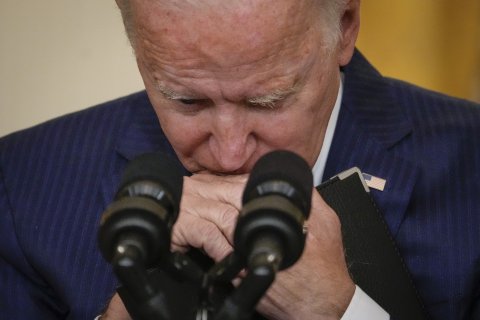 Should the Republicans retake the House next year, as they are increasingly confident they will, they are sure to bury the Biden administration in investigations and hearings for the following two years. The political fallout from Benghazi is but a scale model of the kind of backlash that Biden will face. "This makes Benghazi look like a much smaller issue," Rep. Mike Johnson of Louisiana, a member of GOP leadership who sits on the Armed Services Committee, told CNN. "This may be one of the worst and most consequential foreign policy and national security disasters in our history. There will be a lot of answers to seek and questions to be answered, and I think it will be a top priority."
Biden's presidency is now just seven months old and even before the August 26 attack, his approval ratings were sinking. An August 24 USA Today Suffolk University poll had him at only 41 percent approval, down more than 10 points from the previous month. The chaos in Kabul was certainly part of the reason for that, but so too were perceived failures in controlling the southern border, rising inflation, and the surge in COVID-19 cases driven by the Delta variant. Hospitalizations have been rising, and so too has the number of "breakthrough" cases in people who have been vaccinated twice, as the Centers for Disease Control recommends. That makes persuading people to get vaccinated—which the administration and public health officials had heralded as the path to victory against the virus—a tougher sell. An ongoing pandemic undermines Biden's credibility and denies him a political "win."
The fatal Kabul attack will weaken Biden further. Overall, his approval was at 47.4 per cent, according to the Real Clear Politics average of polls. By contrast, Donald Trump's high point was 47.8, one week into his presidency in January of 2017. In early August that year—at the point comparable to Biden now—it was 38 percent.
Biden's numbers right now aren't terrible—yet—but are drooping at an inauspicious time for him. Quietly, an increasing number of influential Democrats were already beginning to wonder about Biden's viability as a candidate in 2024, if only because of his age. Some were beginning to say that questions about his cognitive abilities were not just a figment of Sean Hannity's imagination. On Twitter, in the hours after the attack, the phrase "where's Joe Biden?" was trending, and during his public remarks later in the afternoon, Biden stressed that he had been meeting with his national security and military advisers all day. He exited by saying, "I have another meeting—for real." Biden will be 82 in 2024. Newsweek last month asked an influential Democratic fundraiser from California if he thought Biden would run again. "I wouldn't bet on it," he said.
White House officials and Democrats in Washington had been hoping—unrealistically—that the air lift from Kabul would be complete by the August 31 deadline, without casualties or Americans left behind. Left-leaning pundits had begun praising the success of the airlift. Had the pullout continued to go well, Biden could declare victory, say he had brought an "endless war" to an end, and Democrats would quickly turn to their domestic agenda: the infrastructure bill, the massive $3.5 trillion spending bill, and hearings on the January 6 "insurrection" on Capitol Hill aimed at putting Republicans on the defensive.
Now it is Biden who is on the defensive. He was already struggling to hold onto the so-called Mod Squad—the nine House Democrats who oppose his spending bill and other domestic priorities. A deeply committed base can help a leader wrangle his foes: they fear to cross a president whose supporters will punish them. That scenario played out repeatedly to Trump's advantage. It's hard to see what price the Mods would risk in opposing Biden. Meanwhile, critics have pounced on his shifting story lines about Afghanistan: in early July he said it was "highly unlikely" that the desperate scenes of helicopters departing the Saigon embassy in 1975 would be repeated, and a month later he told ABC's George Stephanopoulos that a chaotic end was all but inevitable.
The questions are piling up, and not just among Republicans. Why were troops pulled out before civilians? Did the Pentagon raise any questions about that? What exactly did intelligence reports say about the possible collapse of the Afghan National Army? Why did the U.S. not insist on keeping enough troops in the country to secure the perimeter around the Karzai airport, rather than farming that duty out the Taliban? (The Haqqani terror group, closely allied with al Qaeda and the Taliban, is responsible for security in Kabul, and the man heading that operation has a $5 million FBI bounty on his head.)
Finally, why did the U.S. abandon its Bagram air base before getting out all those civilians—Americans and Afghans who assisted the U.S. military—who wanted to leave? That decision severely diminished U.S. surveillance and reconnaissance capability, as well as the ability to project power as the airlift occurred. And did the Pentagon really support that decision, as Biden asserted in his speech on Thursday? "I find that astounding," said retired General Jack Keane, who informally advised former President Trump on military matters, after the speech.
He's not alone. Many Democrats on Capitol Hill have been appalled by the events in Kabul. Key committees in the House and Senate had already begun preparing for hearings into the withdrawal even before the attacks. "We want answers as much as the minority does," a senior Democratic staffer on the House Armed Services Committee told Newsweek.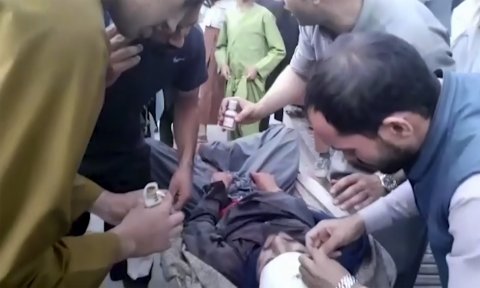 The threats to Biden's presidency are piling up. In the very short term the possibility of another attack before the August 31 withdrawal date is real. So is the possibility that a revived al Qaeda will once again be able to stage attacks abroad from Afghanistan—perhaps while Biden is still in office. (The ability to deter such attacks via an "over the horizon" presence, which Biden asserted again during Thursday's press conference, is widely dismissed in the Pentagon and at the CIA.)
The Democratic majority in the House is unlikely to punt on those questions, not after the tragedy in Kabul. And even if Democrats wanted to, the Republicans, and much of the American public, won't let it go. Biden and his supporters now cling to the fact that there have been past presidencies that weren't defined by calamitous events. Early in his first term, John F. Kennedy presided over the Bay of Pigs, the failed effort to overthrow Fidel Castro in Cuba in 1961, but eventually returned to the public's good graces. Ronald Reagan's presidency survived the bombing of the Marine barracks in Beirut in October 1983 that killed 241 U.S. service members. For Team Biden, "this too shall pass" is more a hope than a certainty right now. But in the wake of the airport attack on August 26th, that hope is all they have to cling to.