After Kabul Carnage, U.S. Military Braces for Imminent 'Vehicle Borne' Suicide Attack
After Thursday's attacks on both U.S. service members and Afghanistan civilians, the U.S. military is preparing for more attacks from the Islamic State.
On Thursday, Pentagon Press Secretary John Kirby and General Frank McKenzie, head of U.S. Central Command, held a Defense Department briefing at The Pentagon. During the briefing, McKenzie said that although evacuations are still taking place, the threat of additional attacks by the Islamic State is still imminent. These attacks could potentially include rockets or vehicle-borne suicide bombs targeting the Kabul airport.
"We're doing everything we can to be prepared," McKenzie said.
McKenzie went on to discuss various ways that the U.S. military is ensuring a continued effort to maintain a safe extraction of Americans in the midst of chaos.
"We reached out to the Taliban, who are actually providing the outer security of the airfield to make sure they do what they can to protect us, and we will coordinate with them as they go forward," McKenzie continued. "We are bringing people onto the airfield, we brought buses aboard the airfield over the past couple of hours so we continue to process, and we will fly people out."
"The plan was designed to operate under stress and attack. We will continue to do that. We will coordinate carefully to make sure it is safe for American citizens to come to the airfield. If it is not, we will tell them to hold and find other ways to try to get them to the airfield."
McKenzie went on to say that the U.S. government is "committed to pulling people out until we terminate operations toward the end of the month," and that "we will go after ISIS."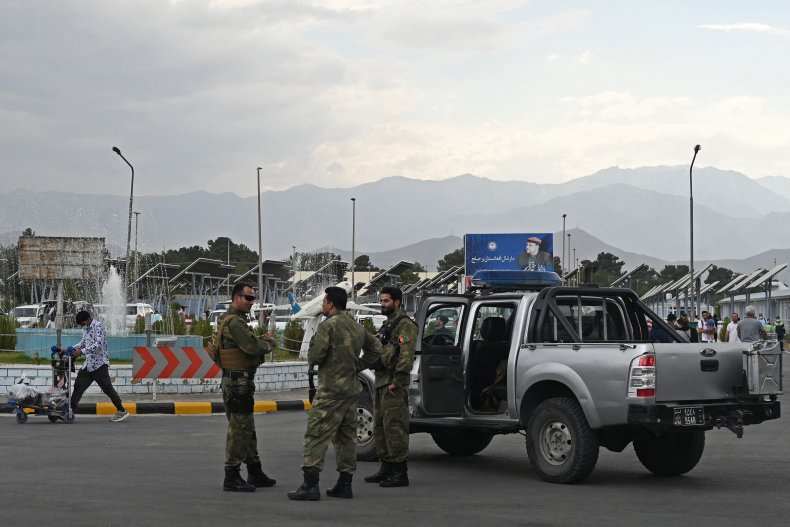 On Thursday, President Joe Biden addressed the American public regarding the terrorist attack on Hamid Karzai International Airport on Thursday. In his speech, he stated that the intelligence community warned the U.S. about the attacks which were carried out by ISIS-K.
"They took the lives of American service members standing guard at the airport and wounded several others seriously," said Biden. "They also wounded a number of civilians, and civilians were killed as well."
Biden went on to discuss the number of Americans that have been evacuated from Afghanistan so far, which includes "another 7,000 over the last 11 to 12 hours." Biden also stated that he's going to use all his resources to hunt down the persons responsible for the attack and held a moment of silence for the lives that were lost on Thursday.
On August 26, 13 members of the U.S. service and nearly 60 Afghanistan civilians were killed during a bombing attack outside of Kabul's airport, according to the Pentagon and Afghanistan's Ministry of Public Health. These attacks come as the United States races to extract all Americans from Afghanistan by the August 31 deadline set by Biden.