After Kavanaugh Sexual Assault Allegations, Biden Said You Must Presume 'What She's Talking About is Real'
As Former Vice President Joe Biden broke his silence about the sexual assault allegations against him by former staffer Tara Reade on Friday, comments he made during Supreme Court Judge Brett Kavanaugh's confirmation hearing have resurfaced.
When Kavanaugh was accused of sexual assault, Biden said people should "start off with the presumption that at least the essence of what she's talking about is real, whether or not she forgets facts."
Biden and Kavanaugh have both been accused of sexual misconduct while in the running for powerful government positions with allegations that date back decades. After being nominated to the Supreme Court, Christine Blasey Ford came forward and alleged Kavanaugh sexually assaulted her at a party while the two were in high school. After Biden announced he was running for president, Reade came forward and alleged Biden pushed her up against a wall and penetrated her with his fingers while she was working as a staffer in his Senate office.
Both Biden and Kavanaugh denied the allegations against them. In November 2018, the Republican-majority Senate Judiciary Committee concluded there was "no evidence to substantiate" sexual misconduct claims against Kavanaugh.
On Friday, Biden said in a statement that Reade's claims "aren't true," adding that "this never happened." Reade said she filed a complaint in 1993 and Biden requested that the National Archives make the complaint available to the press if it exists.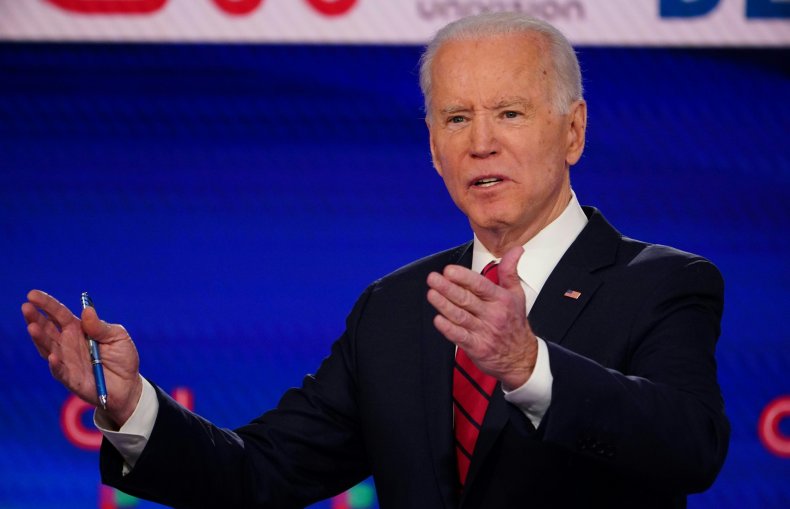 In his statement, Biden said two things were "not complicated" when it comes to sexual misconduct allegations, the first being that when women step forward they should be "heard, not silenced" and "treated with dignity and respect." The second is that "their stories should be subject to appropriate inquiry and scrutiny."
After the allegations against Kavanaugh surfaced, Biden called for an FBI investigation into Ford's claims. In September 2018, a Biden spokesperson told CNN the former vice president believed Ford deserved a "fair and respectful hearing of her allegations." Biden said on Friday that Reade's story should be subject to "inquiry and scrutiny."
In response to the allegations against Kavanaugh, Biden also said when a woman comes forward, people should "start off with the presumption that at least the essence of what she's talking about is real, whether or not she forgets facts." In his statement about Reade on Friday, he decried what he called the "growing record of inconsistencies" in her story and urged "responsible news organizations" to examine the "small and big" changes.
The former vice president was Senate Judiciary Chair in 1991 when Anita Hill brought her sexual assault allegations against Supreme Court Nominee Clarence Thomas. He voted against Thomas for the Supreme Court but faced criticism for his handling of the hearings. When asked about Hill's accusations against Thomas, Biden said during a January 2018 PBS interview that he believed Hill and that "women should be believed."
Reade told Newsweek on Friday morning that she had not yet had a chance to read Biden's full statement and wouldn't respond until she had. Biden did not respond to Newsweek's request for comment in time for publication.
Shortly after issuing an official statement, Biden appeared on MSNBC's Morning Joe, where co-host Mika Brzezinski pressed the former vice president on his comments during the Kavanaugh hearing. She asked, "Why is it real for Dr. Ford but not for Tara Reade?" "Are women to be believed unless it pertains to you?" and "Do you regret what you said during the Kavanaugh hearing?"
"What I said during the Kavanaugh hearings was that she had the right to be heard," Biden said. "The fact that [Ford] came forward, the presumption would be she's telling the truth unless it's proved she wasn't telling the truth or not proved, but unless it's clear from the facts surrounding it it's not the truth."
Biden said he didn't know why Reade's accusations were coming out "after 27 years" but acknowledged that she had the right to come forward. He added that all women should come forward with accusations and an investigation should be conducted. Then, if the case is made "it should be believed."
"You have to look at the circumstances and the facts and the facts, in this case, do not exist. They never happened and there are so many inconsistencies with what happened in this case," Biden said. "I assure you it did not happen."
Chantal Da Silva contributed to this report.