Former Democratic Virginia Governor Terry McAuliffe attempted to paint his Republican opponent Glenn Youngkin of being a "Trump wannabe" during the pair's first gubernatorial debate on Thursday.
McAuliffe, who is seeking a non-consecutive second term as governor, noted that Youngkin had embraced endorsements from former President Donald Trump, warning that the Republican businessman was "too extreme" and would cause Trump-like "damage" to the state.
The Virginia debate came two days after Democratic California Governor Gavin Newsom easily defeated an effort to recall him while repeatedly comparing leading Republican replacement candidate Larry Elder to Trump.
"Look at the damage Trump did to the country, and now they want to bring that to Virginia? That's not gonna happen," McAuliffe said on Thursday. "My opponent's a Trump wannabe. He's been endorsed by Donald Trump three times, he has said 'I'm honored to have his endorsement.' He's quoted saying 'so much of the reason why I'm running is because of Donald Trump.' That's his quote."
"We know the damage that Donald Trump has done to this country," added McAuliffe. "Look at the damage he's done on vaccines. If he had taken this COVID crisis serious much earlier... hundreds of thousands of Americans would be alive today, and thousands of Virginians."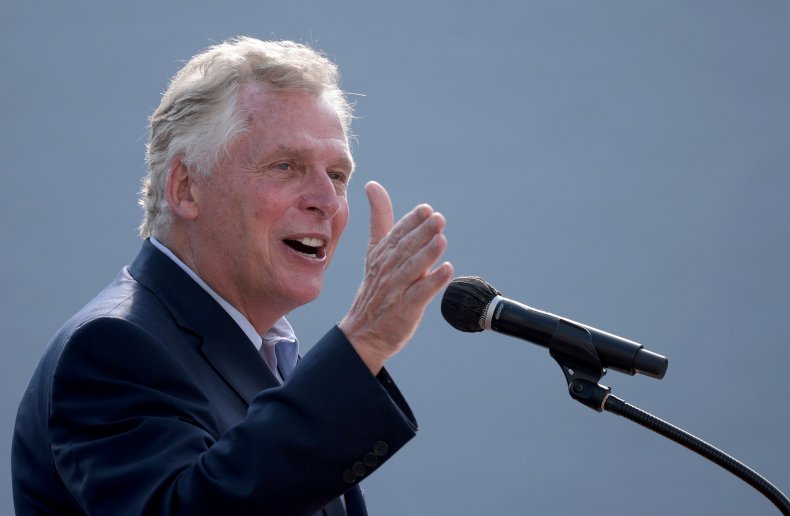 McAuliffe's remarks mirrored rhetoric that appears to have been very successful for the Newsom campaign. The California governor defeated the recall by a wide margin, with about 64 percent of voters rejecting his ouster after the campaign focused on urging Californians to defeat the "Trumpism" of Elder.
While campaigning with Newsom on the eve of the election, President Joe Biden said that Elder, a conservative talk radio host who would have been the state's first Black governor had he been elected, was "the clone of Trump."
Although California has not elected a Republican to statewide office since 2006 and generally votes Democratic by wider margins than Virginia, politics in Virginia have moved leftward in recent years. Biden defeated Trump by a margin of over 10 percent in 2020, the best result for a Democrat in more than 70 years.
Both McAuliffe and Youngkin pledged to accept the results of the gubernatorial election, which is set to take place on November 2, even if their opponent scores a narrow victory. Youngkin avoided addressing Trump directly but rejected the former president's baseless claims that the election would be marred by massive fraud from Democrats.
"No," Youngkin said when asked if he believed that Democrats would cheat in the election. "I think we're going to have a clean, fair election and I fully expect to win."
Newsweek reached out to the office of Trump for comment.