After Las Vegas Attack, Sandy Hook Victim's Mother Blames Congress
The mother of a young victim in the Sandy Hook massacre in 2012 has blamed Congress for the Las Vegas shooting on Sunday that left 58 people dead and more than 500 injured.
Nelba Márquez-Greene posted on Twitter criticizing Congress, hashtagging Las Vegas and Newtown, the location of the school where her daughter was killed.
Stephen Paddock, 64, reportedly opened fire on civilians attending a country music festival on the Las Vegas Strip from his 32nd floor room at the Mandalay Bay Hotel. Police found 10 guns in his room where he shot himself dead before the SWAT team arrived at the scene, authorities say.
Márquez-Greene's 6-year-old daughter was among the 26 people killed in 2012 when 20-year-old Adam Lanza went on a shooting spree at the Sandy Hook elementary school in Newtown, Connecticut.
"This is on every congressperson who said in '13: There is simply nothing we could do," Márquez-Greene wrote. "Their lack of courage and/or ability to take meaningful action on issues that most matter: healthcare, violence, climate, etc is outrageous."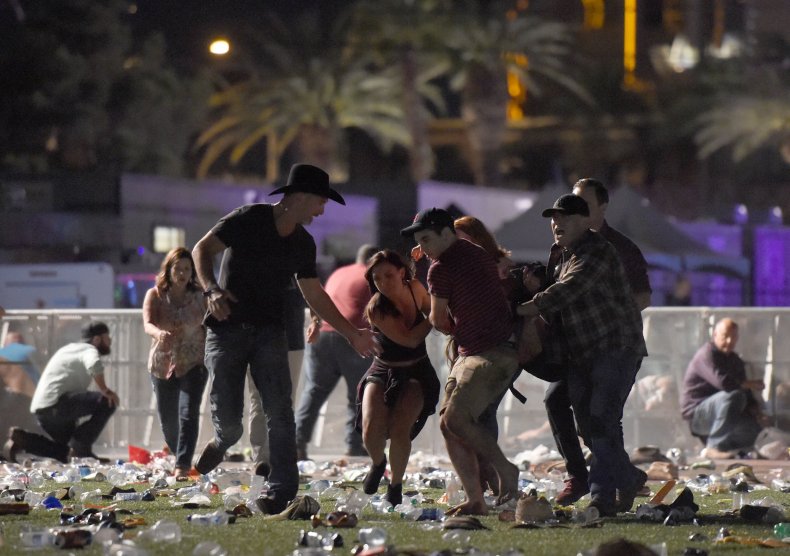 She posted a chain of tweets that railed against lax gun control laws in the U.S. "We need sensible gun legislation and we need it now," she wrote.
The victim's mother then referenced recent protests in the NFL against police treatment of African-Americans. She said the victims in Las Vegas gave her "50+ new reasons" to "take a knee."
She continued: "In America we value guns, flags & fake acts of patriotism over people, pain & real acts of courage."
Paddock had an arsenal of arms ready for the attack and had checked in three days prior, on Thursday, September 28.
Police said they believe the shooting was a "lone wolf" attack, one not linked to a militant group and not carried out by multiple shooters. His motive remains unclear. The Islamic State militant group (ISIS) claimed the attack on Monday, calling Paddock one of its "soldiers."
However, a U.S. official, unauthorized to speak publicly and speaking on condition of anonymity, told Newsweek, "There is no indication that there is any link whatsoever. They claim a lot of things."
Local media reports indicate that Paddock was a middle class white man who owned a home worth $350,000 near a golf course in Mesquite, Nevada, located around 80 miles northeast of Las Vegas.
According to public records, Paddock has had multiple pilot licenses dating back to 2004, has acted as a manager of an apartment complex and was also an auditor for defense and aerospace company Lockheed Martin.