After Laura Ingraham, Parkland Activist David Hogg Calls for New Boycott Against BlackRock and Vanguard
Updated | Parkland student and gun legislation campaigner David Hogg has called for investors to boycott BlackRock Inc and The Vanguard Group, two of the world's largest investment management companies, over their holdings in gun companies.
"[BlackRock] and [Vanguard] are two of the biggest investors in gun manufacturers; if you use them, feel free to let them know," Hogg said Tuesday in a series of tweets, with the hashtags #BoycottVanguard and #BoycottBlackRock.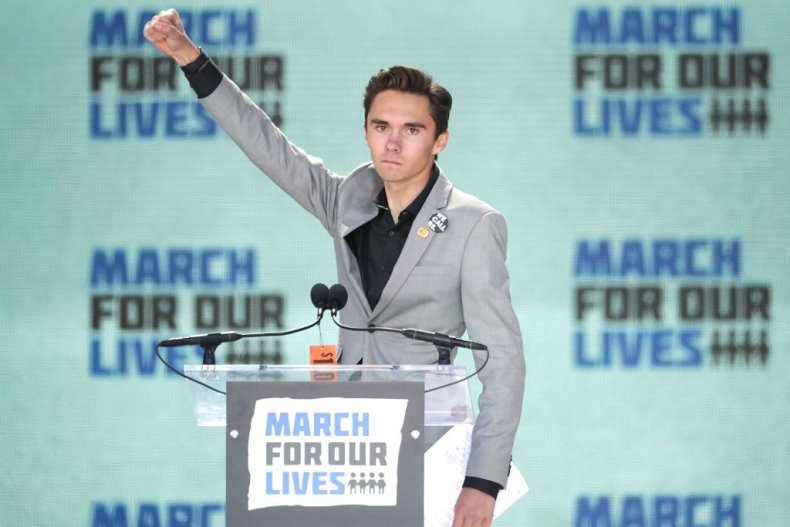 Hogg is among the most prominent of a group of students who have led a national campaign for gun legislation reform in the wake of the February 14 shootings at the Marjory Stoneman Douglas High School in Parkland, Florida, in which 17 people were killed.
BlackRock and Vanguard are two of the largest managers of exchange traded funds, and are the biggest owners of publicly traded firearms manufacturers, including Storm Ruger and American Outdoor Brands.
Hogg led a boycott campaign against Fox News host Laura Ingraham after she mocked him on Twitter about his college admissions, leading to several companies cutting ties with her show, The Ingraham Angle. He has also called for boycotts of companies with ties to the National Rifle Association gun rights lobbying group, such as Hertz and FedEx.
BlackRock has said it will create new funds for investors who wish to avoid holding stocks in gun manufacturers. It has also said it will hold discussions with gun manufacturers about their businesses.
The company last month removed retailers that sell guns from some of its exchange-traded funds,
It declined to comment on Hogg's tweets.
A Vanguard spokesperson told CNN that most Vanguard funds "do not have exposure to gun manufacturers," and that 359 of its 388 funds do not directly invest in Sturm Ruger, American Outdoor Brands or Vista Outdoor.
It also said that investors can put money in a social fund that excludes gun manufacturers.
"Importantly, Vanguard is taking action, meeting with the leaders of gun manufacturers and distributors," the company said in a statement. "We want to know how they will mitigate the risks that their products pose and how they plan to help prevent such tragedies from happening again."
"We believe that when a business poses a risk to society, it can also pose a risk to investors. We are expressing this viewpoint directly with company leaders because we believe greater focus and transparency on these issues will ultimately benefit society and investors alike."
This article was updated to include more information from a statement by Vanguard in response to the calls to boycott the company.