'After Life' Recap: What Happened in the Last Season of the Netflix Show?
Netflix is releasing After Life Season 2 on Friday, April 24, which will continue the story of Tony (played by Ricky Gervais) and his dead wife Lisa (Kerry Godliman) in another set of episodes. For those who are trying to remember where we left Tony and the rest of the cast of the Netflix dark comedy, read on for a full recap of the first season.
What happened in After Life Season 1?
At the start of After Life, Lisa has just died. However, before she passed, she left a number of videos for her husband offering him advice on how to live his life without her. Though she tells him in these videos to be kind to people and to himself, he is not taking any of her advice.
Tony is severely depressed, and prone to taking out his anger on people who annoy him, including his postman (Joe Wilkinson), his co-workers at local newspaper The Cambury Gazette, and even random passers-by, such as a school child he calls a "ginger c***" in Episode 1. He is so unhappy, in fact, that he says he has considered suicide, but did not go through with it because he did not know who would look after his dog after he died.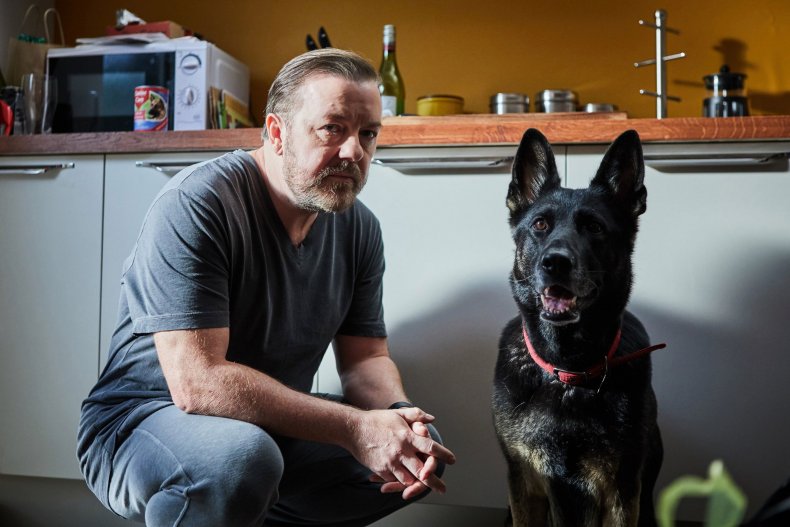 If this was not enough to be dealing with, Tony also has a father (David Bradley) with dementia, who lives in a care home and is taken care of by a nurse (Ashley Jensen). Tony's father's illness means that he is unable to remember that Lisa has died, making every conversation triggering for Tony.
In the early episodes of After Life, Tony meets three people who are crucial to the first season. The first is Anne (Penelope Wilton), a woman who Tony meets in the graveyard where she is talking to her husband's headstone. Across the season, Tony opens up somewhat to her and she begins to help him process the grief that his terrible therapist (Paul Kaye) does not help him deal with.
The second is Roxy (Roisin Conaty), a sex worker who Tony pays to clean his house, but with whom he becomes friendly with after realizing they have the same dark sense of humor.
The second key character is Julian (Tim Plester) a drug addict that delivers newspapers for The Cambury Gazette. Julian gives Tony heroin early in the season, which he tries to use to take his pain away, but it only succeeds in temporarily numbing it.
In one of Season 1's most controversial moments, Tony says he does not believe in addiction, and Julian says that he is so addicted to drugs that if he had the money, he would take so many drugs that it would kill him. Tony then gives him the money and he subsequently overdoses.
Tony, meanwhile, eventually starts to recover from his grief, going on a date that goes terribly, but shows him he might be able to start to think about meeting someone else, as Lisa says she wants him to do in her videos. After his bad blind date, in the last episode he asks out his father's nurse, who accepts.
After Life Season 2 is released on Friday, April 24 on Netflix.