'After Life' Season 2 Release Date, Cast, Trailer, Plot: All You Need to Know About the Ricky Gervais Series
Ricky Gervais' dark Netflix comedy After Life is returning for six more episodes, with a release date in April. After Life Season 2 sees all the characters from the first season return for a new plot with Tony (played by Gervais) trying to be a better person as he continues to deal with life without wife Lisa (Kerry Godliman). The trailer for the show also reveals that much of Season 2 will focus on a local amateur dramatic society putting on a play.
When is After Life Season 2 out on Netflix?
Netflix has given the Ricky Gervais series a release date of Friday, April 24. Like most of the streamer's shows, episodes will be released at once from one minute past midnight PDT. Season 2 will have six 30-minute episodes, and there's a trailer on the streaming service and YouTube now.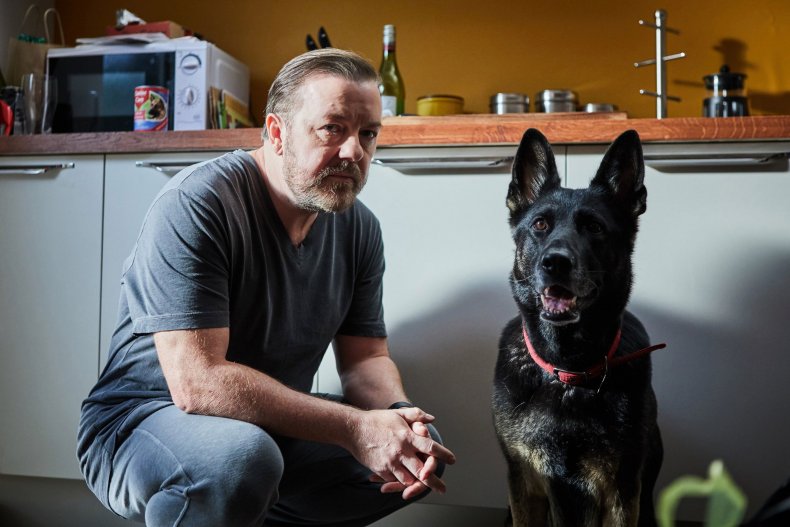 Who is in the cast of After Life Season 2?
All of the stars of the first season are set to return for another set of episodes. This includes Gervais himself alongside Penelope Wilton (who plays Tony's confidante Anne), David Bradley (Tony's father Ray), and Ashley Jensen (nurse Emma). Also returning via home video footage is Lisa, despite her death at the start of the first season.
A number of new cast members are set to appear in Season 2. These include local theater troupe head Ken (played by Colin Hoult, who previously worked with Gervais on Derek and Life's Too Short), local paper owner Paul (Peter Egan of Downton Abbey) and nursing home visitor Simon (Charlie Ward of British soap Coronation Street). After Life's new season also has an extended role for Tracy-Ann Oberman, who plays Rebecca, the woman who had a disastrous date with Tony in the first set of episodes.
What will happen in After Life Season 2?
The official Netflix synopsis for After Life Season 2 reads: "Set in the small fictitious town of Tambury, the comedy-drama series follows Tony (Ricky Gervais), a writer for the local newspaper whose life is upended after his wife dies from cancer. In series 2, whilst still struggling with immense grief for his wife, we see Tony try to become a better friend to those around him. Each grappling with their own problems and only to be intensified by the looming threat of the local newspaper being shut down. Will the town's local am-dram [amateur dramatic] show lift everyone's spirits?"
Speaking to British GQ, Gervais said of the new season: "There's ten characters who could be the lead in something. The first [season] was establishing a central character going through the world almost as if it's a video game. Now there's lots of 'meanwhiles'. It's like Springfield or something...The Springfield of grief."
After Life Season 2 will be released on Friday, April 24 on Netflix.