For three seasons, audiences have watched pessimistic and depressed Tony Johnson, (played by Ricky Gervais) grapple with the grief after losing his wife Lisa (Kerry Godliman) and holding on to the little bit of light at the end of the tunnel, often lit by the people around him.
Season 3 followed Tony's on-and-off relationship with Nurse Emma (Ashley Jensen), as he struggled to move on from his late wife, as well as his battles with depression and loneliness. Elsewhere, the citizens of Tambury had their own issues to deal with from failed relationships, dwindling careers, and homelessness.
After Life Season 3 wasn't all doom and gloom, with plenty of hilarious highs, beautiful dog moments, and ultimately a happy ending.
Newsweek has a full recap of what happened at the end of After Life. Warning, spoilers below.
What Happened at the End of 'After Life' Season 3?
When audiences meet Tony at the beginning of the Season 3 finale, he's not quite hit rock bottom, but he's not in the best of places. The good news is, his brother-in-law Matt (Tom Basden) survived his heart attack, the bad news is, Emma and Tony decided it was better off they remained friends.
A lonely Tony found Matt in the graveyard, laying a photo at his sister's grave. In the penultimate episode, Tony apologized to Matt, for never letting him properly grieve the loss of his sister and for making it all about his personal loss. It was a sweet moment exchanged between two brothers, not related by blood but by love. It's just a shame Matt didn't get to meet Tony's close friend Anne (Penelope Wilton), who could have made Matt feel a little bit better about his grief.
Angels Really Do Exist
As Matt heads home, Tony and Anne sit down on their favorite bench, where Tony has a breakdown over teasing his late wife Lisa about believing in an "After Life." He confesses to Anne he believes Lisa would have believed in heaven and hell and angels and devils, hoping she would have somewhere to go when she passed.
Thankfully Anne is there to pick Tony up and share her wisdom. If you didn't have tears streaming down your face, you will by now. Anne explains to Tony it's not about the "after life" it is what you do on Earth. She explains there are real-life angels living on Earth and Lisa and her late husband Stan were one of them.
Anne then gives Tony the greatest compliment of all: he too is an angel. He is her angel.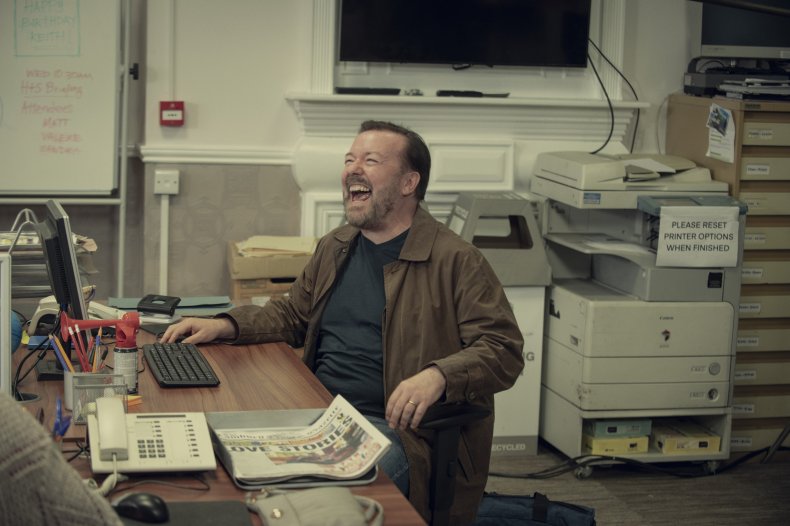 The Epiphany
As part of his job at the local paper, Tony pays a visit to a cancer ward to interview a little girl named Lisa who shaved her head to look just like her sister who was undergoing chemotherapy. His conversations with Lisa and her sister reduce Tony to tears and if that wasn't enough, his encounter with a young boy in the corridor on the way is enough to break his heart and change his world entirely.
Tony has the young boy laughing as they make fun of Lenny for looking a little like Shrek. The young boy asks Tony to visit him every day, to which Tony promises he will, every day until the young boy is cancer-free. However, in a comment nobody was expecting, the young boy replies "or when I make it to heaven," shattering and healing Tony's world at the same time.
With Lenny, Tony heads back to the office and finally takes out the life insurance, splits it with Matt and donates some to Lenny, struggling Coleen (Kath Hughes) and in doing so, has the sweetest epiphany audiences had been waiting for.
"Life is pretty f***ing amazing, isn't it? I mean, how lucky was I to exist at the same time as Lisa and spend all my time with her? All my love and it all comes crashing down and I remember she died and I'm all alone and I can't wait to die. It all happens in seconds [...] and then today at the hospice I met a little kid, so sweet and innocent and all my own troubles they were put on hold, they were still there but he became my troubles and it sort of stopped the cycle, the descent into darkness because I had a cause. It's like if the kid lives so do I."
Tony then visits the hospital, where he gives some of the £150,000 to the cancer clinic.
The Village Fair
At the village fair, Tony bumps into Emma and her former college flame Jack, where Emma introduces them both as friends. However as they both walk away from each other, they both turn back and exchange a smile. Although this pair won't ever be together, they have an unbreakable bond for life.
Overall, it's happy endings all around at the fayre. For Kath (Diane Morgan), she finds her happiness in a dog from Dog's Trust. Sparks also fly at the fayre between Kath and Postman Pat (Joe Wilkinson), after Pat dumps his girlfriend for refusing to give up being a prostitute. After Life may have just found its perfect match.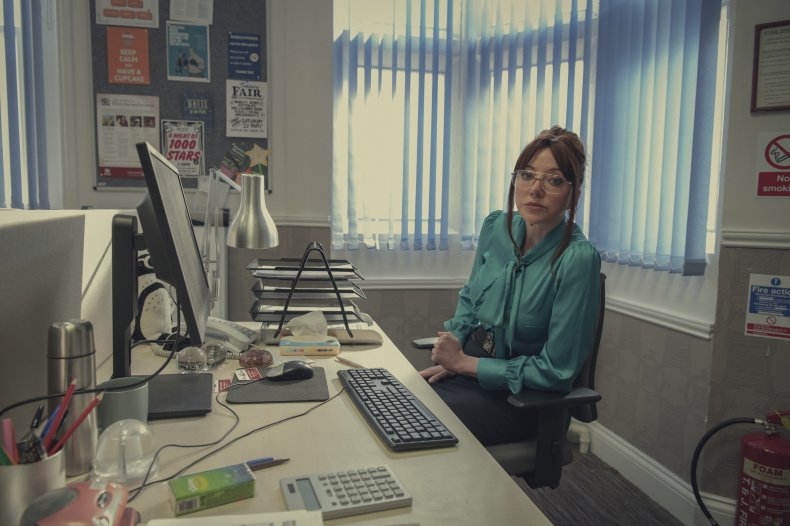 The Ending
As Tony walks off into the distance, all smiles he is joined temporarily by Lisa, before walking across the park with his beloved dog Brandy.
Then, as Tony and Brandy walk, Brandy fade away followed by a disappearing Tony. There is no suggestion that Tony did commit suicide, something he threatened to do back in Season 1 in After Life. The disappearing of Tony and Brandy most likely represents Tony's mantra all along that we live, we die and we disappear. And that's just the way it is. As long as he lived and loved doing it, that's all that matters.
After Life Season 1 to 3 are streaming on Netflix now.