Netflix's 'After Life' Season 3 Release Date and Time — Plus Plot And All You Need To Know
Ricky Gervais' critically acclaimed comedy-drama After Life is back for its third and final season on Netflix. The emotional rollercoaster of a series premiered in March 2019 and ever since, audiences have been invested in Tony's heartbreaking and uplifting journey.
For the past two seasons, viewers have watched Tony (played by Gervais) mourn the loss of his wife Lisa (Kerry Godliman) and his journey of grief, including the lowest of lows and highest of highs. With Season 3 being the last outing of the award-winning series, hopefully, Tony will get his happy ending. Newsweek has everything you need to know about After Life Season 3.
When Is 'After Life' Season 3 Out on Netflix?
The wait for Season 3 of After Life is almost over. The third and final series will premiere on Netflix on Friday, January 14.
Fans will be able to watch After Life Season 3 from 3 a.m. ET/ midnight PT in the U.S., with all six episodes available to stream and download in one go.
To watch After Life Season 3, you must be a Netflix customer. You can sign up to the streaming platform now for $8.99.
In the meantime, the first two seasons of After Life are available to watch on Netflix now.
What Will Happen In '

After Life'

Season 3?

After Life Season 3 will pick up from the emotional cliffhanger ending of Season 2, when Tony's life was left hanging in the balance.

As per usual, Tony was finishing his day by watching videos of his late life Lisa on his laptop. The grief and depression that Tony was experiencing, exacerbated by the loss of his father (David Bradley), had led him down a dark path. In the final moments of the episode, Tony sat on the couch in tears reaching for a bottle of pills.

Just as it looked like Tony was about to go through with an overdose, he was stopped by his dog Brandy and a knock at the door from Nurse Emma (Ashley Jensen).

Throughout Season 2, Tony and Emma's feelings for each other had become pretty clear, but moving on from Lisa was proving difficult for Tony.

Season 3 is set to explore their relationship and what happened after Emma happened to be at the right place at the right time.

Elsewhere, Anne (Penelope Wilton) and newspaper boss Paul (Peter Egan) became friends after Tony introduced them at the community center's drama show, Postman Pat (Joe Wilkinson) and Roxy (Roisin Conaty) began dating and Matt (Tom Basden) was able to rekindle his marriage.

Hopefully, After Life Season 3 will have a happy ending. Gervais is giving little away about the third series. However, in an interview with PA, he did suggest that the third season had a greater sense of "hope."

He said: "I think it's beautiful that life is finite, that, as I say, you don't exist for 13 and-a-half billion years, you're born, you have these 80, 90, years if you're lucky, and you die, never to exist again, and you've forgotten.

"I think that's probably the biggest single change in series three to the first two, that infused with the idea that hope is everything.'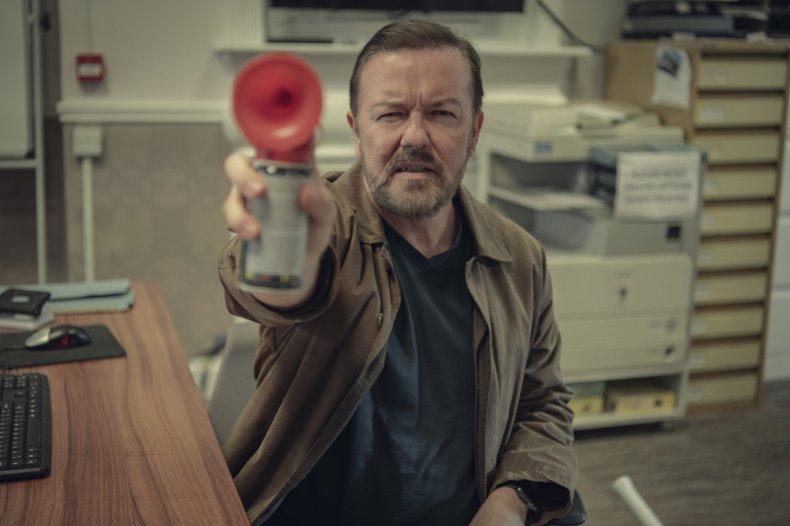 Who Will Star in '

After Life'

Season 3?

The entire main cast is back for After Life Season 3.

This means audiences will be reunited with pessimistic Tony, played by three-time Golden Globe winner Ricky Gervais.

Ugly Betty and Extras star Ashley Jensen is back as Emma alongside Plebs actor Tom Basden as Matt.

Also returning for Season 2 is Edge of Tomorrow's Tony Way as Lenny, Sex Education's Joe Wilkinson as Pat and Derek's Kerry Godliman as Lisa.

In My Skin's Jo Hartley is also back as June alongside comedian Diane Morgan as Kath.

Audiences will also see the return of Mandeep Dhillon as Sandy, Penelope Wilton as Anne, Roisin Conaty as Daphe/Roxy, David Earl as Brain and Ethan Lawrence as James.

The End of The F***ing World star Kath Hughes joins the cast of After Life Season 3 as Coleen, a new intern at the Tambury Gazette.

Guest stars this season include Tim Key, Dave Hill, Wendy Albiston, Ricky Grover, Ben Hull, Cole Anderson-James and Kate Robbins.

After Life Season 3 premieres Friday, January 14 on Netflix.

If you have thoughts of suicide, confidential help is available for free at the National Suicide Prevention Lifeline. Call 1-800-273-8255. The line is available 24 hours, every day.

Correction 01/13/22, 11:20 a.m. ET: This article was updated to correct the spelling of Ashley Jensen's name.