'After Life' Season 3 Release Date: Will There Be Another Season of the Ricky Gervais Show?
Netflix released After Life's most recent season earlier in April, and many Ricky Gervais fans have already made it to the end of the six episodes and are hoping for more. Previous Gervais series like The Office, Extras and Life's Too Short have all run for only two seasons, but his Netflix show could be the first one to be extended to Season 3.
Most recently, Gervais said of After Life Season 3 in a Twitter Q&A: "I'd love to do a season three, it looks like it's going to go down a storm, so if this reaction carries on then yes."
Previously, at a press event, the actor and comedian said of doing another season: "I love the characters. I love all the actors in it. I love my character. I love the town. I love the themes. I love the dog. So I would do a third one. But it's got to be a real—it's got to be a real demanded-for encore. I'm not going to just do it."
Netflix has not yet renewed After Life for Season 3, but there are signs that they will want another set of episodes from Gervais. The show has been a hit for the streamer over the weekend, with the show currently top of the Netflix charts in the United Kingdom and numerous other countries across the world.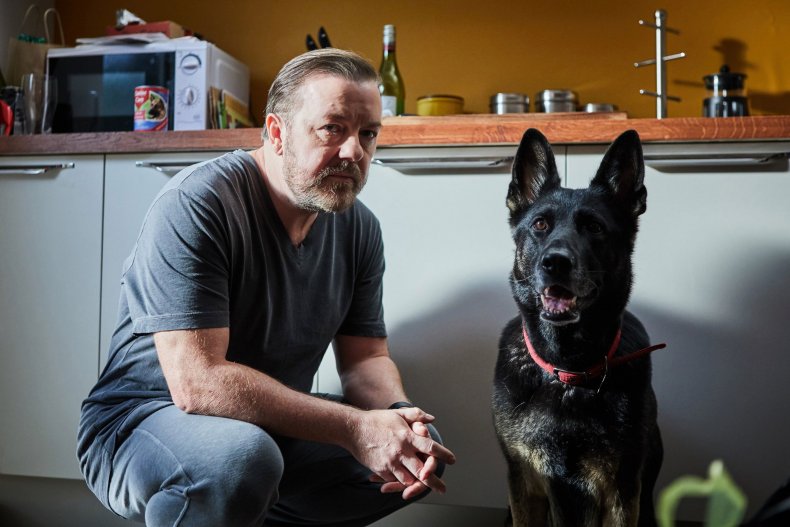 The streamer now tends to wait at least a month from release to decide if a show warrants another season, so they can look at viewing figures and other data. This means that fans may know about the fate of Season 3 by the end of May. As for when the next season would air, there was a 13-month gap between Seasons 1 and 2, so we may expect a similar time before Season 3. As such, fans may be able to see After Life Season 3 by late spring 2021.
WARNING: The following contains spoilers for the end of After Life Season 2
If the show does get a Season 3, fans should expect the show's black comedy tone to continue. In the final episode of Season 2, Tony (played by Ricky Gervais) seems to consider a suicide attempt. We see him watching a video of his dead wife Lisa (Kerry Godliman) and then looking at a bottle of pills, and he seems to be only stopped from his train of thought by the arrival of Lisa (Ashley Jensen).
Speaking about this to press, Gervais said: "It's got to be ambiguous, because we don't know. It's up and down. It's up and down, like life. We don't know. Someone doesn't say, 'Do you know what? I'm better today, and I'll never be bad again. Bye!' That doesn't happen. We've all got problems, and they reoccur, or we suppress them, or we get over something, and another one pops up.
"'So I want it to be: 'Here's a little victory. He might be OK. There might be a third series. But if not, don't worry about it.'"
After Life Season 1 and 2 are streaming now on Netflix.