After the #MeToo Movement, Could This International Women's Day Be the Most Pivotal Yet?
For more than a century, International Women's Day has marked women's fight for achieving equality around the world.
This Thursday, however, is the first International Women's Day since the #MeToo and #TimesUp movements brought the issue of sexual violence against women center stage, sparking a global discussion around sexual harassment and assault, as well as the structural inequalities that have allowed widespread abuses to take place around the world.
Women's rights activists say that while this is a "pivotal moment" in history for women's rights, the momentum gained under the #MeToo movement will need to be followed through with action for it to bring about long-lasting change.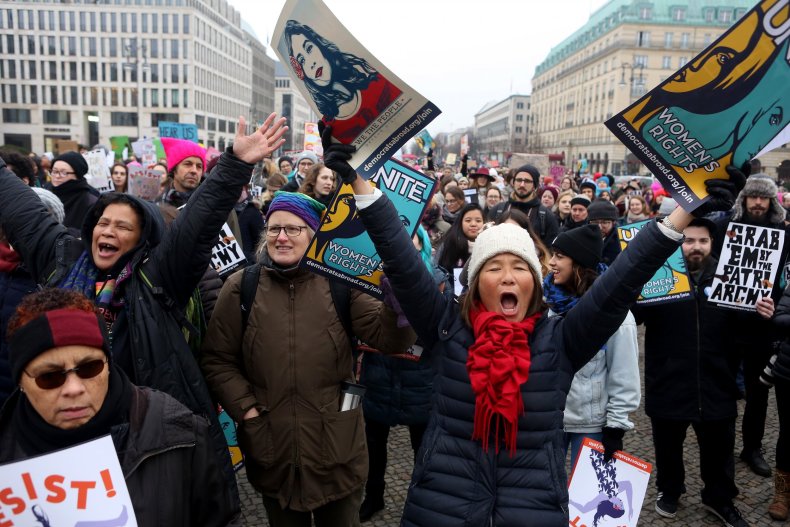 "There are many moments in women's history that are just as much of peak moments as this one is, but what is unique about #MeToo is largely to do with social media and modern technology, which has to do with how widespread and global this peak moment has become," Minna Salami, founder of the MsAfropolitan blog, covering Africa and the diaspora from a feminist perspective, told Newsweek.
"#MeToo has made it so obvious and clear what the extent of male violence, rape culture and sexual abuse towards women is that we can no longer just celebrate Women's Day without making the connection to the very real problems of inequality women face," she added.
The #MeToo hashtag, originally initiated by civil rights activist Tarana Burke, spread like wildfire across social media when American actress Alyssa Milano posted a tweet on October 15 urging women to speak out about their experiences with sexual assault and/or harassment.
Survivors from around the world responded, tweeting out their experiences from as many as 85 different countries, with countless Hollywood celebrities joining the chorus. More than 50 women named producer Harvey Weinstein as their abuser, while actors including Kevin Spacey, Dustin Hoffman and others also faced accusations of sexual harassment and assault.
More than 300 women working in the film, television and theater industries came together to create the Time's Up campaign, with the aim of turning the momentum of the #MeToo movement into action. In its first 60 days, the initiative raised $21 million for a legal defense fund created to support survivors of sexual harassment and assault pursuing legal action.
So far, as many as 1,700 women across the U.S., from a hotel cook to a military officer to first responders, steelworkers and Silicon Valley employees, have approached Time's Up for assistance, according to Deadline.
In the wake of the revitalized push for gender parity, International Women's Day 2018 organizers have branded this year's theme for the annual event "Press for Progress," arguing that "now, more than ever, there's a strong call-to-action to press forward and progress gender parity."
"With global activism for women's equality fueled by movements like #MeToo, #TimesUp and more, there is a strong global momentum striving for gender parity.... So we can't be complacent," organizers say on the International Women's Day website.
U.N. Secretary-General António Guterres hailed this period in history as a "pivotal moment for women's rights," writing in a statement that "historical and structural inequalities that have allowed oppression and discrimination to flourish are being exposed like never before."
Related: International Women's Day: What female empowerment looks like in 2018
"From Latin America to Europe to Asia, on social media, on film sets, on the factory floor and in the streets, women are calling for lasting change and zero tolerance for sexual assault, harassment and discrimination of all kinds," Guterres said. "Achieving gender equality and empowering women and girls is the unfinished business of our time and the greatest human rights challenge in the world."
While Equality Now's Jacqui Hunt, who directs the advocacy group's office in Europe, said that she agrees this point in history could prove pivotal, there needs to be a global push toward turning calls for equality into action.
"This is a pivotal moment if we can make it a pivotal moment. It's not a pivotal moment without action," Hunt told Newsweek.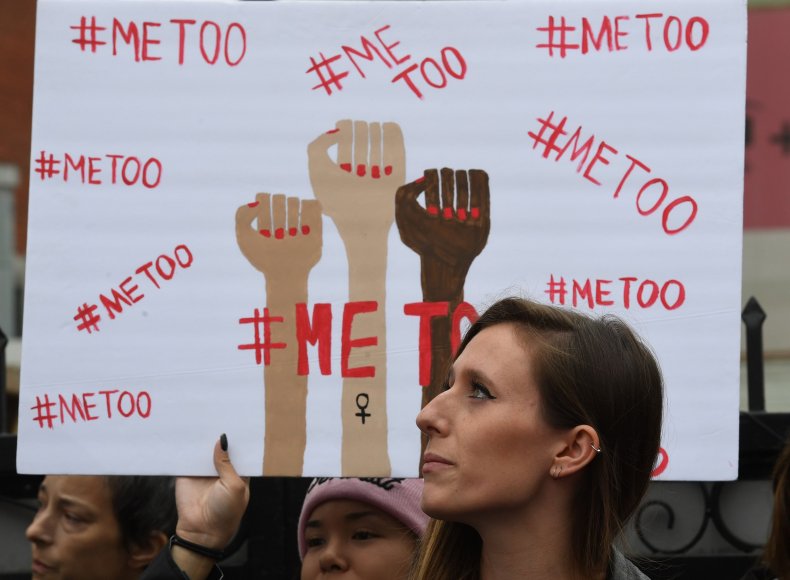 "What #MeToo has done is put information in the public domain about the extent of violence and discrimination against women and girls. It's helped expose things that had become part of the wallpaper, so to speak. It was always in plain sight," Hunt said.
"Now, we've got more people supporting and more people ready to take action," Hunt added. "It's that beginning piece. We've put the issue on the table and have shown how it affects all women or could potentially affect all women, and we now need to focus to make those changes."
This Thursday will be a day marked by marches, rallies, talks and performances around the world calling for change, but as organizers of the annual observance note, the fight for gender equality is far from over.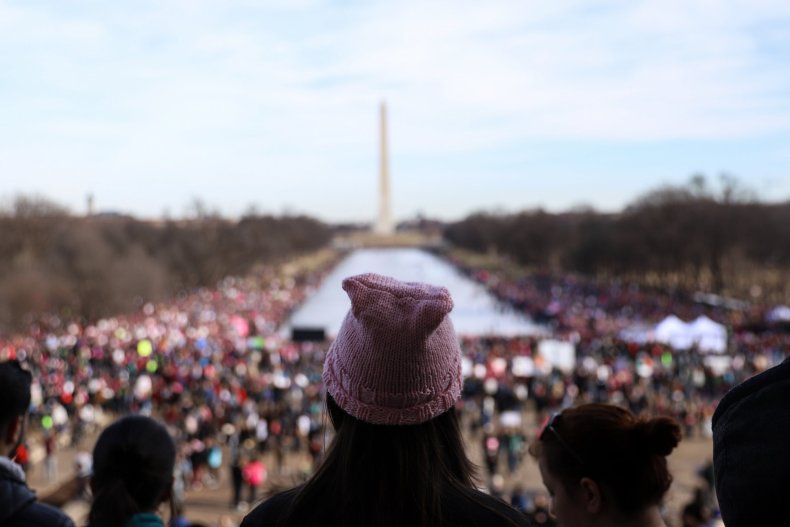 By the Numbers
Global gender parity
When International Women's Day was first launched, with the earliest observance of the event held in New York on February 28, 1909, it began with the goal of realizing gender equality for women around the world.
Despite the ongoing push for gender equality in the more than a century that has passed, however, the World Economic Forum's 2017 Global Gender Gap Report found that gender parity is still more than 200 years away.
The annual report, which benchmarks 144 countries looking at their progress on gender parity through four main themes: economic participation and opportunity, educational attainment, health and survival and political empowerment.
In global rankings of progress toward gender equality, the United States came in 49th out of the 144 countries analyzed, despite its northern neighbor, Canada, coming in 16th and the United Kingdom coming in 14th place. Iceland, known for its progressive policies, including a recent law banning companies from paying men and women differently, was ranked first for the ninth year in a row.
The global pay gap
The global pay gap between men and women still sits at 23 percent, rising to 40 percent in rural areas, according to the U.N.
Studies, including a U.S. Senate report, Gender Pay Inequality, published in April 2016, have consistently shown that women of color face the biggest pay gap when compared with white men.
Hispanic women were found to earn 55 percent of what white men were making in the U.S., with black women earning 65 percent, white women earning 75 percent and Asian women, who faced the smallest wage gap, earning 84 percent of what white men made.
The Senate report did note that women of color face a smaller pay gap when compared with men of color, with black women earning 82 percent of what black men made and Hispanic women making 88 percent of what Hispanic men made.
Hispanic women were found to be the most affected by the wage gap, especially when compared to white men, who made up the largest demographic segment of the workforce.
The same report also found that women with children were being penalized, while men with children appeared to be rewarded, with data suggesting "that women suffer a 'mommy penalty' after they have children, earning 3 percent less than women who do not have children." Researchers found the opposite to be true for men, with working fathers earning on average 15 percent more than men without children.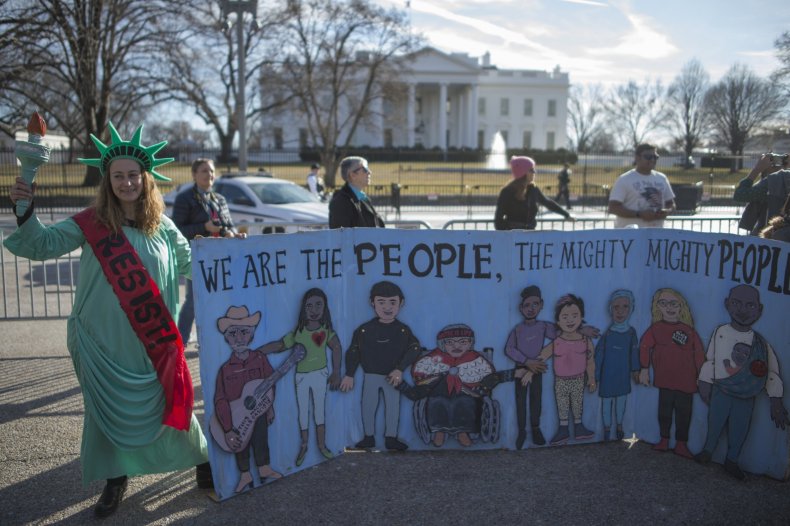 Violence against women
It is estimated that 35 percent of women worldwide have experienced either physical and/or sexual violence at some point in their lives, according to the U.N., though that percentage could be greater.
As many as 120 million girls worldwide, slightly more than one in 10, have experienced forced intercourse or other forced sexual acts at some point in their lives, with the most common perpetrators of sexual violence against girls being current or former husbands, partners or boyfriends.
Women and girls also account for roughly 71 percent of all human trafficking victims, the U.N. has said, with nearly three out of every four victims being trafficked for the purpose of sexual exploitation.
The U.N. also estimates that at least 200 million women and girls alive today have undergone female genital mutilation in the 30 countries with representative data on prevalence. In most of those countries, the U.N. says the majority of girls were cut before the age of five.
Pushing for progress
Guterres said the world faces "serious obstacles" in addressing "the historic power imbalances that underpin discrimination and exploitation."
"Where laws exist, they are often ignored, and women who pursue legal redress are doubted, denigrated and dismissed," he said, calling on men to do more to join in demanding gender parity.
"Where women face discrimination, we often find practices and beliefs that are detrimental to all," Guterres said. "At this crucial moment for women's rights, it is time for men to stand with women, listen to them and learn from them."
Hunt said that in order for change to come about governments and business leaders around the world need to be called on to put policies and practices in place that address inequality.
She said government and business leaders must start by addressing those who are "most affected" and "bring women to the table in an intersection way, with BAME (black and ethnic minority) women and women with disabilities represented."
"All of us, government, business, civil society, entertainment, we can all continue the work that has been started," Hunt said.