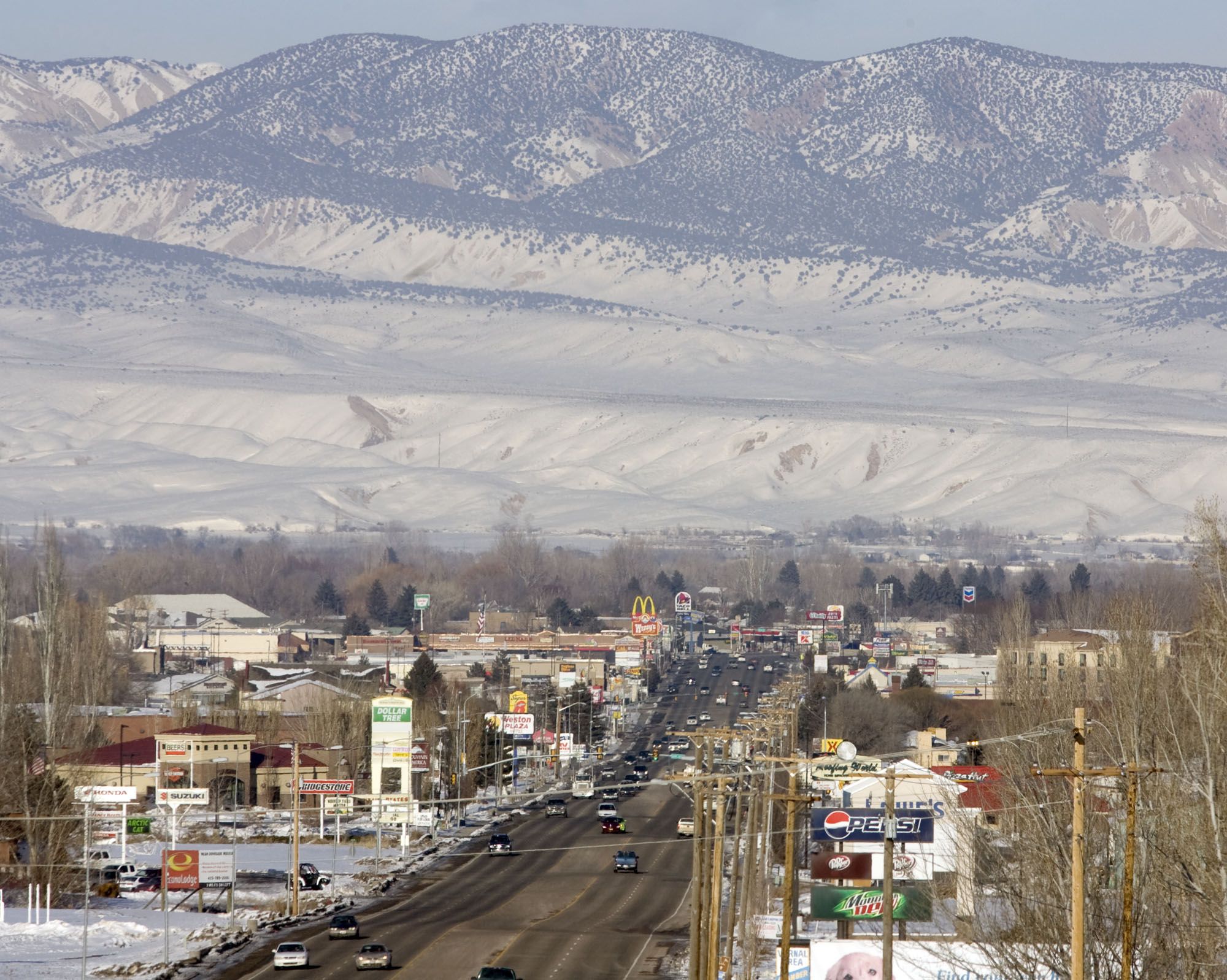 Donna Young was right. In 2013, more infants died in Vernal, Utah, than was normal for the area.
Last year, Young, who has been delivering babies as a midwife for nearly two decades, noticed several fresh graves for infants in the cemetery in her tiny city. She sensed that something wasn't right. She didn't have access to official death records, so she started combing through obituaries online.
Vernal's population is under 10,000. According to Young's findings, the town put in 191 graves in 2010, of which two were for infants. A year later, three infants died, and in 2012, four. The following year, 13 infants died shortly after birth. Total burials in Vernal numbered 176 in 2013, so roughly one in every 15 new graves was for an infant. Vernal's rate of neonatal mortality appears to have climbed from about average in 2010 (relative to national figures) to six times the normal rate three years later, Young's calculations show. Eventually, she, along with several advocacy groups and the pediatric medicine department at the University of Utah, got the attention of state officials, who agreed to look into the statistics.
Almost one year later, TriCounty Health Department, which oversees the eastern Utah region, has come back with the results: There was indeed a spike in "adverse birth outcomes" in the area that year. In total, there were 26 stillbirths and infant deaths over 2012-2013, up from 20 during 2010-2011. The 2013 stillbirth rate in the area was 5.9 per 1,000 live births, the highest it has been since 1994.
The health department downplayed the significance of numbers. The spike is notable, but not "statistically significant," TriCounty epidemiologist Sam LeFevre said, according to The Salt Lake Tribune. "We did see more stillbirth and infant death than what would historically have been expected."
"From an observational perspective this investigation found evidence of public health concerns regarding infant deaths and stillbirths in the tri-county study area. If the study area were more populated—thus gaining statistical power—the analyses of the infant death and stillbirth rates might have statistically concluded that these two outcomes represent public health concerns," LeFevre wrote in the final report. "From a local perspective, these findings should be concerning, particularly if these patterns persist."
But according to LeFevre, the state has not planned any further study of the issue or its potential causes.
Donna Young, meanwhile, says that the state's numbers tell a muffled story.
"I think it is a good start. But I also believe that they're holding back a lot," Young says. "I believe they know a lot more than what they're divulging."
The health officials pooled data from Uintah county, where Vernal sits, as well as two surrounding counties, Duchesne and Daggett. Young's figures, from her own survey last year, were focused on infant deaths only in Vernal, and are much more dramatic. "The [state's] findings were very, very vague. They were also very diluted. The problem area was in Vernal. They would not do a study just with Vernal. They diluted it down by three counties. They still found a problem, but they're refusing to look at where it's really a problem," she says.
Young, along with advocacy groups, posit that the deaths could be related to the exceptionally high level of air pollution in the Vernal area. Last year, prior to beginning the investigation, LeFevre acknowledged the problem of looking at all three counties, instead of just Vernal. "The Uintah Basin stretches through all three counties, but there are natural barriers between them, like hills, so the [pollution] exposure is not going to be even across all three." Still, he said, for the sake of having a large enough population to adequately study, they had to cast a wide net.
Young insists that there is something wrong in Vernal, specifically, and speculates that it may be even more local than that. She says that in the case of six of the infant deaths she has recorded from 2012 through 2014, the mothers either lived or worked very close to a one specific intersection in the city. Young says that intersection, where 500 South Street and 500 West Street cross, sees an exceptionally high degree of truck traffic associated with the oil and gas drilling industry.
"The trucks would drive, stop, [and] blow this big amount of smoke out."
Vernal sits in the Uintah Basin, smack in the middle of Utah's oil and gas drilling boom. Oil and gas are central to life in the region; a map of the Uintah Basin is thickly cluttered with colorful dots marking the locations of oil and gas wells. The basin is home to around 30,000 people and some 11,200 oil and gas wells. Another 25,000 new wells were under proposal as of 2014, according to a recent study from the University of Colorado Boulder.
But several advocacy groups have raised questions about the high air pollution in the area, which scientists have blamed on the oil and gas industry. The Uintah Basin is surrounded on almost all sides by mountains. In the winter, the basin is prone to "inversions," a weather event in which warmer air floats above cooler air, and forms a "cap" that keeps air stagnant. In short, the inversion prevents pollution from blowing out of the area.
Uintah Basin exceeded the National Ambient Air Quality Standards level for ozone pollutants for 39 days in the winter of 2013, according to the University of Colorado study, which puts the area's ozone pollution above the Los Angeles Basin's average summertime levels. L.A. is currently ranked the most ozone-polluted city in the U.S. by the American Lung Association. Several studies have linked L.A.'s air pollution to an increase in adverse pregnancy outcomes, such as early birth and low birth weight. But linking air pollution to infant deaths within a population as small as Vernal's is extremely difficult, and state officials aren't buying it.
"Everyone wants to point to environmental factors, they want to blame the oil fields," said Jeramie Tubbs, spokeswoman for the TriCounty Health Department in eastern Utah, told local station KSL TV last week. "It's not an air quality issue."
But Brian Moench, an anesthesiologist and president of the advocacy group Utah Physicians for a Healthy Environment, told Newsweek last year that the state should investigate the possibility of an air pollution link. "We know that pregnant women who breathe more air pollution have much higher rates of virtually every adverse pregnancy outcome that exists," said Moench. "And we know that this particular town is the center of an oil and gas boom that's been going on for the past five or six years and has uniquely high particulate matter and high ozone. So seeing this spike in perinatal mortality is not surprising.
"We can't say at this point, and we probably can't say ever, that each one of these deaths is due to air pollution," he continued. "Much like we can't say that someone's lung cancer is definitely due to their smoking. But if you put the components of this equation in the context of everything else we know, it would say something."
Young, meanwhile, has been receiving Facebook messages since the state announced its findings.
"I do not disagree with you on the Environmental standpoint," reads one. "It does not make you a popular person around here when you say it might be the Oilfield pumps or the Asphalt Plant in the middle of town and we all live in a bowl where all the Poison settles to.
"I moved here in 2007 I could see across the entire basin from my home. Now I cant [sic] see over 11 miles on a normal day. I can see better in Salt Lake county. So Donna your [sic] Right. Your [sic] awesome and thank you for your hard work."