After Mitch McConnell Named WholeFoods Magazine's Man of the Year, Twitter Users Call for Boycott of Supermarket Company
WholeFoods Magazine has named Senate Majority Leader Mitch McConnell as its Man of the Year for championing a hemp growing project in his home state of Kentucky. Twitter users have cried foul, though, and now they are trying to boycott the Whole Foods Supermarkets chain, which has nothing to do with the magazine.
McConnell announced his victory in a tweet.
"Honored to be named @WholeFoodsMag 2019 Person of the Year," McConnell declared. "I was recognized as the most influential person in the natural products industry, specifically because of my work to legalize industrial #hemp for farmers in Kentucky and around the country."
The magazine, which focuses on wellness and natural remedies, begins its tribute with, "'hemp hero,' 'Cannabis champion' and 'climate villain.'
It goes on to say, "Senate Majority Leader Mitch McConnell has been called all this and more. Odds are, you have an opinion about the Republican senator from Kentucky, and regardless of whether that opinion is positive or not, one thing is certain: Mitch McConnell has done a tremendous amount to influence the natural products industry in 2019, and what he has set in motion will continue to impact this industry for a long time to come."
It goes on to praise him for legalizing hemp programs in a farm bill he signed into law.
"I cross the country praising Mitch McConnell. McConnell has been extraordinary. He went from Darth Vader to My Hemp Hero. McConnell is very clued in to this. He's going to be on top of it," said Jonathan Miller, General Counsel to the U.S. Hemp Roundtable and a one-time Democratic candidate for governor, speaking at the Natural Products Hemp and CBD Summit and quoted in the article, which also questions McConnell's commitment to eco-friendly living, as well as his record on climate change and the environment.
Twitter users—misinterpreting the WholeFoods magazine as being a part of the Whole Foods Supermarket chain—have responded by threatening to boycott the market.
"I won't be shopping at whole foods since they have named Mitch McConnell POTY," said Twitter user KrissKringle.
"Whole Foods gave Mitch McConnell an award for supporting cannabis. F**k Whole Foods," said Twitter user DrKC4.
Eventually, users began to realize the two entities were unrelated.
"Don't know what website or page you found that image, but it doesn't look like magazine & store are related. (But as was pointed out, being owned by Amazon is enough reason to boycott Whole Foods Market.)," said user John Leeson.
Newsweek has reached out to Whole Foods for comment, but has not heard back at press time.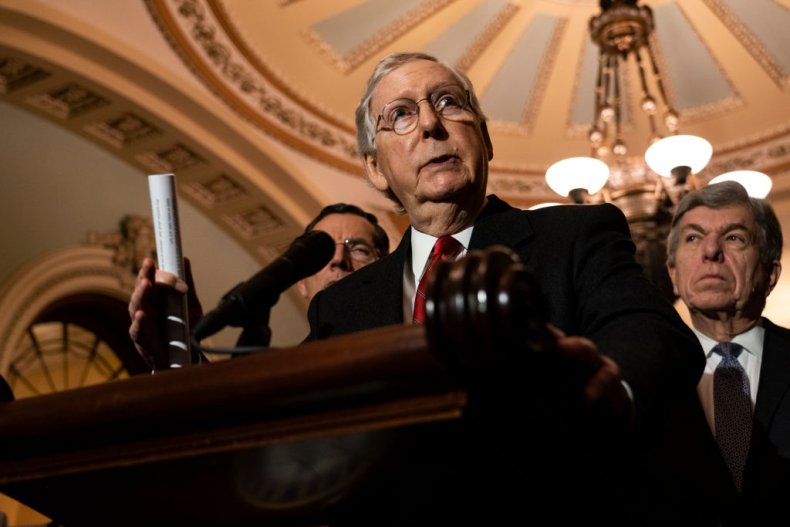 Heather M. Wainer, the publisher of WholeFoods Magazine, responded to Newsweek's request for comment on Thursday with the following statement:
"WholeFoods has no affiliation with Whole Foods Market. WholeFoods Magazine is a b-to-b magazine that has been published monthly since 1977. We have been doing the Person of the Year for the past 6 years. It has been fashioned off a leading consumer magazine and is not considered an award or honor, but rather it is reporting on the one person who has had the most influence on the Natural Products Industry in that past year. Hemp has become the hottest topic in the Natural Products Industry in 2019, and its popularity grew more after Mitch McConnell's work on the Farm Bill. Then in August McConnell got involved with banking to help hemp farmers. On the other hand, McConnell is discussed in a negative way in the industry due to his failure to help move forward any climate initiatives. The magazine is simply addressing the facts pertaining to this industry in 2019, and not addressing McConnell's whole political view and agenda."
Update (11/28, 12:30 p.m.): This article has been updated to include a statement from WholeFoods Magazine publisher Heather M. Wainer.