After Monday Debacle, Virginia Gov. Northam Declares State of Emergency Before New Storm
After a winter storm left hundreds of cars stranded on Interstate 95 through Virginia for over 16 hours earlier this week, Virginia Gov. Ralph Northam declared a state of emergency before more snow is set to hit the state starting Thursday night.
Northam also asked the state's National Guard for assistance because of the risk posed by a second winter storm so close to the first, in a series of moves state officials hope will make drivers more comfortable after the administration was battered for its slow response Monday.
State lawmakers, local officials, two members of Congress, and many residents have called for action in the days since the traffic jam, as state officials have said they will review the policies that led to the situation.
Similar reviews in other states after winter storms causing significant traffic problems have led to overhauls of winter weather policies, public alert systems, and the purchase of more snow-clearing equipment.
Officials say a commercial vehicle jackknifed because of the snow, stranding hundreds of cars behind it, with some vehicles stuck for over 24 hours. Many of the drivers of the vehicles said they were offered minimal assistance from the state or law enforcement while they were stuck and more snow was coming down, worsening the traffic.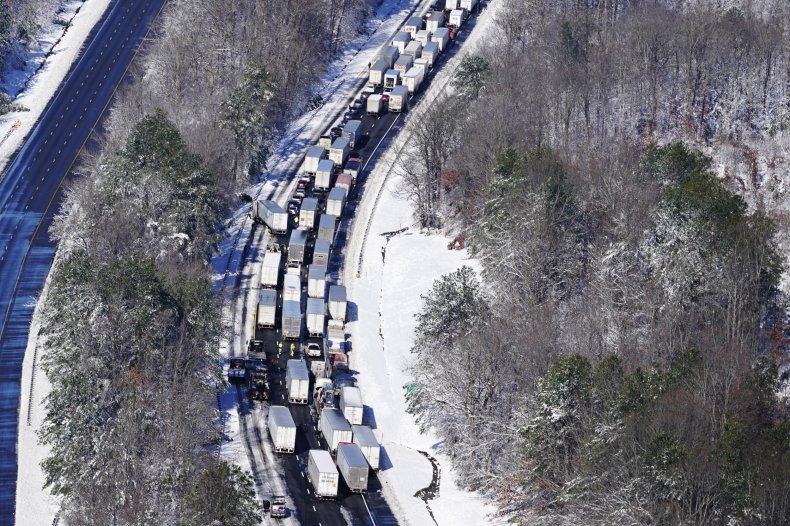 Northam also pushed back against the criticism, questioning why drivers were out in force on the highways when they had been warned to stay home, while some experts and officials from other states said they saw little Virginia could have done to prevent the logjam that occurred amid snowy conditions on I-95, the East Coast's longest north-south artery.
Secretary of Public Safety and Homeland Security Brian Moran told The Associated Press on Thursday that no one brought the escalating problems to the attention of the governor's Cabinet promptly on Monday. A county official eventually called him in the middle of the night.
Stafford County Board of Supervisors Chair Crystal Vanuch, a Republican and lifelong county native, said Thursday that the gridlock was "probably the biggest disaster we've ever seen."
According to Vanuch, the county's emergency operations command received roughly 1,800 calls for service over a 24-hour period — more than five times the normal amount — and local emergency workers told her they weren't getting the help they needed from state officials.
She said she called Moran at 1 a.m. Tuesday and that by daybreak, state officials had begun deploying resources, including helicopters to survey roads and see where the worst chokepoints existed.
Northam, a Democrat who leaves office later this month, said in an uncharacteristically combative interview Wednesday that he was "getting sick and tired of people talking about what went wrong."
He told radio station WRVA that no one was injured and that people should be thanking first responders and emergency workers.
In a conciliatory follow-up statement Thursday, Northam said he was trying to express his appreciation for police troopers and other workers who had put in 30 to 40 hours straight under difficult circumstances.
In the statement, he also said he had compassion for drivers who were stuck in a "scary situation" and reiterated his commitment to doing "everything possible to keep this from happening again."
The COVID-19 pandemic has also made it harder in some states to assemble the workforce needed to plow roads. In Virginia, officials said they had enough employees, but at least one locality cited staffing shortages. Motorists also faced long delays on secondary roads while trying to avoid I-95.
Virginia State Police officials, who have long noted staffing challenges, said they increased the number of troopers assigned solely to the interstate to 30 on Tuesday, after starting Monday with about 18 in the entire area.
Ron Maxey, VSP's deputy director of field operations, said many troopers set out on foot to check on stranded motorists, and shared some of their own food.
Natalie Simpson, a professor and expert on emergency services at the University at Buffalo School of Management, said she didn't see any immediate evidence that Virginia officials missed a step that could have mitigated the traffic jam earlier this week. But Simpson said governments everywhere need to do a better job planning to provide aid to stranded drivers.
"Once traffic stops on an interstate, an interstate becomes a prison," she said.
The Associated Press contributed to this report.