After More Than Two Months, the Caldor Fire Is Now Completely Contained at 222K Acres
After it burned through 221,835 acres over the course of 67 days, California's Caldor Fire has been completely contained, according to state fire officials.
The fire began on August 14 and destroyed 1,003 structures including homes and commercial buildings, according to the California Department of Forestry and Fire Protection, also known as Cal Fire.
The Sacramento Bee noted that containment doesn't mean that that fire has been extinguished, but that firefighters have constructed a perimeter around the fire.
The newspaper reported that 500 firefighters are still assigned to the blaze.
"Contained, controlled and out are three distinct phases. For example, although the fire is contained, large diameter trees and stump holes will continue to smolder well into the winter months. Containment, in its simplest form, is a measure of line around the fire," the U.S. Forest Service Wrote on Thursday.
"Controlled means fire managers are confident the fire is not likely to get outside the line. Some fires can linger under control until winter rains or snow arrive and finally bury any and all smoldering logs, embers or ash," the U.S. Forest Service stated on Thursday.
The Forest Service added that "under the right conditions" fires can smolder until the spring when snow melts "and the tiniest of hot ember finds just enough air and fuel to show smoke."
"Rare as it might be, it does happen. When a fire is finally called out, it means it's out," it added.
The fire will "continue to creep and smolder within the fire area long into the winter" the U.S. Forest Service said. It warned that dangers in the fire area include weakened trees, stump holes, and "heavy fuels that continue to smolder hazardously" and material from burned structures.
Evacuation orders and warnings in connection with the Caldor Fire had been lifted as of October 4.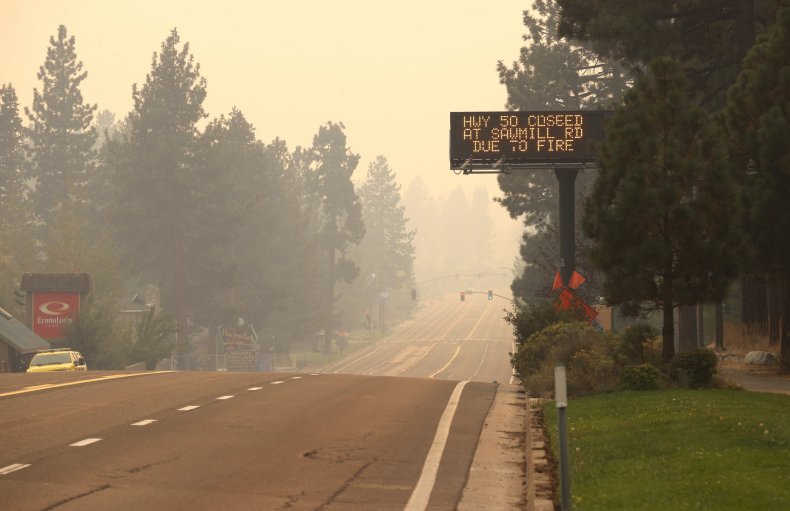 The Caldor Fire is the 15th largest California fire in recorded history, according to Cal Fire. The largest fire, the August Complex, burned through more than 1 million acres in 2020.
Cal Fire also ranks the Caldor Fire as the 16th most destructive fire in California's recorded history. The most destructive blaze, 2018's Camp Fire, destroyed nearly 19,000 structures and led to 85 deaths.
One person was killed as a result of the Caldor Fire. The cause of the Caldor Fire is still being investigated, according to California fire officials.
The Dixie Fire, another major wildfire that has burned in California this year, is now also 97 percent contained after burning more than 963,000 acres, according to the U.S. Forest Service.