The Chinese capital of Beijing has seen an uptick in new coronavirus cases, after not seeing any new cases of the novel virus for 55 days. Meanwhile, China overall saw its largest one-day total of new confirmed cases in the past two months on Saturday.
On Sunday, Beijing reported a total of 36 new local cases of the novel coronavirus, in addition to seven other cases reported since Thursday. This brings the city's total of new cases to 43 after nearly two months without any reported infections. Overall, China reported 57 new infections on Sunday, the highest number since mid-April.
The majority of China's new cases can be traced back to Beijiing's biggest wholesale food market, the Hong Kong-based South China Morning Post reported. Of the new cases, 27 were people that worked at the Xinfadi food market, which has now been closed down. Nine others were reportedly exposed to the novel coronavirus at the crowded market.
Newsweek reached out to the Chinese embassy in Washington, D.C. for comment, but they had not responded by the time of publication.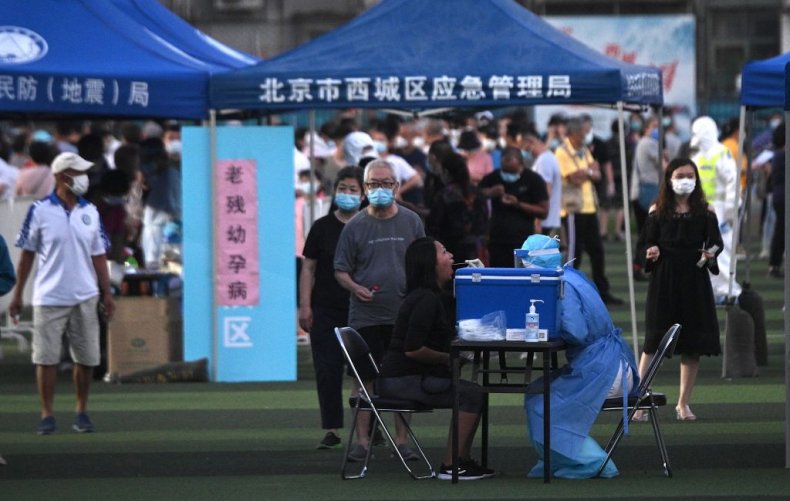 China's city of Wuhan was the original epicenter of the novel coronavirus, with one theory about the virus' origin suggesting that it arose in a popular wet market, where live animals were slaughtered to be eaten. Many of the early infections were traced back to the crowded market.
While the novel virus spread rapidly in Wuhan, the Chinese authorities implemented stringent lockdown measures, curbing the spread of the virus. Although the situation ballooned quickly, China saw its number of new cases drop off dramatically over the past couple months. But as the country has sought to return to normal life, new small outbreaks have cropped up in parts of the country.
As of Sunday, China had recorded 84,288 total cases of the novel virus and 4,638 deaths. However, compared to many other countries, China's numbers have remained relatively low. The U.S. has reported more than 2 million confirmed cases and more than 115,000 deaths. Meanwhile, Brazil is catching up fast, with over 850,000 confirmed cases, while Russia has seen more than half a million.
But as the original epicenter of the virus, China has faced substantial criticism and scrutiny for its early response to the novel virus. Chinese authorities initially worked to cover up the outbreak, and there is evidence suggesting that the government there continues to censor research into the virus' origins.
As President Donald Trump has faced significant criticism at home for his administration's bungled response to the virus, U.S. leaders have repeatedly attacked China. They have said that China was not transparent with information about the virus, which delayed the global response. Chinese leaders have pushed back, arguing that the criticism is just to deflect attention for the Trump administration's own failures.