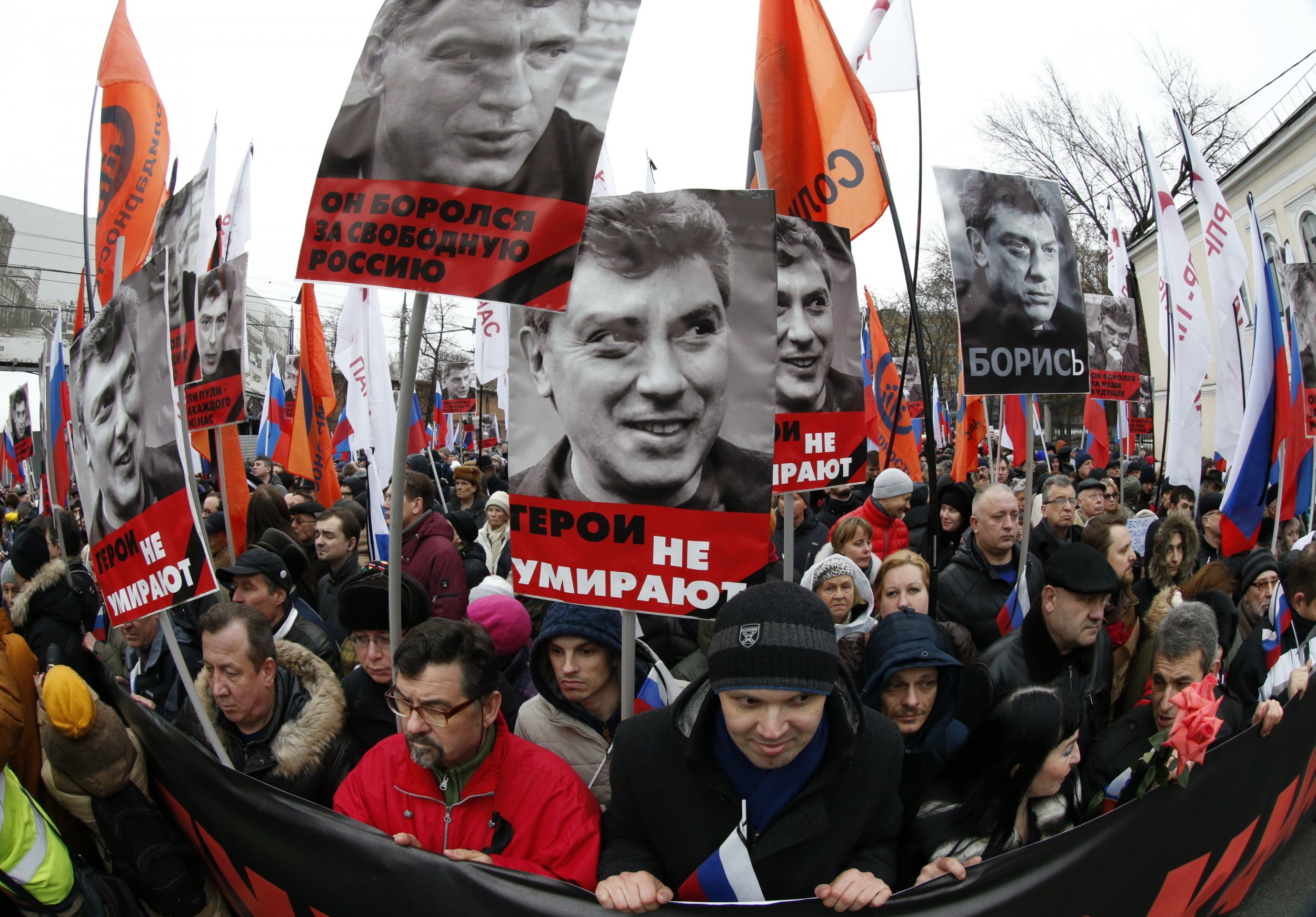 "First they shot down a Boeing in Ukraine and we thought nothing could be worse and now this nightmare, also a huge crash for Russia... Nobody should dare to gun down people by the Kremlin wall – this is unacceptable," Olga Riabova, a designer, insists, sitting round a table with her friends under a crystal chandelier in a glamourous Moscow restaurant. The night Russian opposition leader Boris Nemtsov was shot, the women and their friends rushed to the murder scene: "We were so furious, ready to begin a Maidan revolution," Anastasia Kozhayeva, an illustrator, recalls. "Russia is very much ready for a change but Russians grow cold fast, they should be motivated while they are still angry. See, today we are not so ready for the revolution any longer," she laughs.
The friends wondered if Nemtsov's murder could wake up Russia; whether the violent interruption of his passionate and bright life could become a turning point for the realisation that violence has reached a boiling point, both in Ukraine and at home. The women doubted that Nemtsov's murder would weaken Putin's power but agreed that his death had shaken up the resistance, which from now on would be just growing stronger, they hoped. For Nemtsov was "a hot-blooded, sincere guy" says one of the women, logistics manager Elena Gudatsyrenova, "whose heart hurt for his country, that he loved dearly". And the women's hearts hurt for Nemtsov, a playboy opposition leader, admired for his passionate charisma. They conclude that Russia will revive its freedom, as soon as it grows brave again.
It is an emotional time for the Russian opposition. Whether the Kremlin wants it or not, in the eyes of the public, Nemtsov made it onto the list of "Putin-era assassinated victims". "He is just as irreplaceable for our anti-Putin struggle as Anna Politkovskaya was for journalism: with Anna passing away, we stopped understanding what was happening in Chechnya and with Boris gone we have lost the key organiser of public rallies, the key coordinator. He was able to pass messages between some of our leaders, who cannot stand each other," a prominent opposition leader, Vladimir Ryzhkov, says.
During Dmitry Medvedev's political thaw in 2012, Nemtsov and Ryzhkov were invited to the Kremlin, as the then president considered them serious players.
"Medvedev wanted us to participate in conducting reforms of Russia, but Putin put an end to all that cooperation," Ryzhkov says. Ryzhkov sweeps away all official suspects suggested by investigators, including Islamic and Ukrainian radicals. "Too many strange accidents happened at the same time: none of three federal security cameras worked on the light pole above the murder scene. I'm inclined to think special services were involved in his murder," Ryzhkov says. He remembers an episode back in August 2014, when some activists hung a big Ukrainian flag on the same bridge. Police grabbed the pro-Ukrainian protesters within seconds.
Outside the restaurant, a thick crowd of demonstrators marched against fear. It was an endless stream of people stretched along Moscow river, carrying "I am not scared" signs or "Propaganda kills" posters, alongside thousands of Nemtsov portraits. Most of the thousands of demonstrators who took to the streets the weekend after Nemtsov's murder came out in revolt against political terror. They were Russia's intellectuals, members of the artistic or business elite. If Nemtsov were alive, many of them would have ignored the event. "I am one of the many people who wouldn't have joined the march that Nemtsov spoke of organising, hours before he was shot. But his cynical murder is a different cause," says Putin's former technologies adviser and now his critic, Gleb Pavlovsky. "This is a historical, crucial moment. Nemtsov wanted it to be the turning point and it has become, but the question is where to – there is no good successor to replace Putin," Pavlovsky adds.
An endless stream of people carrying blue-red-white state flags slowly moved under pale, rainy skies towards the Kremlin. The morning after Nemtsov's murder many said they woke up in a different country. The Kremlin wall, usually associated with graves of Soviet leaders, and Lenin's Mausoleum is now the place where the blood of the most notorious Putin critic was spilled. It was Nemtsov's dream to return the Russian tricolour to the opposition. "It always upset him that Putin's supporters used the flag, that he and other democrat leaders rallied with against communists during [80s reform movement] Perestroika," says Nemtsov's closest friend in the opposition, Ilya Yashin. "Borya often repeated, 'The one who takes the flag, carries it. Our job is to make all his dreams come true'."
At the weekend, Olga Bychkova, editor-in-chief of Echo radio in St Petersburg, arrived by train to Moscow to pay her tribute to Nemtsov. On reaching Kitai Gorod station, she was amazed to see that the queue to get out of the underground stretched from the train doors to the exit. It reminded her of another sad post-Perestroika event, that made a difference in Russia's thought in the past: the funeral of a famous Soviet dissident and physicist Andrei Sakharov. "Walking that day in December 1989 to say goodbye to academic Sakharov, we clearly understood that a certain chapter in the history of our country had ended. Today we say goodbye to Nemtsov and look forward to a new chapter again," Bychkova says and points out the irony behind the fact that, traditionally, opposition was banned from rallying by the Kremlin wall. "Nemtsov managed to lead them to the Kremlin."
Hostile attacks took place in other Russian regions, too. Only a day before Nemtsov was murdered, there was a shooting in his home town of Nizhny Novgorord. Three masked men shot with automatic weapons at the windows and painted profanities on the walls of the apartment block occupied by Anna Stepanova, head of the Nizhny Novgorod PARNAS party branch and Nemtsov's colleague. After the shooting, Nemtsov called Stepanova with legal advice on how to demand a police investigation into the attack and file complaints and witness photographs. "He sounded worried about me and I felt that wasn't alone. How could I imagine that only two days later Nemtsov himself would be killed," says Stepanova with great regret. But she refuses to give into fear, which she says "paralyses".
People agree that the scale of Nemtsov's courage was underestimated when he was alive and now everyone looks up to the "guy with brass balls", as one of his old colleagues, Olga Kurnosova, said in a recent interview. Kurnosova, a key organiser of anti-Putin rallies in St Petersburg, recently fled from Russia to Ukraine after unknown people followed her around three apartments that she changed. But not everyone is willing to give up their lives in Russia and run. "We must continue the struggle, as the last thing that Boris would have wanted to see is us giving up the fight," another opposition leader and economist, Vladimir Milov, said in his video message to the opposition, suggesting that they must regroup and plan new strategies.
Demand for change is voiced not only on the streets of Moscow and inside restaurants, but also at the offices of some high-rank state officials. Putin's friend from his FSB past, Victor Ivanov, complains about the ineffective bureaucratic system after recently having sanctions placed on him by the West. "We cannot blame America for everything, for our ineffective state system or for corruption. The process of banning the selling of codeine-based drugs in Russian pharmacies required dozens of letters to various institutions. We succeeded but it took months of waiting for answers," Ivanov says. "If we improve our economy and system of management, all countries would want to be our allies."
Ironically, Russia's Channel One, which usually ignored the existence of opposition or referred to it as a pro-Western threat of Maidan-type of revolutionaries, not only aired the march for Nemtsov in Moscow, but also recalled all the positive things he did for Russia, as a governor, deputy prime minister and Duma deputy. And NTV channel cancelled a propagandistic documentary discrediting the opposition. At least for a few days change visited Russia.
"To make Russia a happy country, as Nemtsov wished, we all have to come out of our inner exile. It is easy to hide behind his back – he had to clean up all our ugliness for us, like an icebreaker," Stepanova says. "But that's it, there is no icebreaker left, we have to make the way for our ships ourselves."