New Zealand Gun Owners Are Voluntarily Handing Over Semiautomatic Rifles to Police: 'We Don't Need These in Our Country'
Since Friday's deadly attack at two mosques in Christchurch, New Zealand, gun owners have been turning up at local police stations seeking to have their own semiautomatic rifles—the weapon believed to have been used in the shootings—destroyed.
In the days since the attacks, which saw 50 people killed and dozens more injured, a number of gun owners in New Zealand have gone on social media to encourage others to follow in their footsteps. They want them to hand over their weapons and prevent another attack like Friday's from happening again.
"Until today, I was one of the New Zealanders who owned a semiautomatic rifle," one gun owner, farmer John Hart, wrote on Twitter. "On the farm they are a useful tool in some circumstances, but my convenience doesn't outweigh the risk of misuse.
"We don't need these in our country," he added, sharing an image of a police form registering his weapon for "destruction." "We have make sure it's #NeverAgain."
Hart said he had turned over his weapon to police with "no questions asked" and was told that the semiautomatic rifle would be destroyed.
He said he had been using the rifle for pest control on his farm but said that there were other ways to do the job that do not require owning such a deadly weapon.
"It's not a big deal not having it anymore. I couldn't, in good conscience, say they shouldn't be around if I still had one," he said. "Once you accept that these things can be harmful, in the wrong hands, the trade-off is a small inconvenience."
Hart said in a separate post that he was "overwhelmed by the positive responses" he had received and that the negative reactions had been few.
Hart said he had mostly blocked those sending him negative comments, writing: "The devil doesn't need any more advocates" and that he hoped that more gun owners would follow suit in turning over their weapons.
In a separate Twitter post, another New Zealander, posting under the name Fey Hag, said she too had turned over her family's weapons following Friday's attacks, writing: "When my husband died his guns were handed to family holding the requisite license. Daughter of crack-shot food hunting parents, I have used guns from the age of 9.
"Today I requested that those guns be handed in for destruction," Hag wrote.
A third Twitter user, posting under the name Blackstone, shared an image of the "arms surrender" police form on Monday, writing that after owning a firearm for 31 years, turning over the rifle was "one of the easiest decisions I have ever made."
"Since I first heard about the atrocity on Friday afternoon, I have reflected and reserved my thoughts," the social media user wrote. "Monday morning—this is one of the easiest decisions I have ever made."
The attack on the mosques marked New Zealand's first mass shooting in nearly 30 years, New Zealand's Prime Minister Jacinda Ardern has vowed to introduce new gun laws.
Ardern said that new reforms would be announced within 10 days of the attacks, which she called a "horrific act of terrorism."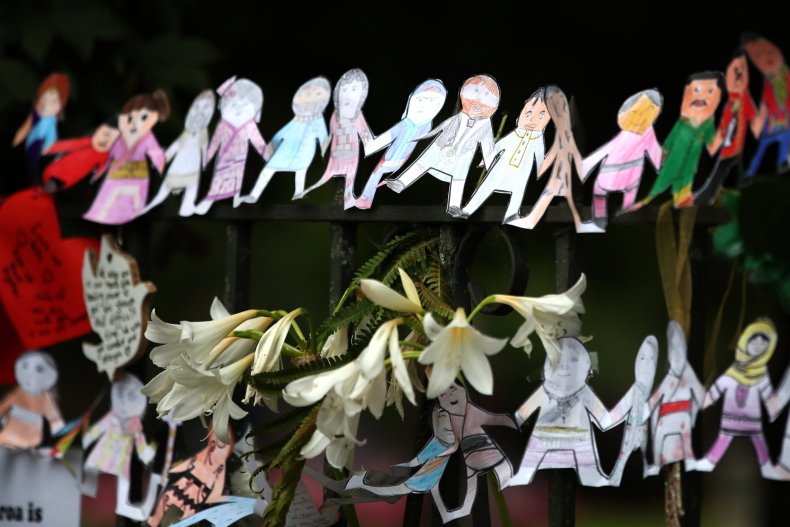 New Zealand Gun Owners Are Voluntarily Handing Over Semiautomatic Rifles to Police: 'We Don't Need These in Our Country' | World