After News of Bankruptcy, What's Next for Chuck E. Cheese?
Chuck E. Cheese, the arcade and pizza franchise, is on the brink of having to file for bankruptcy according to a report from the Wall Street Journal. CEC Entertainment runs 527 locations in 47 states and is nearly $1 billion in debt according to the report. Founded in 1977, the kids party play house has suffered in recent years and the Coronavirus pandemic has really put a strain on their finances. (The company apparently tried to sell pizzas under the bogus name of "Pasqually's" on Grubhub and Seamless in some regions, but that probably won't save the entire enterprise.)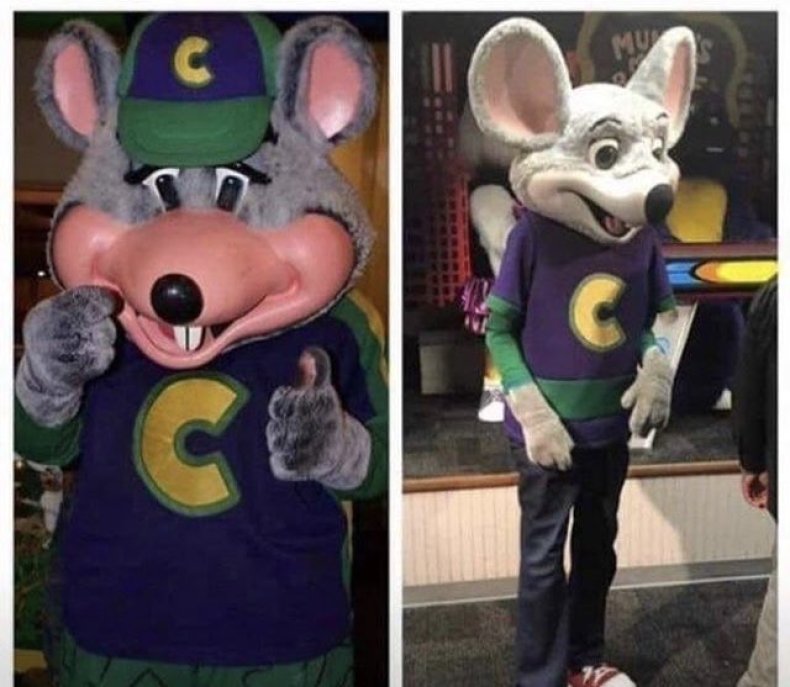 Those who have fond memories of Chuck E. Cheese (or those who just like the idea of being able to see a giant mouse mascot without having to go to Disney) have been commiserating on Twitter about what's next for the long-standing franchise. On Tuesday, "#WhatsNextForChuckECheese" started trending on Twitter, with fans sharing ideas for how the hundreds of stores and thousands of employees could continue operating in a social-distancing and internet-obsessed climate.
Some suggestions focused on the restaurant's mascot animatronics—you know, the horrifying mechanical beasts that belch out pre-recorded tunes. We're not sure a Five Night at Freddy's crossover would be enough to bring back the Chuck, but the inspiration is admirable.
Others took the idea quite literally, wondering what the mouse mascot is going to be up to next if the doors ever close. If Remy from Ratatouille can somehow become a chef, maybe Chuck can make a worthwhile second act for himself.
While these users joked, some lamented the end of an era and a piece of their childhood. Over the past five decades, the mouse-sanctioned pizza establishment has been a cornerstone of nostalgic memories, bright lights and confusing smells. Earning tickets or playing around with a grown man in a cartoon mouse costume can seem almost sweet and wholesome when viewed through rose-colored glasses.
Of all the ideas shared on Twitter, the most interesting pitch was turning the Chuck E. Cheese stores into cannabis smoking lounges.
But these people might all be getting ahead of themselves. Chuck E. Cheese isn't closing just yet and the company is looking for investors to try and keep the brand going. But in a world where kids have smartphones, can play video games anywhere and can get adequate pizza delivered to their door, Chuck E. Cheese either needs to evolve or start rolling joints.