After Nunes Recusal, a Still-Dysfunctional Investigation—and House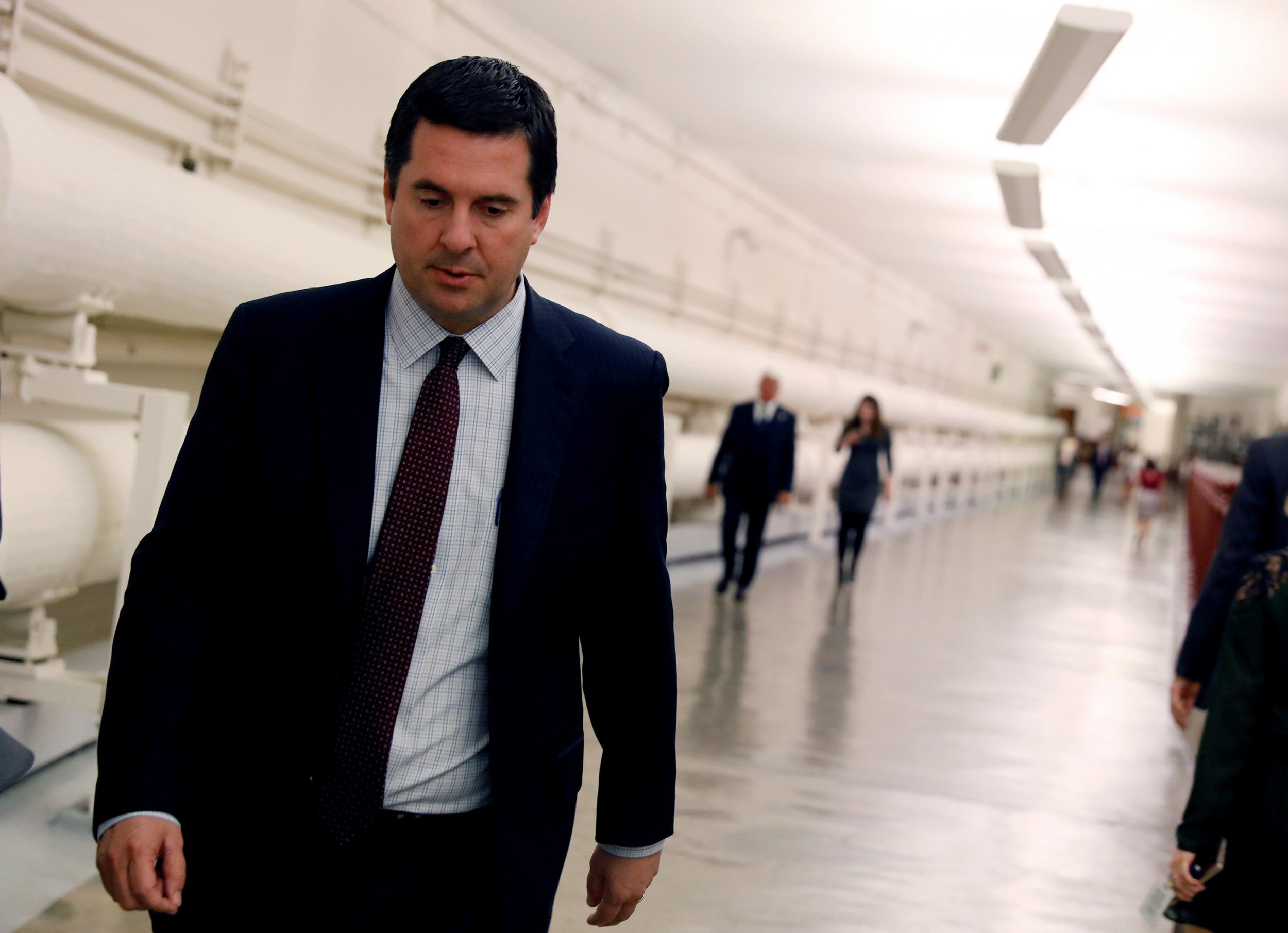 Now that Representative Devin Nunes has recused himself from the Russian hacking investigation, the House Intelligence Committee he chairs can get back to being crazy instead of super crazy.
Nunes is being examined by the House Ethics Committee for his bizarre and possibly improper behavior related to the question of whether there is any credence to Donald Trump's unsubstantiated charge that Trump Tower was under surveillance during the election campaign. The California Republican claimed he had evidence of such—without sharing it with the rest of the committee—and then went into a bizarre spasm of claims reminiscent of a John Le Carre novel or The Pink Panther: that he had heard this information from the White House itself; that he had done so after slipping onto the White House grounds; and even that he had switched cars during the night to make an exchange of information. Watchdog groups—some liberal and some not—complained that he should be scrutinized for possibly unveiling classified information, and so Nunes has now "temporarily" washed his hands of the investigation.
Related: Devin Nunes is incapable of investigating the Russian threat to our democracy
Aside from this being like a bad Seth Rogen and James Franco spy movie, it reflects the dysfunction of the House of Representatives, where partisanship and intra-party infighting could thwart the Republican Party's determination to kill Obamacare. A normal investigation would look something like what's going on in the Senate Intelligence Committee, where two grown-ups, Virginia Democrat Mark Warner and Chairman Richard Burr, a North Carolina Republican, have come to an uneasy but functional agreement to look into the possibilities of Russian efforts to interfere with the 2016 elections, collusion with Trump campaign officials and improper disclosures of classified information. It's not perfect, and it's not the independent commission that's called for to examine possible Russian spying, but at least it's a much better start than what's going on in the House.
Even though Nunes has recused himself, very little in the House's record suggests a sober and careful examination of the facts is on the way. The spider's web of a Benghazi investigation, including one portion led by a select committee, turned out to be more bark than bite. The final House report, while critical of the Obama administration and former Secretary of State Hillary Clinton for failures to adequately protect U.S. facilities in the Libyan coastal city, never succumbed to the fantasies that somehow Clinton had ignored the crisis or even prevented the rescue of American personnel. That its conclusions weren't out-and-out nuts is of minimal comfort: The whole exercise was an enormous time suck for the People's House. Another select committee, this one involving Planned Parenthood, was an exercise in blatant partisanship. (It defies logic how one could argue, as many Republicans tacitly do, that the use of Planned Parenthood funds merits an investigative panel, while possible foreign interference into a presidential contest can just be handled in the course of normal committee work.)
One can take comfort that Michael Conaway, a longtime friend and ally of former President George W. Bush, will help step in for Nunes. One of the House's few certified public accountants, he's a serious legislator. The other two who will help, Tom Rooney of Florida and Trey Gowdy of South Carolina, seem more fevered. Rooney got caught up in the insane inquiry into Clinton aide Huma Abedin possibly being an agent of the Muslim Brotherhood, while Gowdy was one of the most visible members of the Benghazi committee, and was swept up in the obsession with Sidney Blumenthal—harping on ignorantly and endlessly about why the Clinton friend and adviser had the former secretary of state's private email while the U.S. ambassador to Libya at the time, Chris Stevens, used more formal diplomatic channels. (The answer is probably the same as why no ambassador right now would contact Rex Tillerson at RexyExxon@aol.com.) With Rooney and Gowdy at the helm, there's reason to fear that the investigation will become all about leaks and less about the more ominous alleged Russian efforts.
No one expects every investigation to be smooth and removed from politics. The celebrated Senate Watergate Committee was riven by party differences, only coming together after the facts against Richard Nixon's White House proved unbelievably alarming. Before then, it was an intramural fight, with Republicans coordinating with the Nixon White House. Finally, the two committee chairmen—Senator Sam Ervin, a Democrat and North Carolinian who was born in the 19th century and had no presidential ambitions in the 20th, and the young, ambitious ranking Republican member, Senator Howard Baker—began to cooperate. Their statesmanship became the standard for investigative committees.
It's hard to see anything like that happening with the Russian probe in this dysfunctional House.