After NYC Climate March, Activists to Sit on Wall Street Until Forcibly Removed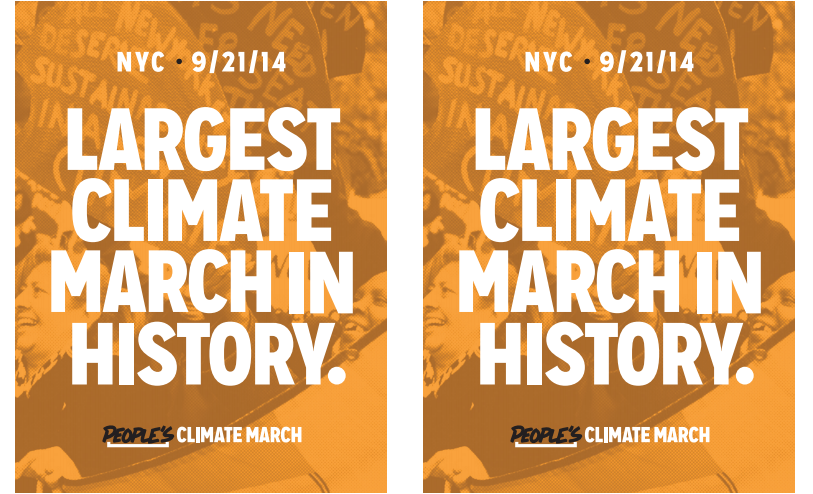 On Sunday, tens of thousands of people are expected to assemble in Central Park in New York City for what organizers say will be the biggest climate change march in U.S. history. More than 1,000 organizations, including major unions and green groups, have signed on to the effort, and some 496 buses, chartered from all over the U.S. and Canada, will bring in thousands of out-of-towners. In a Brooklyn warehouse, artists are busy painting protest banners.
Over the past month, the walls of many NYC subway cars have sported march posters proclaiming, "To change everything, we need everyone." The march is meant to send a message to the global leaders convening in the city next week for the U.N. climate summit, where they are expected to lay the preliminary groundwork for an international agreement on climate change and emissions restrictions set to be signed in Paris in 2015. But the gulf between expectations and outcome at every previous international climate gathering has remained wide. Climate summits are infamously where blustery rhetoric about real change goes to die.
"We want to communicate to world leaders that there is a large, diverse and mobilized constituency to hold them to account," Paul Getsos, a long-time NYC organizer who is helping to plan the march, told Gothamist. "This is not the old kind of climate march where we're just talking about polar bears. It's bigger than that. We're talking about environmental racism and climate justice."
Jamie Henn, a co-founder of 350.org, the environmental group that has spearheaded much of the organizing, had just gotten off the phone with the NYPD to work out the "final touches" of how the march will cooperate with law enforcement when we spoke. "It's a whirlwind," he said. His team at 350 along with other groups had put up or handed out 1 million posters and fliers over the last five days, he said. "We're at the scale of any political campaign."
The group and other participating organizations produced a nearly hour-long documentary called Disruption, about the planning of the march.
"DISRUPTION" - a film by KELLY NYKS & JARED P. SCOTT from Watch Disruption on Vimeo.
350 was among the first groups to draw up plans for the march early this past spring. "I wish we started two springs earlier," Henn says. Matthew Anderson, 350's lead designer, said finalizing designs for posters and the march's official website has kept him busy nearly full-time in recent months. Every decision about the march, including the type of font used for promotional material, was done by consensus over email, Skype, and Google Chat between the hundreds of actively participating organizations. "It's been a complicated process working with this many groups. It's inherently difficult with all the back and forth and compromise. But I think it worked out for the best," Anderson says. Most of the debate centered around how to keep the literature looking as inclusive as possible. Anderson avoided "green and polar bears" as much as possible, opting for a clean, boldface text over plain orange backgrounds.
The broad coalition represented in the long list of participating groups is a feat of grassroots organizing to be sure. But some have questioned what influence a march planned fully two days before most U.N. delegates will even arrive in NYC can have on the summit. In fact, the march route won't go anywhere near the U.N. complex, let alone any symbolic landmark like Times Square. The route, agreed upon by organizers and the NYPD, will snake down the calm, leafy west side of Manhattan, divert around Times Square, and end on 11th Avenue and 34th Street. As reporter Nick Pinto points out, no one goes to 11th Avenue.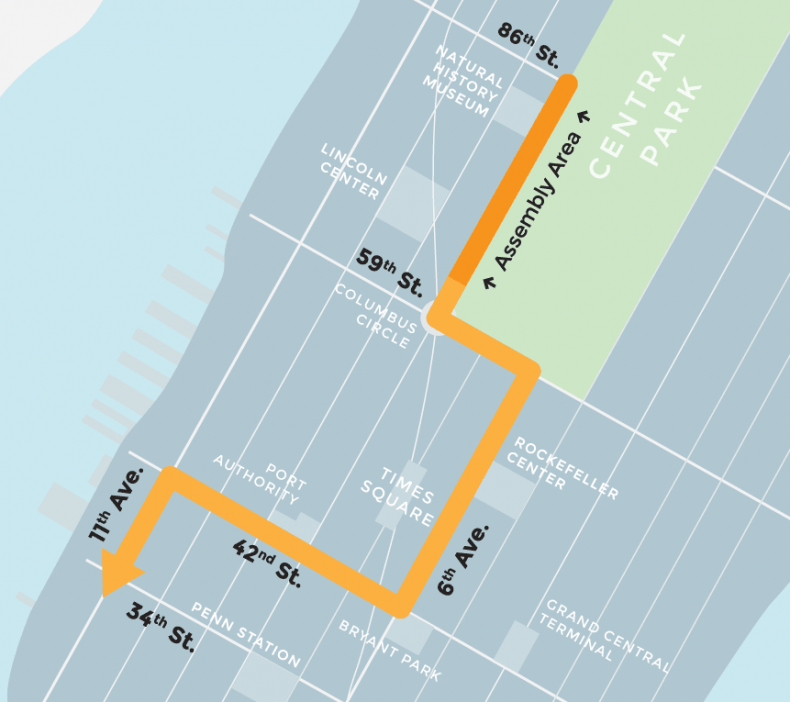 Organizer Leslie Cagan tells Pinto that the NYPD-sanctioned route was necessary to ensure no participant would be scared away by the possibility of agitating police. "In order to offer a demonstration to people that they felt comfortable going to, where they wouldn't be putting themselves at risk, we felt we had to negotiate with the police."
The broad participation is evident in the planned march line-up: Indigenous groups, arguably those already hit hardest by the effects of climate change, will head up the protest, with unions, environmental organizations, anti-corporate groups, scientists, religious groups, LGBT groups and local community groups from around the five boroughs lining up behind.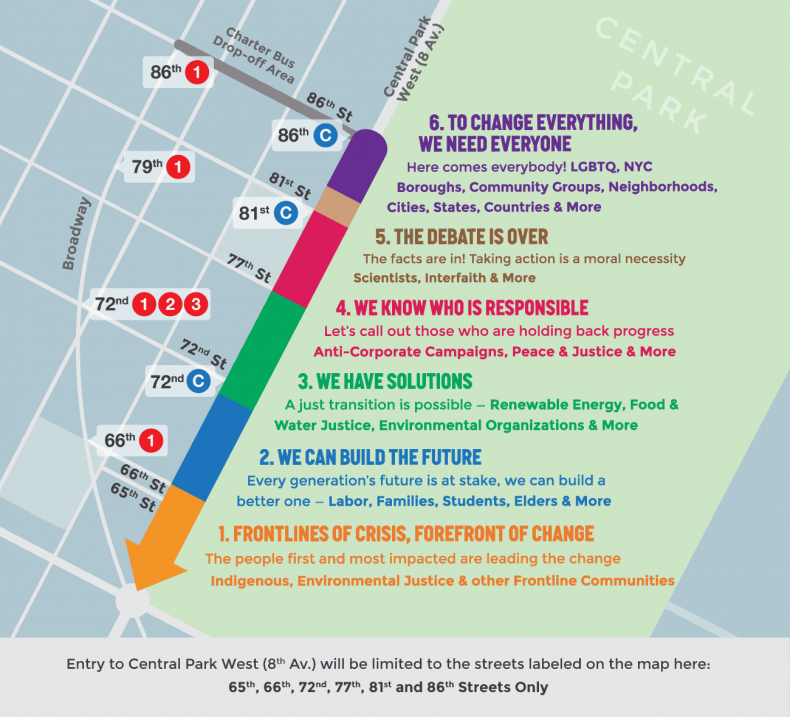 While the Sunday march promises to be a colorful, well-attended, and likely confrontation-free event, the likely more controversial action is reserved for the next day. Starting at 9 a.m. on Monday, Flood Wall Street will stage a "massive sit-in" without an NYPD permit in the Financial District, the former home of the Occupy Wall Street movement.
"The [Sunday] march is very family friendly, fun, creative," Sandra Nurse, one of the people organizing the sit-in, said. Flood Wall Street, in contrast, will be "an escalated action where we're going to the heart of capitalism. We're there to say, we will not have an economy based off extraction of every single thing on the planet."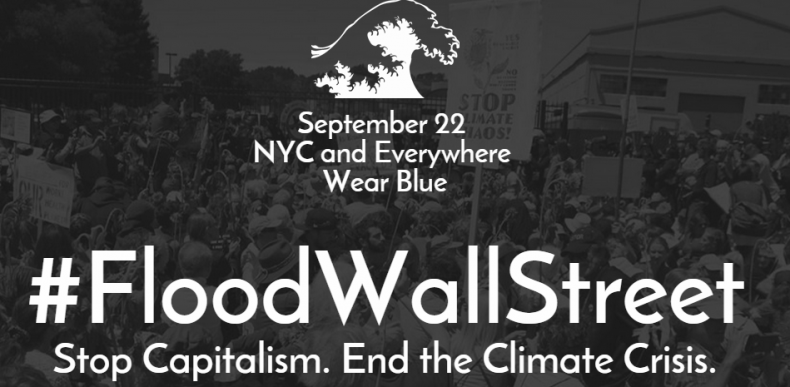 Nurse said they chose a sit-in "rather than having a chaotic day" with a mobile protest. "A lot of us come out of the Occupy movement and know how brutal NYPD can be and how much they are willing to violate people's rights."
In the Financial District, on Wall Street, metal police barriers are already in place, left over from the small Occupy Wall Street anniversary demonstration held earlier this week. "When the plans are finalized, they will be sent out in a traffic advisory. Unfortunately, this advisory is not yet available," the NYPD wrote in an email regarding the planned sit-in. The NYPD did not immediately respond to a request for clarification of that statement at the time of publishing.
"We expect a huge barricade situation. We also expect the line of cops on scooters. The idea is that we are being very open and honest about what we want to do, and we're prepared to do it in a very simple way," Nurse said. "We plan to sit until all of have been forcefully removed. Those who don't want to risk arrest will probably just be hanging back in Battery Park. We can't guarantee their safety even on the sidewalk."