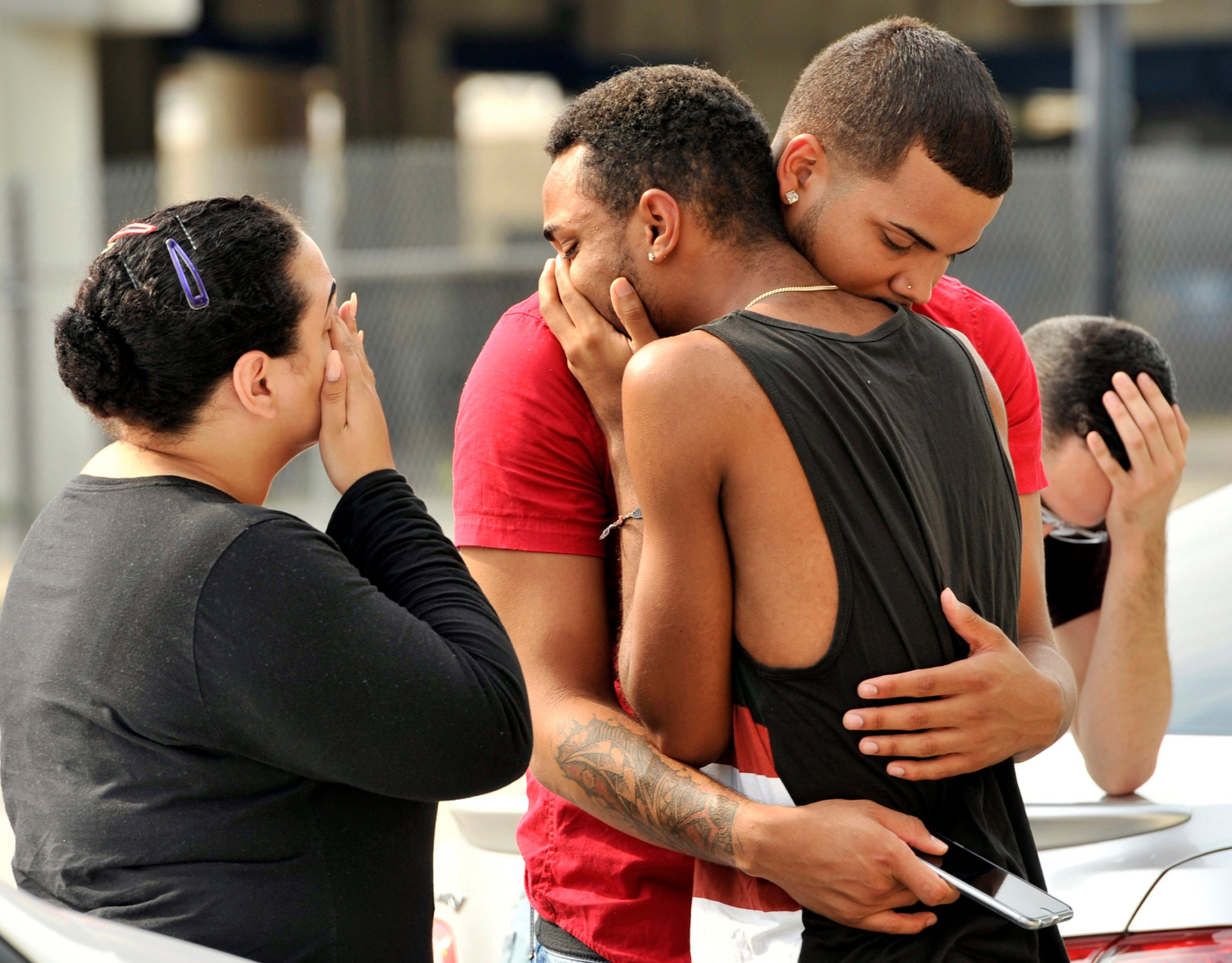 Is it a terrorist attack; a hate crime; a mass shooting; the deranged actions of a mentally ill man; a gun control issue; Islamic extremism; all of the above? The Sunday morning massacre of 50 people at a gay nightclub in Orlando, Florida has left Americans spinning in a half-dozen different directions looking for a way forward, for the right thing to say, the most apropos lesson to learn. Conservative politicians call for a reinvigorated fight against terrorists. Progressives want more restrictive gun laws. Gay and transgender Americans want tolerance. Muslims want to distinguish their "religion of peace" from religious extremism.
President Barack Obama, in remarks delivered Sunday afternoon, called the worst mass shooting in American history "an act of terror and an act of hate," an "especially heartbreaking day for all our friends—our fellow Americans—who are lesbian, gay, bisexual or transgender. The shooter targeted a nightclub where people came together to be with friends, to dance and to sing, and to live. The place where they were attacked is more than a nightclub—it is a place of solidarity and empowerment where people have come together to raise awareness, to speak their minds, and to advocate for their civil rights."
It's unclear to what extent the Orlando shooter, Omar Mateen, 29, was motivated by a specific hatred of gays, an allegiance with terrorist groups or something else. But his father, Mir Seddique, told NBC News his son had recently been angered after seeing two men in downtown Miami.
"They were kissing each other and touching each other, and he said, 'Look at that. In front of my son they are doing that,'" the father told NBC News. "And then we were in the men's bathroom and men were kissing each other."
Such massacres inevitably lead a shocked citizenry on a quest for answers, for some way to press forward and hope that the future can somehow brighten in response to tragedy, if only we could respond in the right way.
To Jimmy Radosta, a gay man from Portland, Oregon, killings like Sunday morning's are fueled by politicians who blame marriage equality for the destruction of society and accuse transgender people of being predators, and who pass laws that allow "criminals, madmen and suspected terrorists to access guns without universal background checks. Gun violence affects everyone."
On Sunday morning, it affected dozens of gay and transgender Floridians. More than 20 percent of hate crimes reported nationally in 2014 were based on sexual orientation or gender identity, according to FBI statistics. In Florida, LGBTQ residents are at the highest risk of being targeted with a hate crime, according to a statement released Sunday by the Human Rights Campaign.
Same-sex marriage may be legal in the state, but it's also legal for employers to fire someone for being gay or for a landlord to deny housing to a transgender tenant in many parts of the state, thanks to a lack of legal protections for gender identity and sexual orientation. And U.S. District Court Judge Robert L. Hinkle wrote in a March ruling that the state has done little to abide by the 2015 U.S. Supreme Court ruling legalizing gay marriage nationwide. The state has refused to acknowledge same-sex spouses on birth and death certificates, for example.
"After the United States Supreme Court issued [its ruling], one might have expected immediate, unequivocal acceptance," Hinkle wrote. "Not so for the State of Florida."
To Josh Cooley, a former Miami public defender, Sunday's tragedy highlights a cauldron of tension in Florida between disparate groups of people increasingly embittered by their lot in life, and increasingly in search of someone to fault for that. Florida is teeming with racial and class tension, Cooley tells Newsweek, and the ranks of the socially and financially marginalized grow larger by the day.
"It's easy in Florida for people to feel left out and pushed aside. They get more and more deeply pissed off. What a great target for someone who's a religious zealot who thinks alcohol and homosexuality inappropriate," Cooley says. "You're poor, marginalized, have nothing and down the street a bunch of godless gays are drinking $500 bottles of vodka and listening to dancehall."
Orlando itself is a fairly tolerant city, local attorney John Bruno Dorris tells Newsweek, though it's also a somewhat tense mixture of more conservative northern Floridians and more liberal residents from the south. City and county government officials have been responsive to the LGBTQ community there, and a telling show of support Sunday was the outpouring of local residents at local blood banks, responding to a call for donors to treat the shooting's 53 injured victims.
Dorris, who is gay, also noted that the shooter came from out of town—Mateen was a resident of Ft. Pierce, about 117 miles from Orlando—and that a speaker at the Husseini Islamic Center in nearby Sanford once implied in a 2013 talk that punishing homosexuality is an act of love. "We see the physical killing as something brutal, and this is the point when human hatred towards the act has to be done out of love," Iranian doctor Farrohk Sekaleshfar said in that speech, claiming (falsely) that under Islamic law the punishment for homosexuality is death. "We have to have that compassion for people. With homosexuals, it's the same...out of compassion, let's get rid of them now."
That kind of rhetoric is a gross misinterpretation of Islam, says Qasim Rashid, spokesman for the Ahmadiyya Muslim Community USA, which quickly condemned Sunday's shooting.
"The Qur'an permits the death penalty only in cases of murder and treason against the state," Rashid tells Newsweek. "Nothing in the Qur'an so much as hints at death to someone because they are gay."
Rashid says he and other Muslims are working to emphasize humanity, the notion that all humans are equal, whether gay or straight. Orlando proper is a tolerant place, largely by virtue of its own diversity, Damaris Del Valle, a 33-year-old Cuban-American Miami resident who grew up in Orlando, tells Newsweek. "Ever since Disney, it's always been kind of a gay mecca," Del Valle says. "Disney has held pride days since as far back as I can remember. But there are also parts of Central Florida that are extremely rural and have very rural roots. The more city parts of Orlando have always been very open."
Mat Jarvis moved to the city from Alabama a little over a year ago, from a state where he experienced a kind of "passive" homophobia, he said, probably because as a college professor he was in a position of some authority. Orlando is clearly "more acclimatized" to the gay and transgendered community, he tells Newsweek, and until Sunday morning's shooting, he always felt safe there. The shooting changed that instantly--not because he's gay, but because he's human.
"It's deeply unsettling," Jarvis says. "I feel more unsafe in general, not because of my sexuality but because we have two of the largest theme parks in the world here that I go to all the time. Should I avoid going there?"