After Pandora Papers, U.S. Can Help Bring European Corruption Under Control | Opinion
The recently disclosed Pandora Papers—a massive trove of documents disclosing offshore bank accounts, tax evasion and money laundering—revealed massive corruption in numerous European countries. The prime minister of the Czech Republic, the president of Ukraine and many others are allegedly involved. Such corruption corrodes the body politic of U.S. allies, and even threatens their security.
In Eastern and Central Europe, where countries from the Baltic Sea to the Black Sea are facing a recalcitrant Russia, corruption softens politicians' stance towards Moscow, unravels the social fabric and causes voters to opt for political extremes. It opens politicians to involvement with shady organized crime syndicates and to blackmail by Russian intelligence services.
Transparency International, an anti-corruption watchdog, identified Albania, Bulgaria, Latvia, Moldova, Romania, Serbia and Ukraine as leading sites for corruption along Russia's western periphery—each in its own way. The gargantuan Danske Bank money laundering scandal (involving some €200 billion) conducted by the bank's Estonian branch and involving financial flows from Russia demolished all prior records of graft in Europe. It affected several countries in the region, including NATO allies Estonia and Latvia.
Anti-corruption efforts too often deteriorate into political score-settling and power grabs. In Romania, another NATO ally, President Klaus Iohannis fired Laura Codruta Kovesi, the country's chief anticorruption prosecutor, when she became too politically dangerous.
In Ukraine, former president Victor Yanukovych tried to make the country into his family's business fiefdom and a Russian satellite. He was swept away by the Euromaidan revolution in 2014. His successor, Petro Poroshenko, was accused of massive corruption after the Panama Papers, released in 2016, revealed he had set up an offshore company. In April, President Volodymyr Zelensky's cabinet fired an inconvenient national oil and gas company executive, U.S.-supported Naftogaz CEO Andriy Kobolyev, causing the Western donor-approved supervisory board of Naftogaz to resign in protest. A more pliable Yuri Vitrenko became the new CEO. The supervisory board was since fired on September 27 by Zelensky.
After visiting President Joe Biden a month ago, Zelensky is pushing an "anti-oligarch law" which opponents say could easily morph into a witch hunt. Anyone with wealth and media holdings could be put on a blacklist by the president-controlled National Security and Defense Council and denied freedom of speech or property rights without due process. Zelensky purged Dmytro Razumkov, a well-regarded speaker of the parliament, from his own party for criticizing the law. The vitality of Ukrainian democracy and transparency of its politics are now in question.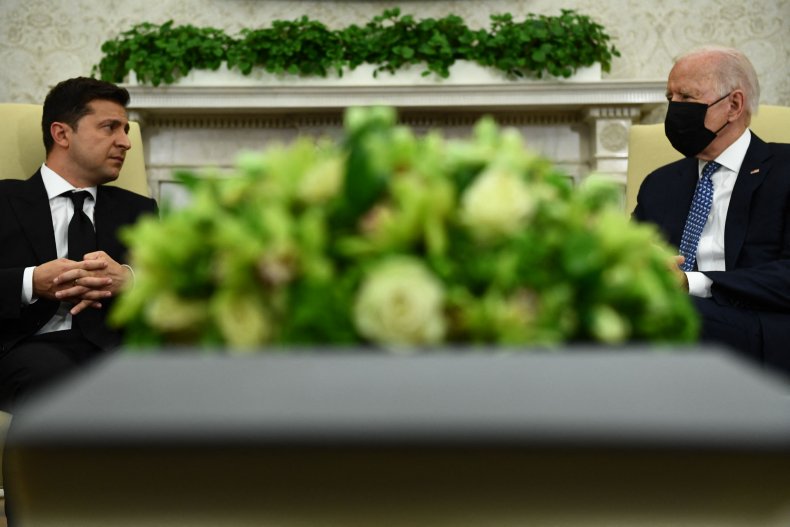 Latvia is another disturbing case. It lies to Russia's northwest, and 25 percent of its population is ethnically Russian. Latvian banks were suspected to be linked to money laundering and to Russian capital flight and corruption.
After the country came under pressure from the U.S. and the EU to clean shop, it took several measures to address corruption—its largest foreign-owned banks came under supervision by the EU Central Bank, and some were dissolved. Yet the country still suffers from poorly organized attempts to demonstrate anti-money laundering efforts, which appear to have backfired.
Jelena Kvjatkovska, a Riga-based lawyer, has accused Latvia's Financial Intelligence Unit leaders of disregarding applicable constitutional norms, criminal procedure and the rules of evidence in their attempt to expedite corruption cases. Judges with no experience on the bench or necessary economic and financial background were appointed to hear complex cases they had no clue about.
This rush to prosecute led to innocent people being convicted while senior officials still walk free. Few cabinet members or other insiders faced conviction—the courts, in fact, exonerated senior officials. Kvjatkovska raises the controversial case of a real estate sale involving the family of Latvian prime minister Arturs Karins. The case was dropped by the Latvian police, who concluded that Mr. Karins and his family members committed no wrongdoing.
In a more notorious case, the Financial Crimes Enforcement Network—the anti-money-laundering arm of the U.S. Treasury—initiated proceedings against Ilmars Rimcevics, a former chairman of the Latvian Central Bank charged with bribery. However, earlier this year, the Latvian Corruption Prevention and Combating Bureau dropped the case for the lack of evidence.
U.S. law enforcement and financial regulatory authorities can help bring these countries' anti-corruption efforts into balance. They can provide technical assistance, training and other help to their Eastern European counterparts. Constitutional protection of defendants' rights, rules of criminal procedure and of evidence need to be observed, and inexperienced judges should not adjudicate complex business, banking and foreign currency cases.
While corruption and money laundering need to be swept away to boost the security and resilience of our East and Central European allies, it must be done while encouraging respect for the rule of law and making the post-Soviet societies stronger in the face of the threats from the East.
Ariel Cohen, Ph.D., is Senior Fellow (non-resident) at the Atlantic Council and Director, Energy Growth and Security Program at the International Tax and Investment Center (iticnet.org)
The views expressed in this article are the writer's own.