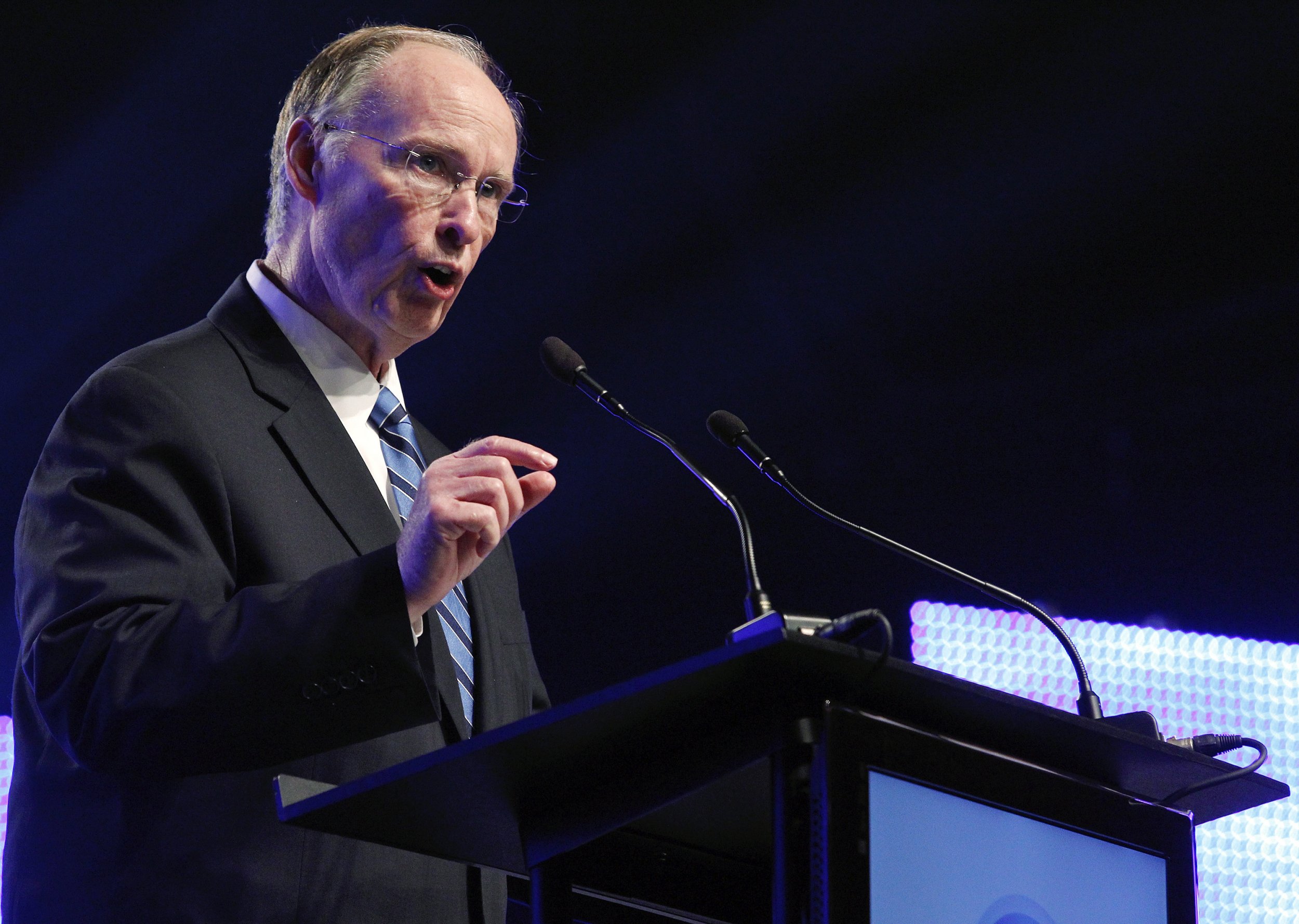 Updated | In light of the deadly attacks carried out in Paris last week by the Islamic State, 27 states—Alabama, Arizona, Arkansas, Florida,Georgia, Idaho, Illinois, Indiana, Kansas, Kentucky Louisiana, Maryland, Massachusetts, Maine, Michigan,Mississippi, New Hampshire, New Jersey, Nebraska, New Mexico, North Carolina, Ohio, Oklahoma, South Carolina, Tennessee, Texas and Wisconsin—will refuse to take in Syrian refugees.
The announcements were made by the states' governors, who are all Republicans with one exception, Maggie Hassan of New Hampshire. Meanwhile, Republicans in Congress could seek to add provisions to block refugees from entering the United States to the next spending bill, upcoming in early December.
Alabama
"After full consideration of this weekend's attacks of terror on innocent citizens in Paris, I will oppose any attempt to relocate Syrian refugees to Alabama through the U.S. Refugee Admissions Program," Alabama Governor Robert Bentley said in a statement on Sunday evening. "As your Governor, I will not stand complicit to a policy that places the citizens of Alabama in harm's way."
Texas
Texas's governor, Greg Abbott, followed suit on Monday morning, sending a letter to President Barack Obama:
Arkansas
Shortly after Abbott's action, Arkansas Governor Asa Hutchinson tweeted: "As Governor I will oppose Syrian refugees being relocated to Arkansas." He later released a statement adding: "Syria is a war torn country and the United States will support our European friends in fighting ISIL in Syria and elsewhere; however, this is not the right strategy for the United States to become a permanent place of relocation."
Louisiana
Louisiana Governor Bobby Jindal made the announcement on Twitter as well. "I just signed an Executive Order instructing state agencies to take all available steps to stop the relocation of Syrian refugees to Louisiana," he said. On Saturday, he sent a letter to the president demanding information about the refugees placed in his state. "It is irresponsible and severely disconcerting to place individuals, who may have ties to ISIS, in a state without the state's knowledge or involvement," he wrote.
Massachusetts
Speaking at the Massachusetts State House on Monday, Governor Charlie Baker was asked if he would allow Syrian refugees: "I would say no as of right now. No, I'm not interested in accepting refugees from Syria."
Michigan
In a statement, Michigan's governor, Rick Snyder, said the state is "proud of our rich history of immigration. But our first priority is protecting the safety of our residents. Given the terrible situation in Paris, I've directed that we put on hold our efforts to accept new refugees until the U.S. Department of Homeland Security completes a full review of security clearances and procedures." About 20 Syrian refugees are in the process of being resettled in Michigan and will be allowed to remain, Snyder clarified.
Indiana
Also in a statement, Indiana Governor Mike Pence said: "In the wake of the horrific attacks in Paris, effective immediately, I am directing all state agencies to suspend the resettlement of additional Syrian refugees in the state of Indiana pending assurances from the federal government that proper security measures have been achieved. Indiana has a long tradition of opening our arms and homes to refugees from around the world but...[u]nless and until the state of Indiana receives assurances that proper security measures are in place, this policy will remain in full force and effect."
Illinois
On Monday afternoon, Illinois Governor Bruce Rauner said the state would temporarily suspend accepting Syrian refugees: "Our nation and our state have a shared history of providing safe haven for those displaced by conflict, but the news surrounding the Paris terror attacks reminds us of the all-too-real security threats facing America. We must find a way to balance our tradition as a state welcoming of refugees while ensuring the safety and security of our citizens."
Arizona
Arizona Governor Doug Ducey called for an "immediate halt" in accepting new refugees to his state. "I also call on Congress and the President to immediately amend federal law to provide states greater oversight and authority in the administration of the placement of refugees," Ducey said in a statement. "These acts serve as a reminder that the world remains at war with radical Islamic terrorists. Our national leaders must react with the urgency and leadership that every American expects to protect our citizens."
Florida
Also Monday, in a letter to House Speaker Paul Ryan and Senate Majority Leader Mitch McConnell, Governor Rick Scott said Florida does not want to accept Syrian refugees. According to Scott, 425 Syrian refugees may be relocated to Florida by the State Department. "It is our understanding that the state does not have the authority to prevent the federal government from funding the relocation of these Syrian refugees to Florida even without state support," he wrote.
Mississippi
"I will do everything humanly possible to stop any plans from the Obama Administration to put Syrian refugees in Mississippi," that state's governor, Phil Bryant, said in a statement. "The policy of bringing these individuals into the country is not only misguided, it is extremely dangerous."
Ohio
A GOP presidential candidate hopeful, Ohio Governor John Kasich, also said he would refuse refugees in his state.
Wisconsin
A former presidential hopeful, Governor Scott Walker, also announced his state, Wisconsin, would refuse Syrian refugees. "There may be those who will try to take advantage of the generosity of our country and the ability to move freely within our borders through this federal resettlement program, and we must ensure we are doing all we can to safeguard the security of Americans," Walker said in a statement.
North Carolina
"North Carolina has a proud tradition of providing a hand-up for those in need, including international refugees," Governor Pat McCrory said in a statement. "However, because President Obama has increased the number of refugees from Syria coming into the United States from 2,000 to 10,000 and because of the terrorist attacks in Paris and the very real possibility that one of the terrorists entered France as a recent refugee, I am requesting that the federal government cease sending refugees from Syria to North Carolina."
Georgia
"In light of the terror attacks in Paris, I've issued an executive order directing state agency heads to prevent the resettlement of Syrian refugees in Georgia," said Governor Nathan Deal. "Further, I call upon the Obama administration to work with the Georgia Emergency Management Agency/Homeland Security to confirm the backgrounds of the 59 Syrian refugees recently resettled to ensure they do not pose a security threat to our citizens. Until the federal government and Congress conducts a thorough review of current screening procedures and background checks, we will take every measure available to us at the state level to ensure the safety of Georgians."
Kansas
"My first priority as Governor is the safety of all Kansans. We must take immediate action to ensure terrorists do not enter the nation or our state under the guise of refugee resettlement. The recent attacks in Paris coupled with terrorist organizations indicating a desire to attack the United States are stark reminders of the dangers every nation faces," Governor Sam Brownback said in a statement. "I have therefore directed all state agencies, departments, boards or commissions not to participate or assist in the relocation of Syrian refugees to Kansas. It is unfortunate that we must take this step to protect the safety of Kansans, but the federal government cannot guarantee that Syrian refugees coming to America would not be part of a terrorist organization seeking to harm our citizens."
New Hampshire
"Governor Hassan joins all Granite Staters and all Americans in mourning with and sending our thoughts and prayers to the people of France following these horrific acts of terror. Protecting the safety and security of our people is the first responsibility of government," New Hampshire Governor Maggie Hassan, a Democrat, said in a statement. "The Governor has always made clear that we must ensure robust refugee screening to protect American citizens, and the Governor believes that the federal government should halt acceptance of refugees from Syria until intelligence and defense officials can assure that the process for vetting all refugees, including those from Syria, is as strong as possible to ensure the safety of the American people."
Nebraska
"Nebraska is a welcoming place for families seeking a home to live, work, and raise a family. While I understand the danger and persecution many are facing in the Middle East, it is important that our state and our nation consider the safety and security of Nebraskans and Americans first in any refugee resettlement efforts. The terrorist attacks that occurred over the weekend in Paris are a solemn reminder of the reach and strength of ISIS and their agents," Governor Pete Ricketts said in a statement. "Today, I am requesting that all refugee resettlement agencies in our state decline to participate in potential Syrian refugee resettlement efforts."
Tennessee
"As we mourn the loss of innocent life from Friday's horrific and cowardly attacks in Paris, these terrible events have once again shown us that the threat of Islamic terrorism knows no boundaries and recognizes no borders," Governor Bill Haslam said in a statement. "We are currently working to get specifics from the U.S. Department of State on the status of any Syrian refugees currently slated to come to Tennessee. While screening, acceptance and placement is legally under the authority of the federal government, they have said in the past they would be open to cooperating with receiving states. Today I'm asking the federal government to suspend placements in Tennessee until states can become more of a partner in the vetting process."
New Jersey
Speaking on Hugh Hewitt's radio show, Governor Chris Christie said Syrian refugees would not be allowed into his state, adding not even "3-year-old orphans" would be permitted entry. Christie cited a lack of confidence in the federal government's vetting ability.
South Carolina
On Monday afternoon, Governor Nikki Haley offered this statement: "If we think in any way whatsoever that South Carolinians are going to be in danger, we are going to change our policy. These are people who have protected our troops, these are people who have been persecuted for being Christian, these are people who have been hurt because of their political beliefs, these are people who we took in because they were unsafe where they were. In light of the president's comments, we want to make sure nothing is changing. Today I have phone calls in to Homeland Security as well as the FBI just to make sure we know."
Later, a letter was made public that she sent to Secretary of State John Kerry, in which she asked that Syrian refugees not be resettled in South Carolina. "After reviewing recent public statements and personally speaking today with intelligence officials, it is my understanding that while our national security agencies are working tirelessly to vet potential refugees, there remain gaps in available intelligence for those fleeing Syria," she wrote. "For that reason, I ask that you honor my request and not resettle any Syrian refugees in South Carolina."
New Mexico
"The Governor's top priority is keeping New Mexico's families safe. In light of the attacks in Paris, she has directed all relevant state agencies to work closely with federal authorities to help prevent and respond to threats of any nature," the press secretary for Governor Susana Martinez said in a statement. "The Governor strongly opposes the Obama Administration's plan to accept more Syrian refugees until there is a very clear plan in place to properly vet and place the refugees, and the voices of governors and the public can be heard."
Idaho
"While I understand that immigration and refugee resettlement are authorized under federal law, I am duty-bound to do whatever I can to protect the people of Idaho from harm," Governor C.L. Otter wrote in a letter to the president. "Instead of Congress rubber-stamping this program each year, we ask that you and Congress work with states and governors to thoroughly review this process and how states are affected...It is my desire, and should be your goal, to reassure the people of Idaho that their views are respected and that consideration is given to enabling states to opt out of the refugee resettlement program."
Kentucky
"The recent terrorist attacks in Paris serve as a warning to the entire civilized world that we must remain vigilant. It is imperative that we do everything in our power to prevent any similar attack by evildoers from taking place here in America," Governor Elect Matt Bevin said in a statement. "My primary responsibility as Governor of Kentucky will be to protect the citizens of the Commonwealth. This is why I am joining with other governors across the country in opposing the resettlement of Syrian nationals until we can better determine the full extent of any risks to our citizens."
Oklahoma
"The Obama administration needs to assure the public that the background checks they are doing are rigorous, and that American lives will not be endangered in the process," Governor Mary Fallin said in a statement. "Until then, I call on the Obama administration to suspend any Syrian refugees into the United States. During these uncertain times, the Obama administration needs to make sure those entering the United States are not terrorists."
Maine
"We now know that not only has ISIS claimed credit for this attack, but at least one of the attackers was a Syrian refugee," Governor Paul LePage said in a statement. "To bring Syrian refugees into our country without knowing who they are is to invite an attack on American soil just like the one we saw in Paris last week and in New York City on 9/11. That is why I adamantly oppose any attempt by the federal government to place Syrian refugees in Maine, and will take every lawful measure in my power to prevent it from happening."
Maryland
"As governor of Maryland, the safety and security of Marylanders remains my first priority," Governor Larry Hogan said in a statement. Following the terrorist attacks on Paris just four days ago, and after careful consideration, I am now requesting that federal authorities cease any additional settlements of refugees from Syria in Maryland until the U.S. government can provide appropriate assurances that refugees from Syria pose no threat to public safety."
The Passport Question
About half a dozen governors cited a Syrian passport that was found near one of the Paris suicide bombers as a reason for refusing the refugees. "A Syrian 'refugee' appears to have been part of the Paris terror attack. American humanitarian compassion could be exploited to expose Americans to similar deadly danger," Abbott wrote.
The passport in question has not been verified as authentic. The passport, which may be stolen or fraudulent, was reportedly used to cross into Greece through the Aegan island of Leros on October 3. Authorities have offered limited information on the passport, but its presence at a Paris attack site has set off a storm of debate as to how refugees from Syria should be treated.
Charlie Winter, who formerly worked with the counter-extremism organization Quilliam, made the point that ISIS may have planted the passport as a fear tactic. "Why would a jihadist who expressly rejects all notions of modern citizenship take his passport on a suicide mission? So it gets found," he tweeted.
After making his announcement, Bentley offered a prayer for "those who have suffered loss and for those who will never allow freedom to fade at the hands of terrorists."
This story has been updated to reflect more states refusing Syrian refugees.