After Pool Disaster, Heartbroken Great-Grandma Receives $90,000 Surprise
A great-grandma in Indiana was left heartbroken after her dream backyard was destroyed when her in-ground pool collapsed. On Tuesday, she received a $90,000 surprise from total strangers just in time for Thanksgiving.
When Kitty Smith was 80-years-old she used her life savings to buy a house where she could spend time with her grandchildren and great-grandchildren. Although the place needed work, the backyard included a beautiful pool that she dreamed of sharing with the family.
"They were here, swimming and playing. I can't tell you how great that was. This has just been my dream my whole life," Smith told 13News about her time spent in the backyard with family over the summer.
But on a snowy night in February, Smith was shocked to find her pool completely collapsed into itself and what used to hold water was now full of broken fiberglass and concrete.
"My whole body just started going numb and shaking. I couldn't believe what I was seeing," Smith told 13News.
Smith later learned that her homeowner's insurance would not cover the cost of replacement. Although her insurance included coverage for in-ground pool repair, an insurance adjuster told her that they could not give her a penny.
It was believed that the collapse, which occurred after Smith hired a pool company to close up her pool for the winter, could have been caused by a leak in the pool which dropped the water level dangerously low.
The low water levels mixed with the newly placed cover could have created too much stress on the pool walls which could have caused the total collapse, 13News reported.
According to experts, a pool leak can actually cause a sinkhole, especially if the pool is concrete and there is a crack in the structure. The Department of Environmental Protection reports the main cause of sinkholes is leaking water.
Other factors that can lead to a pool collapse are an overaccumulation of snow or ice on the pool cover and draining the pool so much that the weight of the dirt causes the pool walls to collapse into each other.
Smith was told that her insurance did not cover leaks in the structure and that clean-up alone would cost about $20,000 and replacement of the pool would be about $60,000.
"I just can't do it. I can't," Smith told 13News. "I put everything I had into buying this house. Everything."
In the Spring, Smith asked 13News to investigate what led to her pool collapse, but soon discovered it could take years to receive an answer. That's when 13News shared Smith's story with people within the community and together, eight different companies agreed to assist with the labor, materials, and cost of replacing her backyard pool.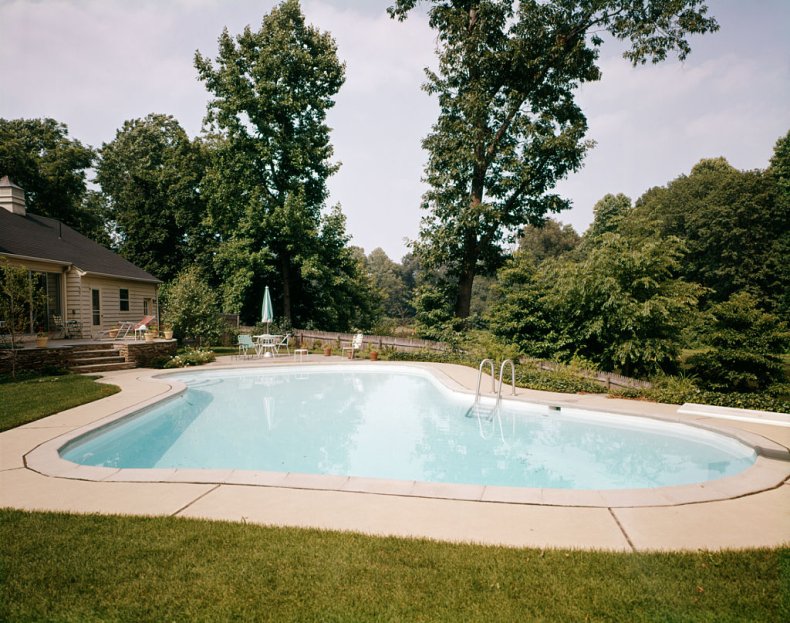 Many of the companies are involved in the pool industry and many are even competitors, but they decided to come together to give Smith a Thanksgiving surprise.
"It's really neat for all of our local pool companies to band together. I don't know that this has ever been done in Indy before," one business executive told 13News.
The cost of the group's gift is estimated to be about $90,000 including removal of the old pool and installation of the new one. The group said the pool should be finished in time for Smith and her family to enjoy it this upcoming summer.
"Just no words. There aren't words big enough to thank everyone," Smith said when she was told about the surprise. "I'm just so thankful."