Merkel to Meet Ukraine's Poroshenko After First Trump Call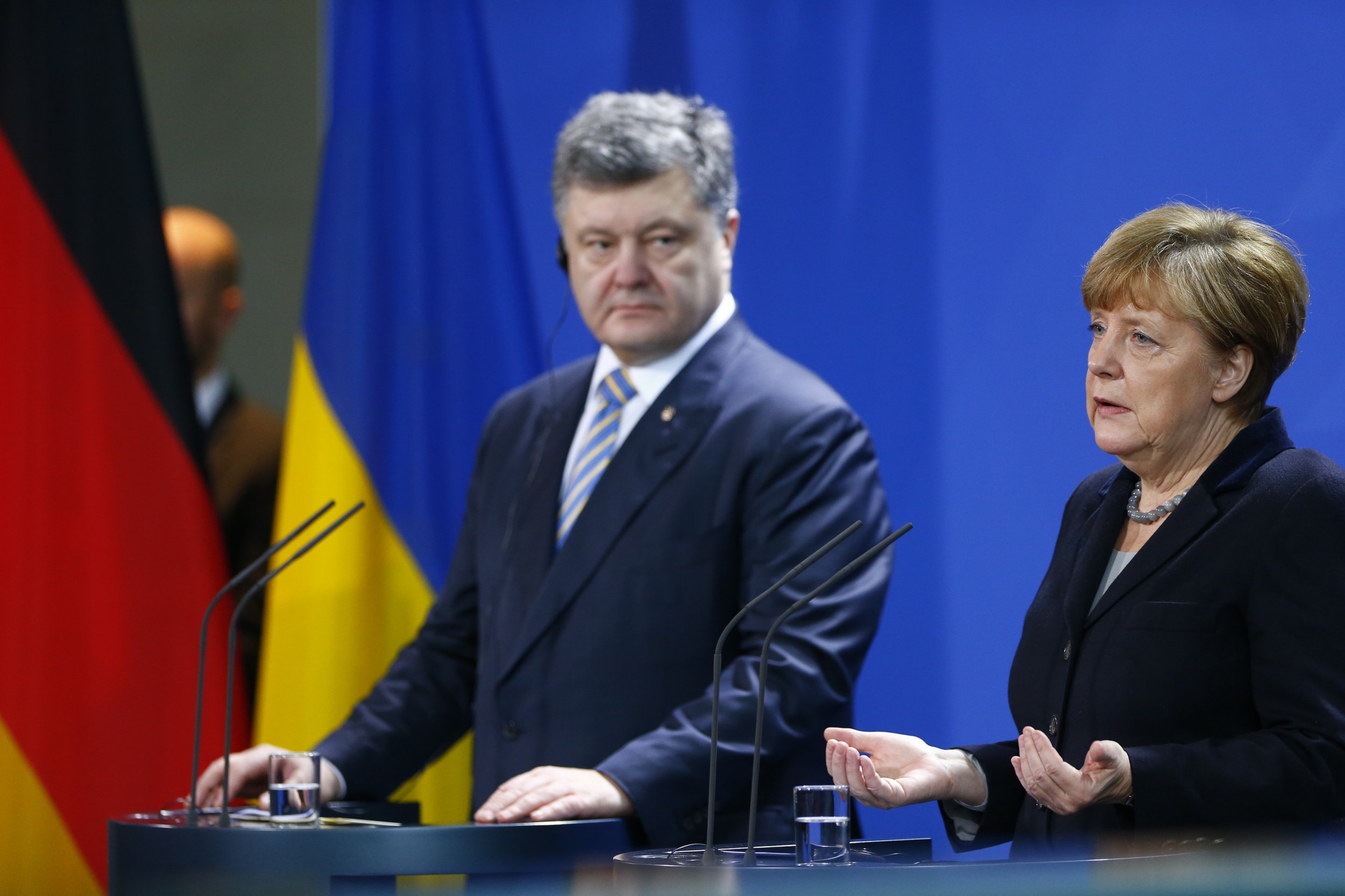 German Chancellor Angela Merkel will meet Ukrainian President Petro Poroshenko Monday after U.S. President Donald Trump's frenetic day of phone calls that included herself and Russian President Vladimir Putin.
Merkel, whose country brokered the maligned ceasefire between Moscow and Kiev in eastern Ukraine, known as the Minsk agreement, is fast becoming the Western leader most supportive of Ukraine's struggle to integrate into Europe.
Since the start of the conflict in 2014, governments previously hawkish toward Russia, notably the U.S. under Barack Obama, have been replaced by leaders such as Trump implementing a softer stance. The approach within Europe itself is also threatening to splinter after rising French electoral candidate Francois Fillon described sanctions against the Kremlin as "pointless," Reuters reported.
Ukraine's Poroshenko will visit Berlin to meet with Merkel as well as the President of the Bundestag Norbert Lammert and Vice Chancellor Sigmar Gabriel, according to Ukraine's Foreign Minister Pavlo Klimkin.
Speaking to one of Ukraine's major Russian-language broadcaster's Inter, Klimkin said that during the visit Monday, the two leaders would discuss a broad agenda of issues.
"We had an agreement in early February to discuss a number of important issues particularly how to make Russia fulfill Minsk agreements, the security situation in Donbas, what can we do to free captives and how we can take make use of the Normandy format most effectively today," he said referring to the German-French brokered ceasefire.
Klimkin added that Ukraine and Germany were not only "political partners but friends" and that Kiev would seek German help in implementing anti-corruption reforms.
The Ukrainian minister also dismissed the possibility that Western sanctions on Russia would be dropped without implementation of the ceasefire, despite the Trump administration's repeated suggestions that the U.S. may lift its sanctions to secure a Russian concession on another issue.
"We are going around in circles again on this issue," Klimkin said, telling his interviewer the Ukrainian vision was simple. "First we discuss how we define the steps of the implementation of the Minsk (ceasefire) agreements. Then we get guarantees from Russia's fulfillment of the Minsk agreements."
So far the ceasefire deal, agreed in Minsk, Belarus, has been hard to implement due to a fundamental disagreement about the nature of the Russian-backed forces in eastern Ukraine. Kiev treats them as de facto Russian troops, having captured soldiers not only equipped with Russian military issue weaponry, but also found to be either active or past servicemen.
However, Russia has continued to argue that the militant forces near the Russian border that have kept Ukraine's vast armed forces at bay for almost three years are local independence fighters, who receive no military support from Moscow.