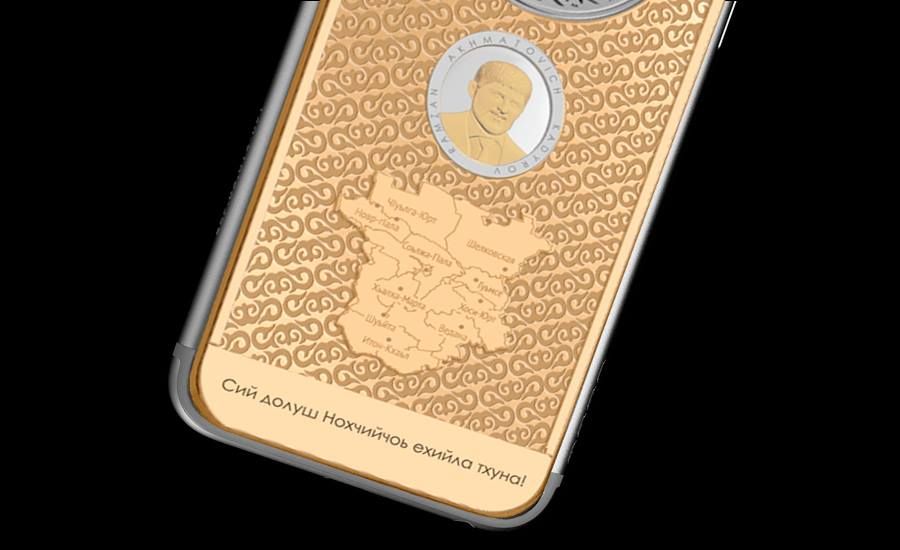 Ramzan Kadyrov, the leader of Russia's Chechen Republic, has received many awards from his mentor Vladimir Putin, and now an Italian company is intent on immortalizing the two men in a similar, shimmering style.
Caviar, the designers of a golden iPhone with Putin's face carved into its back, has made an iPhone 6s version of the product dedicated to the Chechen region and Kadyrov.
Kadyrov's face appears on the phone atop a backdrop of a traditional Chechen pattern rendered in white and yellow gold. The last line from Chechnya's anthem at laqan Illi—"They live for us oh worthy Chechnya"—is engraved along the bottom of the phone. The line is a reference to those who have fought to defend the Republic over the years.
"Inspired by the distinct flavor of the Chechen Republic, the new model of the iPhone 6s Caviar uncovers the world of the new Chechnya," a company statement reads. The extravagant phone also has a white gold engraving of the Chechen national crest and a golden copy of the region's map.
Conscious that the golden accessory may be an inappropriate representation of the primarily Muslim-populated region's traditions, a Caviar spokesperson told Russian popular news site Mail.ru that a platinum version of the product is also available.
"On religious grounds, some Muslims aim not to use accessories and decorations made of gold, so knowing and respecting this preference, for them we have also released the models in platinum," a spokesperson told the site.
This was a statement not only on the model featuring Kadyrov, but also on one dedicated to Russia's Tatarstan region—which does not feature a specific figure, but is also inspired by symbols of the Muslim Tatar populated republic of Russia. The phone costs 188,000 Rubles (approximately $3,000.)
Ironically, Kadyrov has been one of the most vocal critics of the Apple iPhone in Russia, urging Russians not to buy it out of patriotism, and because he believed Russians would be "funding the U.S. armed forces research" if they bought the device.
In March, Kadyrov said on Instagram that he had renounced the iPhone in favor of the Yota Phone made by a Russia-based company.